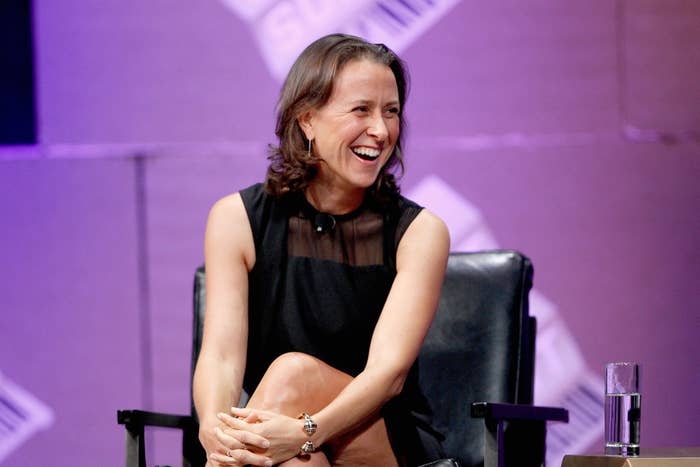 Drug developers are paying millions to tap into the massive pool of DNA owned by genetics-testing company 23andMe. Now 23andMe will use its own data to become a drug developer itself.
In a major strategic shift, the Mountain View, California, company said today that its database, which contains the DNA of more than 850,000 people worldwide, will be used in internal efforts to identify therapies for common and rare diseases. Leading that development will be Richard Scheller, a renowned scientist and a former executive vice president of research and early development of the pharmaceutical giant Genentech.
Since its formation in 2006, the venture-backed startup has been shaking up health care by selling home DNA kits that promise to reveal the genetic health risks and ancestral origins of those who purchase them. The $99 tests make up a unique business model that has unnerved the U.S. Food and Drug Administration, which cut off the company's health interpretations in late 2013 out of concerns about the tests' accuracy.
In one move to make up for lost revenue, 23andMe recently opened its database to pharmaceutical companies that want to understand how genetic variants contribute to diseases. To date those include Pfizer and Genentech, the latter of which is paying 23andMe up to $60 million to research Parkinson's disease.
"Given the deals that came out in the last couple of months with pharmaceutical companies, it's not terribly surprising they'd want to do it themselves as well," Patti Zettler, a fellow at Stanford Law School's Center for Law and the Biosciences, told BuzzFeed News.
One potential challenge for 23andMe's foray into drug development could be public perception of the effort. Consumers can currently learn about inherited risks for only one health condition, Bloom syndrome, as well as their ancestry. Prior to the FDA's intervention, they were able to learn about 250. That's a precipitous decline in 23andMe's value proposition and one that could raise questions about the benefits of belonging to its database and the altruism of its mission.
Said Zettler, "If 23andMe starts to be viewed more as a pharmaceutical company and less as an innovative Silicon Valley patient-empowerment company, that may change people's willingness to share their data."
23andMe CEO and co-founder Anne Wojcicki disagrees. She told BuzzFeed News that customers have so far been receptive to the deals announced. In the pipeline are more than 40 partnerships with biotech companies and academic institutions, the details of which have not yet been disclosed.
"I think that we can show customers that you're getting a whole experience for yourself in terms of health information, genetics, and ancestry," Wojcicki said. "And you're going to help contribute to the discovery of really novel therapeutics that can be cures. I think that's really a win-win. People should be able to really feel good about the fact they are contributing to something that potentially has a huge impact on others' lives."
What makes 23andMe's database particularly attractive from a biopharmaceutical perspective is that, according to the company, it is the world's largest database of people who have explicitly agreed to be recontacted and let their data be used for research purposes. They can also withdraw and remove their data at any time.
Scheller starts work on April 1 and will hire about a dozen scientists. He has "a genuinely blank slate" in terms of focusing on diseases and genes, Wojcicki said. His official title will be chief science officer and head of therapeutics.
Scheller retired late last year after 14 years at Genentech, where he oversaw basic research into everything from oncology to neuroscience and infectious disease. In 2013, he and Stanford Professor Thomas Sudhof received the Albert Lasker Basic Medical Research Award — a U.S. award that frequently precedes a Nobel Prize in Medicine — for discoveries concerning rapid neurotransmitter release, a process that underlies all of the brain's activities.
"I have dedicated my life to research aimed at fulfilling unmet needs for very sick people," Scheller said in a statement. "I believe that human genetics has a very important role to play in finding new treatments for disease. I am excited about the potential for what may be possible through 23andMe's database. It is unlike any other."