Lee Greenwood is a country singer best known for his patriotic ditty, "God Bless the USA." He performed it at President Trump's inauguration concert this year.
Trump loved it. He even sang along!
So, on Friday, the president attempted to show his appreciation to the singer by wishing him a happy birthday.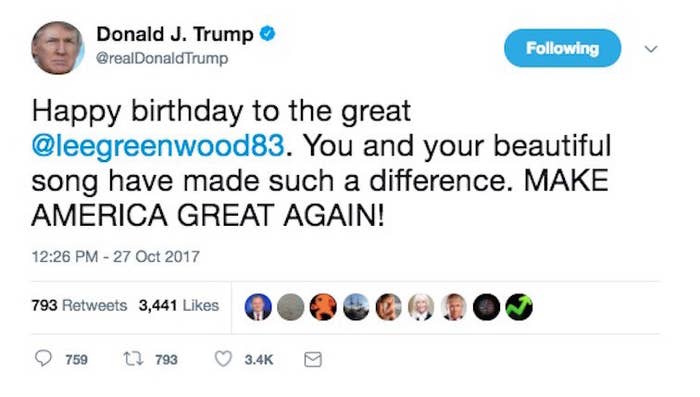 The only problem? Lee Greenwood the singer tweets under the handle @TheLeeGreenwood.
The guy Trump tweeted, @leegreenwood83, is just a random dude. And it doesn't seem he is a huge Trump fan.
People, of course, cracked up at the mistake, noting the other Greenwood is "a lawyer with 146 followers."
They had a lot of biting remarks.
Snark abounded!
"Trump cant even tag the right Lee Greenwood on Twitter and you guys are expecting him to solve the opioid crisis."
Though some took it more seriously.
Some had sympathy for the wrong Greenwood.
However, he seems to be taking it all in stride.
He is also clearing up any possible ~fake news~.
In response to someone telling Greenwood he made his day, he responded "Doing what I can!"
After about an hour and a half, Trump deleted the tweet. He then wrote a new tweet with the right handle.