Winter-Weary New York Town Gives Up, Tells Tourists To Go To Florida Instead
"Really, it's for the birds here now."
An upstate New York city has a message for people thinking about coming to visit: head to Florida instead.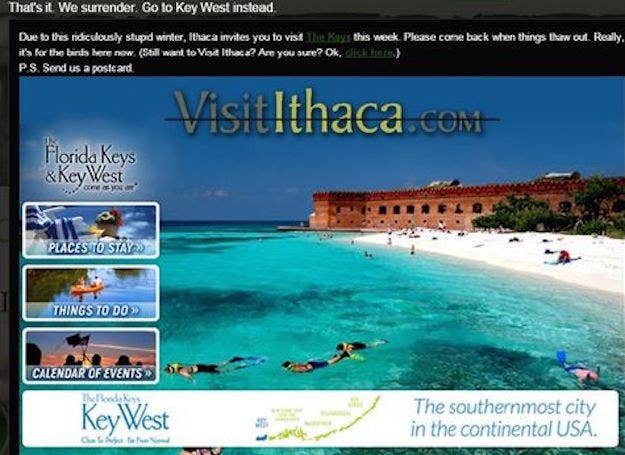 Saying it surrenders to winter, the visitor's bureau of Ithaca is telling tourists on its website to not even bother planning a trip.
"Due to this ridiculously stupid winter, Ithaca invites you to visit the Florida Keys this week," it says. "Please come back when things thaw out. Really, it's for the birds here now."
The website provides links to visiting the Florida Keys, the most southern city in the continental U.S.
It was in the teens in Ithaca on Monday, according to Weather.com, and the city is currently buried under snow.
Ithaca Mayor Svante Myrick told BuzzFeed News in a statement that the visitor's bureau's proclamation is "a good way to make lemonade out of frozen lemons."
"When wind chill is -26 degrees we can't pretend that Ithaca is the most pleasant place to visit," he said. "But three seasons of the year Ithaca is the most beautiful place you could want to be."
In response, Florida Gov. Rick Scott said he is happy to accept those who change their travel plans.