This is Jared Baker, a college student from Georgia. The 20-year-old lives with his dad, Jerry, and the two are best buds.
Jared described their relationship to BuzzFeed News as "two buddies living together."
"We joke around a lot," he said.
Recently, Jared and his dad were joking about how they couldn't ever decide on where to go to eat when taking a woman on a date.
"He told me he had an idea," Jared said.
A few days later, Jerry got a package in the mail. He later unveiled to his son his brilliant creation.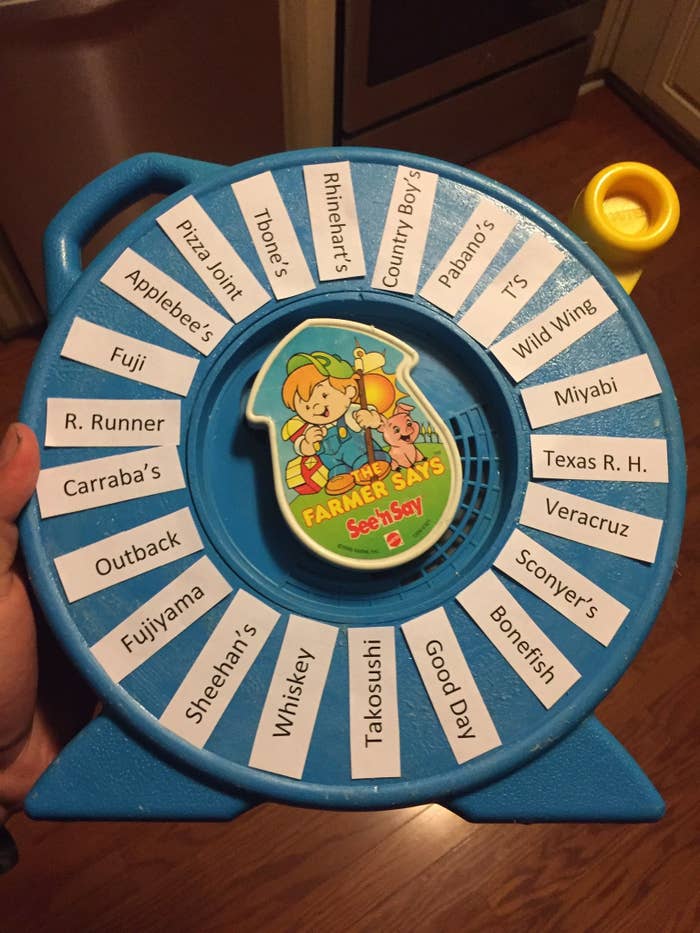 Jerry's dad had printed out all the restaurants they like to go to, and made a "wheel of food."
Jared said so far his dad has successfully used it once.
"They spun it once and they went and ate there," he said.
Both father and son shared the creation on social media. Jared posted it to Twitter because he said "I figured someone would get a kick out of it." It has been retweeted more than 3,000 times.
A lot of people said they really needed one of those.
"This would remedy 40% of the headache around my place," one person said.
Not to be outdone, Jerry shared the creation on his Facebook page. His photo has been shared over 100,000 times.
Jared said all the attention for the simple idea has been crazy, and his dad has been getting a kick out of it.
"He loves it," he said.