Bernice King is a minister and civil rights advocate who is the CEO of the King Center and the youngest child of Dr. Martin Luther King Jr. and Coretta Scott King.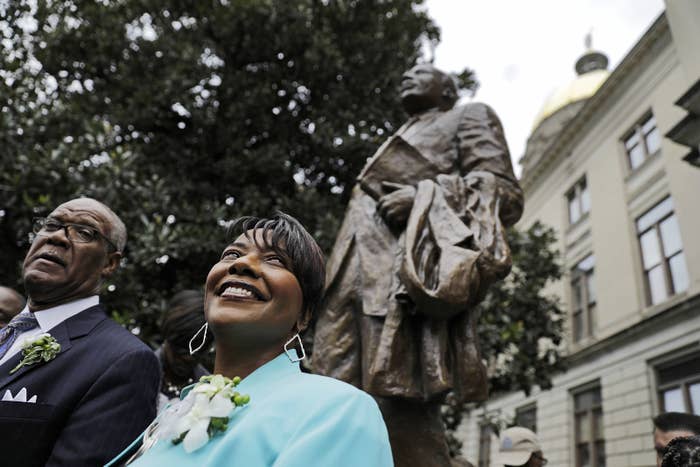 She is also an influential voice on Twitter, where she continues her father's legacy of racial justice and equality.
So, it's not surprising King has been frequently tweeting about the #taketheknee movement in the NFL.
On Sunday, King tweeted a photo of her father being arrested. "People didn't approve of the way my father protested injustice either; said he was causing trouble, called him an 'outside agitator,'" she wrote.
Many people on Twitter appreciated her perspective. But one user, named @Robert23003286, took the opportunity to "school her" on what her dad actually believed.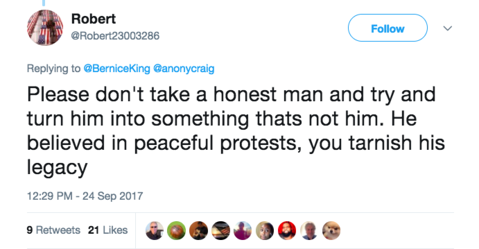 Of course, people instantly took the user to task for mansplaining MLK's legacy to his own daughter.
One person said it was "rich to say the least."
"That awkward moment when someone is so clueless, they try to explain Martin Luther King Jr.'s beliefs to his own daughter," one person said.
It was just too much.
Come on, dude.
And he wasn't even the only one!
Others chose to not believe that "Robert" was real, saying the account has to be a trolling bot.
"So that tweet of the dude telling off MLK's daughter: pretty sure that's a bot. 8 digit serial number, repeated use of media, spurts of use," said one person.
However, we may never know if "Robert" is a bot or not, because when BuzzFeed News asked the user for comment, they blocked us.
Bot or not, it seems the issue doesn't even only apply to King. Pat Tillman's wife was also mansplained this week on what her husband "wouldn't agree" with her on.
OK, Twitter, let's log off now.