U.S. Ambassador To South Korea Injured After Knife Attack In Seoul
The State Department said Ambassador Mark Lippert's injuries are not life-threatening. The suspect in the attack was quickly taken into custody. Lippert later tweeted he was "doing well and in great spirits." North Korea has praised the attack.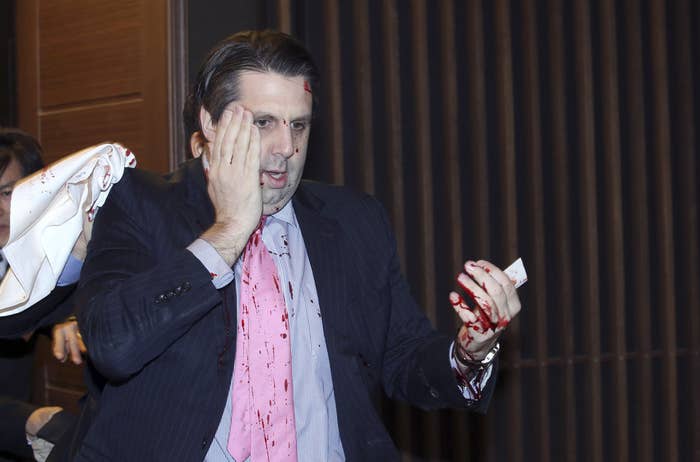 The U.S. ambassador to South Korea was injured Thursday when an attacker slashed his face and hand with a 10-inch knife.
The State Department said in a statement that Ambassador Mark Lippert was attacked while giving a speech in Seoul and his injuries were not life-threatening.
Lippert was giving a lecture in the capital city Thursday morning when he was attacked by a man armed with a large blade, the Associated Press reported.
Lippert, 42, was bleeding "heavily" and rushed to a hospital, according to South Korean news agency Yonhap. It marked the first time a U.S. ambassador has been assaulted in the country.
A representative from Severance Hospital told reporters that Lippert had suffered damage to his tendons and nerves, the AP reported.
Doctors had to give Lippert 80 stitches to close the 4-inch gash in his face, which stretches from his cheekbone to his jawbone. He also had surgery to repair tendons and nerves on his arm.
President Obama called Lippert following the attack "to wish him the very best for a speedy recovery," the White House said.
A 55-year-old man identified as Kim Ki-jong was arrested after the attack, South Korean broadcaster YTN reported.
According to witnesses Lippert was sitting for breakfast ahead of a speech when he stood up to shake hands with another person and was tackled to the ground by Kim, who slashed Lippert's face and wrist with a knife.
Lippert's alleged attacker screamed "South and North Korea should be reunified" and declared his opposition to joint U.S. and South Korean military drills taking place through April, the report said. He continued to scream anti-war phrases after he was detained.
Kim was previously sentenced to three years in jail after a 2010 attack where he threw a piece of concrete at the Japanese ambassador in Seoul, the AP reported.
Lippert has served as the envoy to South Korea since October 2014.
Before joining the State Department, he held senior positions in the Department of Defense from 2012 to 2014. One of his roles was chief of staff to former Defense Secretary Chuck Hagel.
He previously worked in other roles in the Obama administration. He also served as then-Sen. Obama's foreign policy adviser before Obama was elected president.
Lippert has served in both Afghanistan and Iraq, and was awarded the Bronze Star for his service in Iraq.
Lippert and his wife, Robyn, have one son.
Later on Thursday, Ambassador Lippert tweeted that he was "doing well and in great spirits," and that he was "deeply moved by the support."
North Korea's government-run Korean Central News Agency has praised the attack on ambassador Lippert in Seoul on Thursday.
In a dispatch entitled "Deserved punishment for warmonger United States", the agency described attacker Kim Ki-jong as giving Lippert a "knife shower of justice," and condemned the U.S. for raising tensions on the Korean peninsula by carrying out joint military exercises with the South, Yonhap News Agency reported.