After enjoying a fun night out celebrating the new year, people all over the U.S. woke up to an unpleasant fact: how much they spent on their Uber ride home.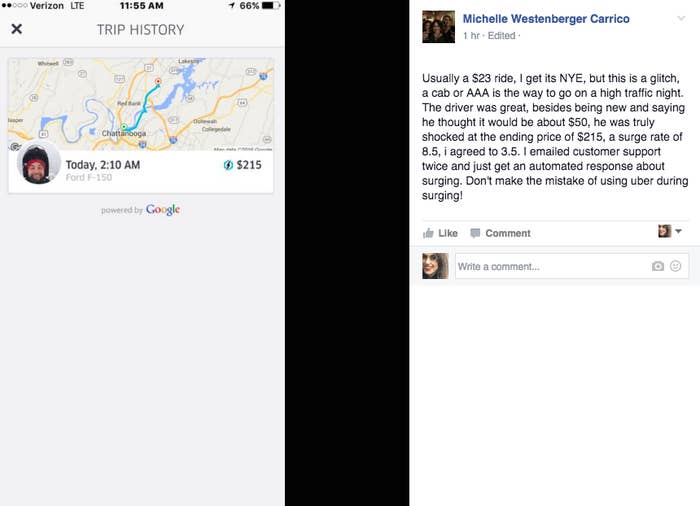 According to several people on social media, the ride-sharing company's surge pricing rose significantly during the big party night. CNN's Brian Stelter reported that in Miami Beach, fares were nearly 10 times the normal rate.
Other cities saw huge price increases as well, with many riders paying at least three times the normal fare to get home.
Of course, Uber's surge prices are nothing new. The company even tried to warn its riders they will be paying more in a "New Year's Eve Guide" before the big night.
"Surge pricing shouldn't be a surprise," the company wrote on its website. "Let's toast to you running a fare estimate in the app before you ride. To avoid the highest fares, head to the festivities early or catch a ride right after midnight."
But that didn't stop riders from freaking out once they realized just how much they would be paying. In many cases, people wrote that they wound up being charged hundreds of dollars for short trips.
In this case, a ride that is normally less than $20 cost a rider more than $200.
Needless to say, people were pissed.
"Your NYE price surge was an egregious and financially assaultive way to take advantage of a holiday and responsible people's desire to avoid DUIs," one angry customer wrote on Uber's Facebook page.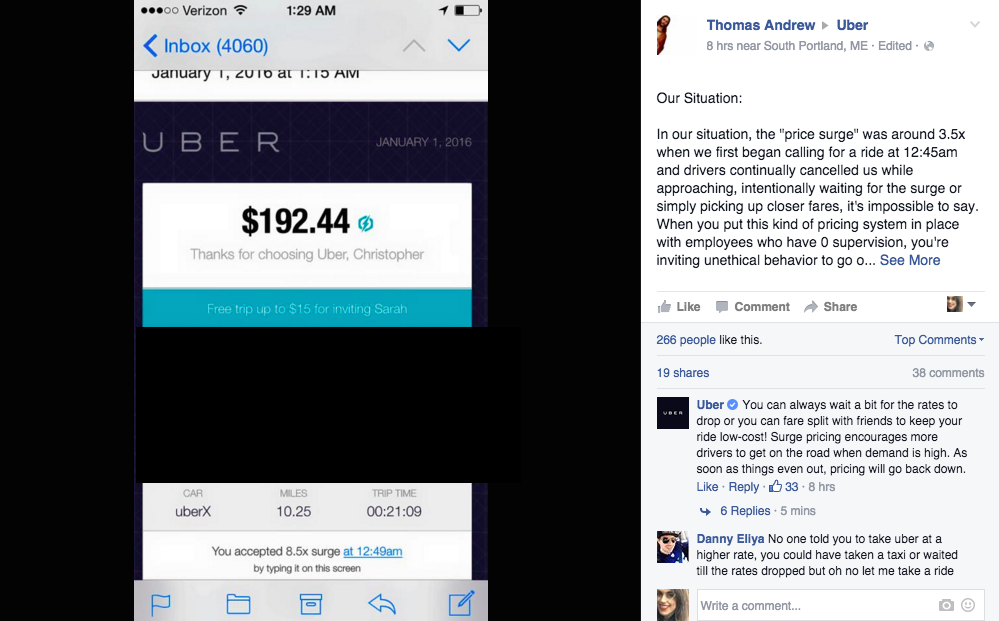 Customers also claimed that drivers were canceling on them multiple times, until the surge price was much higher than what they had originally agreed to.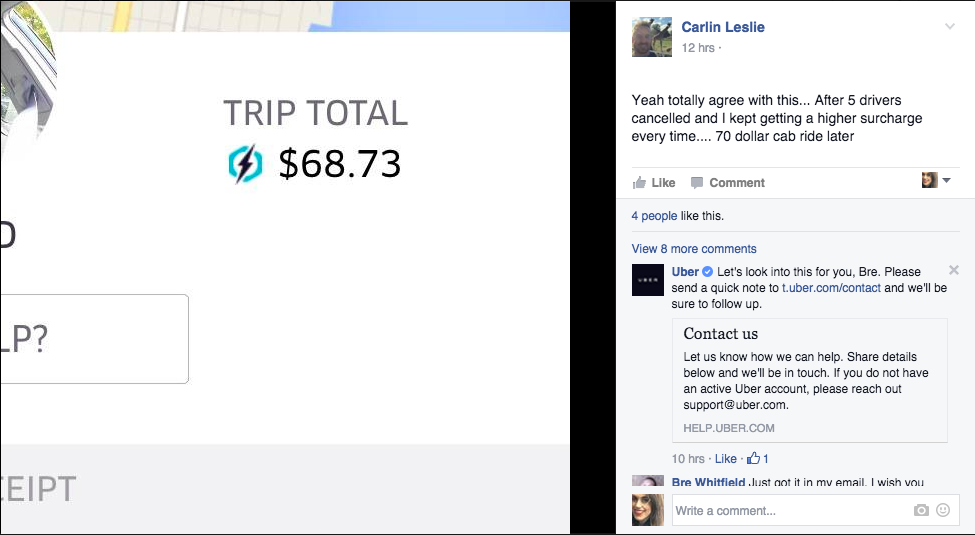 And other people claimed that they were being charged much higher surge prices than they had signed off on.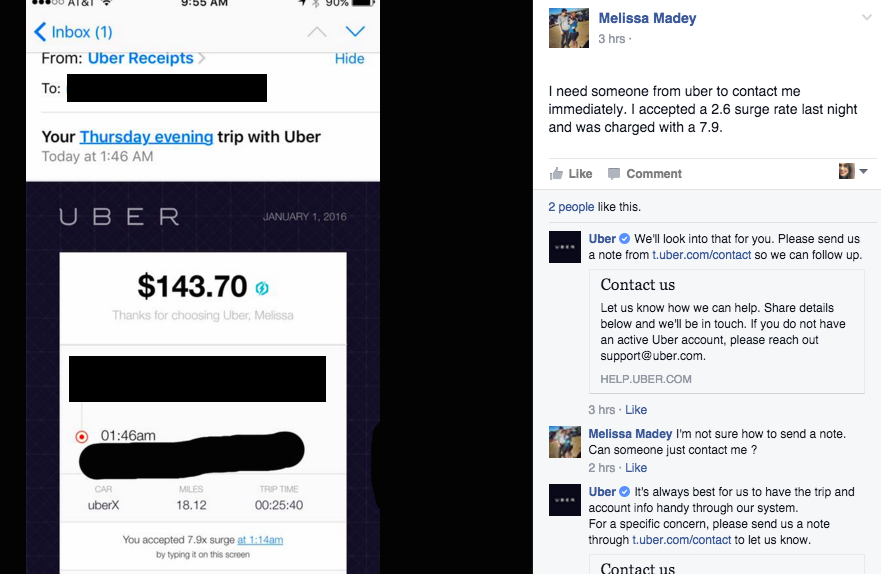 Uber responded to several posters on its Facebook page that it will look into the claims, and says anyone who has a complaint about a driver should reach out to its support team.
The experience led many people to swear off Uber for good.
"Yeah...I'm deleting this app," one unhappy customer wrote. "Clearly this company feels like it can do anything it wants."
In response to the complaints, an Uber spokesperson told BuzzFeed News that the company has surge pricing to ensure its customers can always find a ride.
"Our goal is to make sure you can always push a button and get a ride within minutes — even on the busiest night of the year — and surge pricing helps ensure that choice is always available," she said. "Riders are repeatedly notified about the pricing directly within the app and asked to confirm and accept increased fares, or can opt for a notification when prices drop."
The spokesperson added that ensuring rides are always available is Uber's way to help make sure all their customers get home safely.
"When folks know that the option for a reliable ride home is available right at their fingertips, it becomes much easier to make the smart decision not to drink and drive," she said.
In addition, Uber's records show most of its riders weren't experiencing rates much higher than normal.
In fact, 60% of trips in the U.S. from 5 p.m. to 5 a.m. local time on New Year's Eve didn't experience surge pricing.
For those who did pay a surge charge for their trip, 16% paid more than three times the company's normal rates.
Many people on social media also defended the company, saying riders agree to the price before they get in the car.
And noted that if people don't like Uber's prices, they do have other options for a safe drive home.
But there's one group of people who are happy about all this: Uber drivers. They seem to have made out pretty well.
The Uber driver who posted the above photo of his earnings, Adam Raborn, told BuzzFeed News that he actually only picked up three riders who paid a surge price on Thursday night.
He said he picked up nine riders total, so therefore wasn't chasing surge prices.
"I don't know what the surges are when I pick up a rider," he said. "I don't know what they've agreed to. My job is simply to get the rider from Point A to Point B as safely and efficiently as possible..."