Donald Trump is walking back comments that he thinks if abortion becomes illegal there should be "some form of punishment" for women who undergo the procedure.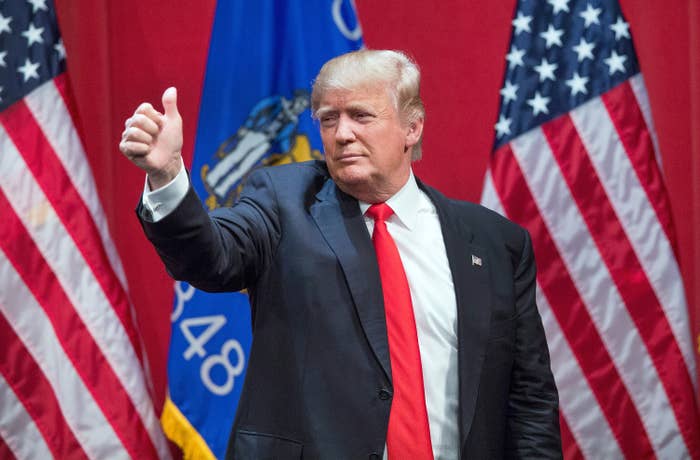 The real estate mogul and GOP presidential candidate was asked about his views on an abortion ban during an MSNBC town hall scheduled to air Wednesday night.
During the interview, host Chris Matthews asked Trump if he believed in punishment for abortion "as a principle" if the practice was illegal.
"There has to be some form of punishment," Trump said.
Matthews asked if the punishment would be for the woman, to which Trump replied, "Yes."
Matthews also asked how Trump would ban abortion.
"Well, you'll go back to a position like they had where people will perhaps go to illegal places, but you have to ban it," Trump said, later adding that he wasn't sure what the punishment would be.
The comments were immediately met with scorn from abortion rights advocates, including Hillary Clinton and Bernie Sanders.
Cecile Richards, the head of Planned Parenthood, also weighed in.
Dawn Laguens, executive vice president of the Planned Parenthood Action Fund, slammed the comments in a statement to BuzzFeed News.
"Donald Trump is flat-out dangerous," she said. "Women's lives are not disposable. There's nothing else to say, as Donald Trump's remarks today have said it all."
Trump's rival for the Republican nomination John Kasich said he is anti-abortion but "of course women shouldn't be punished....It's a difficult enough situation."
After the comments began to circulate on the internet, Trump put out a statement that said he thinks abortion should be left to the states.
"This issue is unclear and should be put back into the states for determination," he said, according to CBS News. "Like Ronald Reagan, I am pro-life with exceptions, which I have outlined numerous times."
Trump then walked back the comments completely, saying that doctors, not women, should be punished if abortions was illegal.
"The woman is a victim in this case as is the life in her womb," he said in a statement posted on his website. "My position has not changed — like Ronald Reagan, I am pro-life with exceptions."
Trump's full comments can be read here: