People Are Appalled At A Comment Trump Just Made About The Military
"It should be a requirement that in order to direct troops in harm's way, one should have first faced it themselves."
Donald Trump was speaking at a rally on Monday when he made a comment about U.S. troops and IEDs that has left many people aghast.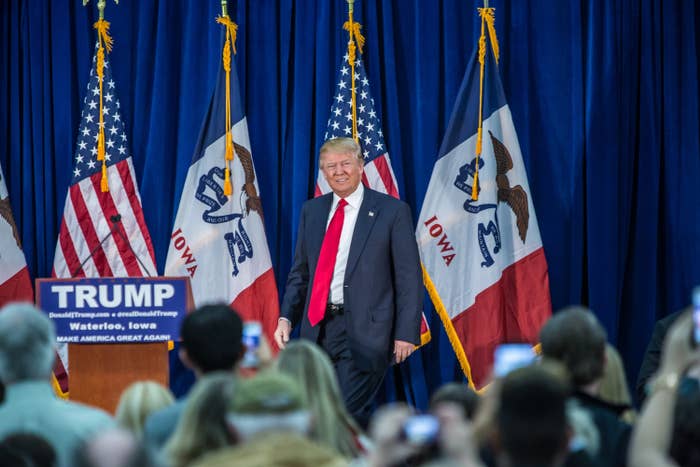 Trump was discussing a conversation he had with a family friend who had served two tours in the Middle East.
He said the man told him that the "enemy" had taken some of the U.S.' best equipment, including state-of-the-art armored vehicles. Trump went on to describe why he thinks these vehicles are so crucial to the war effort.
"If a bomb goes off, our wounded warriors, instead of losing their legs, their arms, worse, they're okay," he said. "They go for a little ride upward, and they come down. The best stuff, all gone. Taken by the enemy. Taken by the enemy."
After his remark circulated on Twitter, many people said they were shocked he would claim an IED inflicts no damage on troops.
And some shared photos of what really happens when a soldier survives an IED.
"Wonder how veterans feel about Trump calling being hit by an IED 'just going for a little ride,'" this man wrote.
Jon Soltz, an Iraq War Veteran who is the chairman of VoteVets.org, said that these "little rides" Trump speaks of sends soldiers to their graves.
Soltz told BuzzFeed News that there were many casualties of the Iraq and Afghanistan wars who died while in an armored vehicle, and for Trump to imply otherwise shows he has a "complete lack of knowledge about the military."
"For him to say something like he just said means he has no idea what is going on in Iraq and Afghanistan," he said.
Soltz said it is important to note that while Americans have improved armored vehicle technology, our enemies are also improving their technology to attack the vehicles. He said Trump's comments show he is not equipped to be commander-in-chief.
"He's cavalier with other peoples lives and when it benefits him he will sacrifice American lives," he said.
Family members of military members who have been struck by an IED said they couldn't believe Trump's words.
And some people suggested if Trump thinks it is no big deal, he should try it out for himself.
"All right, in that case let's send Donald Trump in an [armored] limo over an IED if it's "going for a little ride,'" one woman said.
Paul Szoldra, a writer and veteran, said that the comment was insulting to any military member who has died in an IED attack.
"This is so ignorant and offensive, but I guess that's par for the course for Trump," this man wrote.
Some people wondered if the comment would be Trump's end.
"Ok Trump supporters, we get it, issues don't matter. But this? From someone wanting to be Commander in Chief?" one man asked.