Donald Trump was joined at his news conference on Wednesday by Sheri Dillon, a lawyer representing him.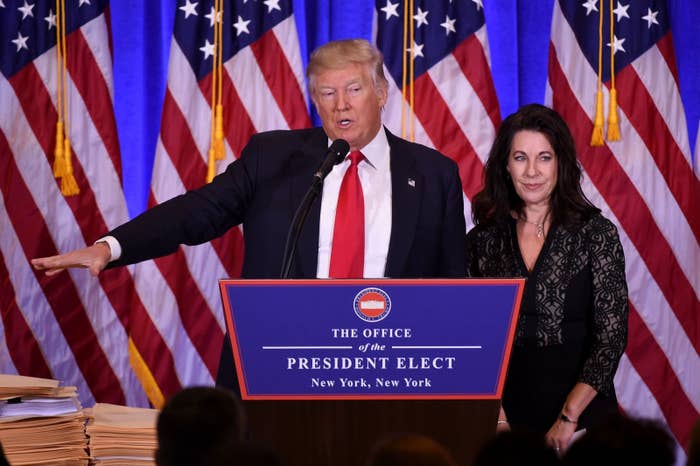 Dillon told reporters how Trump plans to "completely isolate" himself from his company's daily operations while he is president and give the reins to his two oldest sons.
Dillon is a Washington, DC–based tax attorney for Morgan, Lewis & Bockius, a law firm that has offices all over the world.
The firm's 29 offices in countries around the globe provide legal services for "clients ranging from established, global Fortune 100 companies to enterprising startups," the firm says on its website.
However, people on Twitter are now trolling Trump and Dillon for one of the firm's other distinctions. In May, it won the "Russia Law Firm of the Year" award.
The fact went viral on Twitter after it was pointed out by writer Gabe Ortiz.
The award was issued by Chambers & Partners, a group that publishes guides that ranks law firms around the globe.
The award was given by the group to the firm's Moscow office for "excellence in client service, preeminence in the relevant market, notable achievements over the past 12 months, outstanding work, and impressive strategic growth."
"The Moscow team includes seasoned lawyers and specialists with experience throughout the region," Chambers & Partners said in a press release.
Even though the award was given to the Moscow team and Dillon is based in Washington, DC, many people thought it was ironic due to allegations that Trump has ties to Russia.
Some felt something was afoot.
But most just trolled.
They basically said SMH.
But others said it was unfair to equate Dillon's work with that of the Moscow team's.
"Does this necessarily mean anything significant?" asked one person.
BuzzFeed News has contacted Chambers & Partners for more on the award.