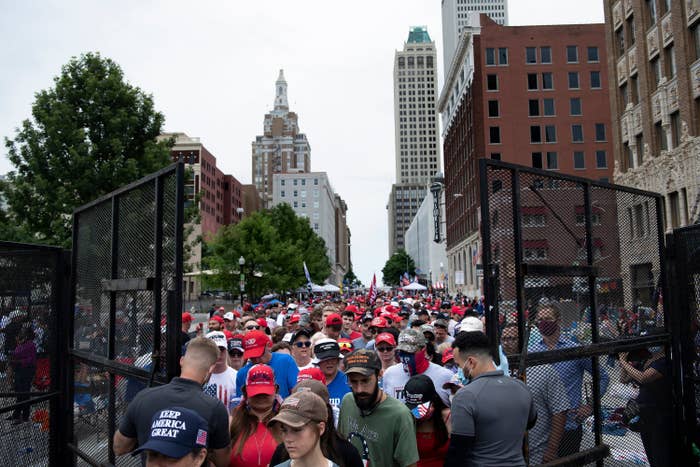 The Trump campaign said Saturday that six staffers working on the president's rally in Tulsa had tested positive for COVID-19 prior to the event.
Tim Murtaugh, the communications director for the campaign, told BuzzFeed News in a statement that the six unnamed staffers will not be attending the event. He said the campaign tested all staff in the lead-up to the rally.
"Six members of the advance team tested positive out of hundreds of tests performed, and quarantine procedures were immediately implemented," he said.
Murtaugh also said that no one who has been "in immediate contact" with the staffers who tested positive would attend the rally either.
The campaign plans to screen all rally attendees with temperature checks as they enter the BOK Center, where Trump will be speaking at 7 p.m. local time.
Once inside the arena, attendees will be given masks, hand sanitizer, and a wristband, Murtaugh added.
Attendees who signed up for free tickets to the rally on Trump's campaign website were asked to acknowledge there was "an inherent risk of exposure to COVID-19 exists in any public place where people are present."
"By attending the Rally, you and any guests voluntarily assume all risks related to exposure to COVID-19 and agree not to hold Donald J. Trump for President, Inc.; BOK Center; ASM Global; or any of their affiliates, directors, officers, employees, agents, contractors, or volunteers liable for any illness or injury," the disclaimer reads.
Trump has faced criticism for his decision to hold a rally at an indoor arena that can seat approximately 19,000 people during the COVID-19 pandemic. On Wednesday, the director of the Tulsa Health Department, Dr. Bruce Dart, told reporters that the city had seen a new daily record number of cases of the virus in the week before the rally.
"Let me be clear: Anyone planning to attend a large-scale gathering will face an increased risk of becoming infected with COVID-19," he said, according to CNN.