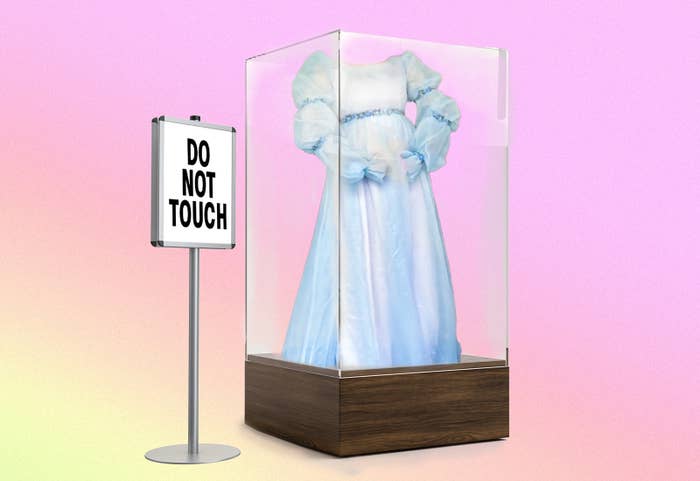 This is an excerpt from BuzzFeed News' culture newsletter, Cleanse the Timeline! You can subscribe here.

Hi, and welcome to Like and Subscribe, Stephanie McNeal's column about the accounts and trends she just can't stop following on social media.
Last week, actor and creator Kelley Heyer bought a vintage dress online and altered it to create a look for her birthday celebration.
She posted about the process on TikTok, and the video sparked discourse that continues to rage.
In the video, Heyer demonstrates how she shortened the blue, puffy-sleeved dress, giving it a flouncy, above-the-knee skirt. People immediately latched onto the video, which has been viewed more than a million times, and whipped themselves into a frenzy. They accused Heyer of ruining the garment.
"The original vintage piece is stunning," the top comment on the video reads. "Would have loved to see it in the hands of someone who could appreciate and preserve it."
"Literally how dare you 😭 at least put that floral lace back on it was stunning," reads another. Many commenters defended Heyer and the alteration, but one accused her and her supporters of not wanting to "preserve history." ("And Tutankhamun was just a mummy out of millions," the same commenter sniffed later in the argument.)
In a follow-up video, Heyer explained that the dress seemed to be, in her estimation, an old theater costume or prom dress — likely handmade, but not made out of fabric that was especially unique or expensive.
That didn't quell the complaints.
"the fact that it was handmade makes it so much more valuable to me. A brand has more monetary value yet they are made mindlessly for consumers," one person wrote.
The discourse made its way onto Twitter, where it had already evolved into the "backlash to the backlash stage." User @lvamsgatthebeep posted screenshots of Heyer's video and some of the comments.
"a girl made a video where she got a 1970s dress & retooled it to be modern while still keeping the vintage feel & ppl are losing their gd minds," the tweet reads. "Bc she had the audacity to cut up a dress no one is wearing🙄the internets obsession w preserving unused items as is is unhealthy."
Vintage clothing is a well-established interest and hobby for lots of people. But as I scrolled through the comments, I wondered why people were spending time fighting over someone else's fashion choices on the internet, coming to blows over a dress someone's mom probably sewed for a production of Cinderella.
"Maybe we shouldn't have turned 'complaining on the internet' into the core of our identities," one tweet read.
That's just it. The algorithmic, engagement-driven nature of online platforms has made it rare to just have a passing thought like Aw, I liked the original dress. It entices you to comment, and comment, and comment, becoming part of the social media ecosystem.
But don't worry about Heyer — she'll be fine. Now she has more views and followers than ever, including fans who praised her handiwork.
"Thank you for all the love on my dress and hello new followers (and people from Twitter?? I've read all your kind replies!). I promise the mean comments don't hurt me personally. It's mostly just wild to me," she wrote. ●