This Teen Turned To The Internet For Help With Her Autistic Brother's Acne And The Response Was Incredible
"It made me so happy to see how good people are and how pure the internet can be sometimes."
This is Callie Ross-Smith, a 19-year-old college student at Chico State in California, and her 16-year-old brother, Alec. Callie described her brother to BuzzFeed News as both "spunky" and "laid-back."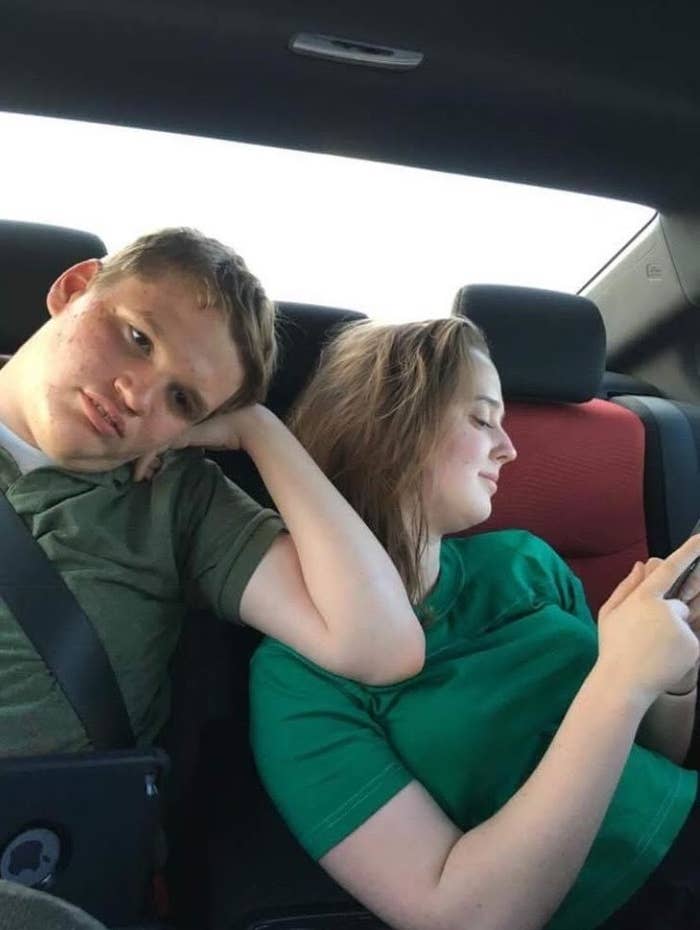 "I have not met a single person, whether they understand him or not, who has not liked Alec," she said. "He's just such an easy person to get along with, and so happy."
Alec has autism and is nonverbal. Callie's parents began fostering him when Alec was 3, and they formally adopted him at age 5.
Alec is on different medications for his condition, including one called risperidone, which has caused him to have painful acne for years.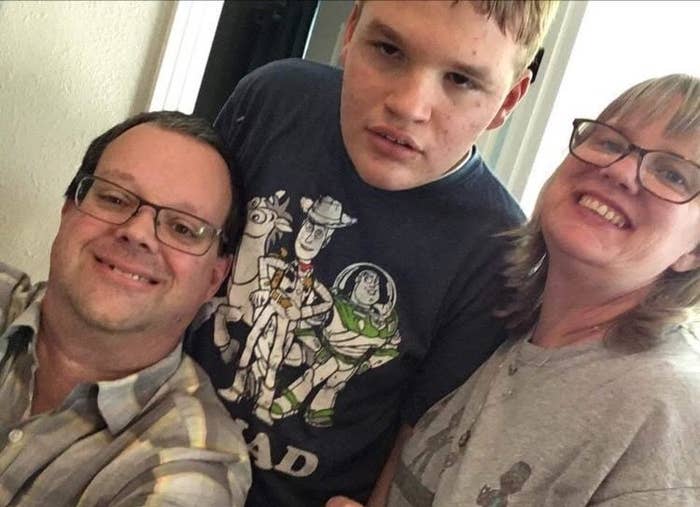 Callie said her parents have worked with dermatologists to help treat Alec's acne, but nothing has helped.
"We've tried so many things for him," she said.
About a year ago, Callie herself began to struggle with a bit of cystic acne. So she turned to one of the biggest skin care destinations on the web: /r/SkincareAddiction on Reddit.
The advice she got on the forum really helped her skin, she said.
"My face has never been clearer ... just by reading advice from people," she said. "People there are just so friendly and willing to help you."
Callie wondered if the supportive community could also help Alec, so she posted about her brother's struggles and asked if anyone could help develop a skin care routine for him.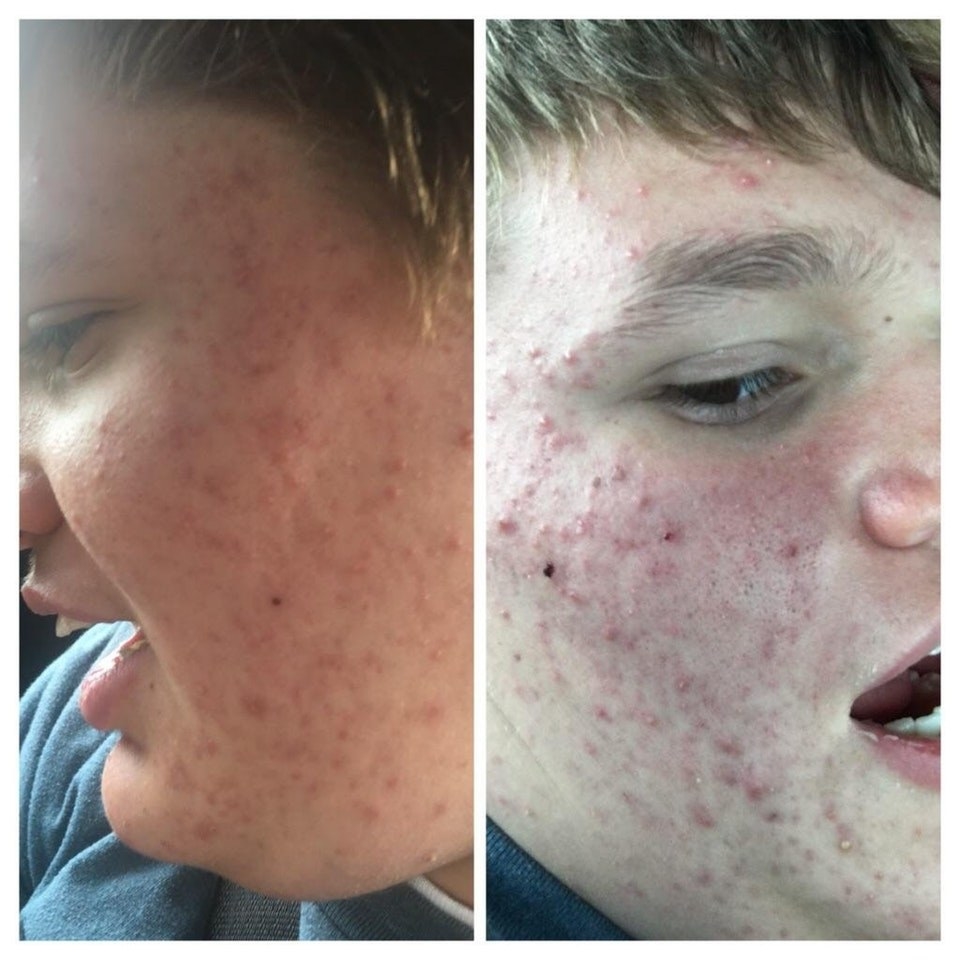 She wrote:
My brother is severely disabled and is on medicine such as Risperidone that makes his skin supremely dry and acne prone. We have tried multiple medications from a dermatologist, including a 5% benzoyl peroxide ointment and an oral medication. The oral medication was helping but it was interfering too much with his other medications to control seizures and his behaviors. I'm hoping this supportive community can help create a simple routine for him to do, as he gets teased already so much at school. Feel free to ask any further questions. Thanks in advanced.
People on the subreddit immediately went to work, asking detailed questions and suggesting products for Alec's new skin care routine.

Everyone wanted to help!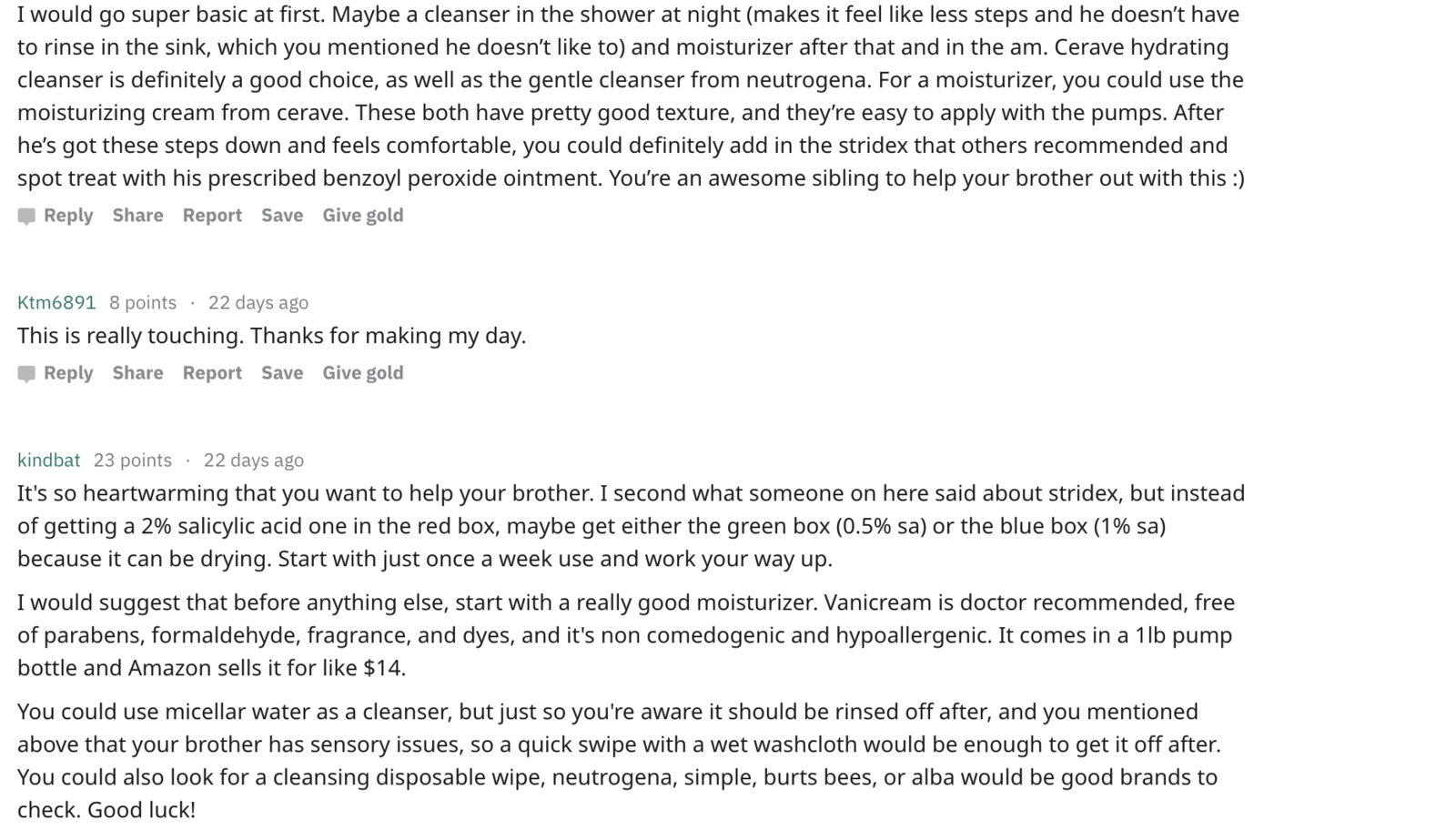 Callie said she was blown away by the responses, and she couldn't believe how helpful everyone was.
Here's one of the things she learned: Since Alec does not like water on his face due to sensory issues, she should use cleansing wipes instead.
"They were just so willing to adapt, it made me happy. That's all," she said. "It made me so happy to see how good people are and how pure the internet can be sometimes."
She also shared the new routine with her parents, who were blown away.
"[My mom] was just so excited and I hadn't seen her so excited for something for my brother's acne in literally years," she said.
Callie said Alec has been doing his new routine for about three weeks and his face has been "looking less inflamed."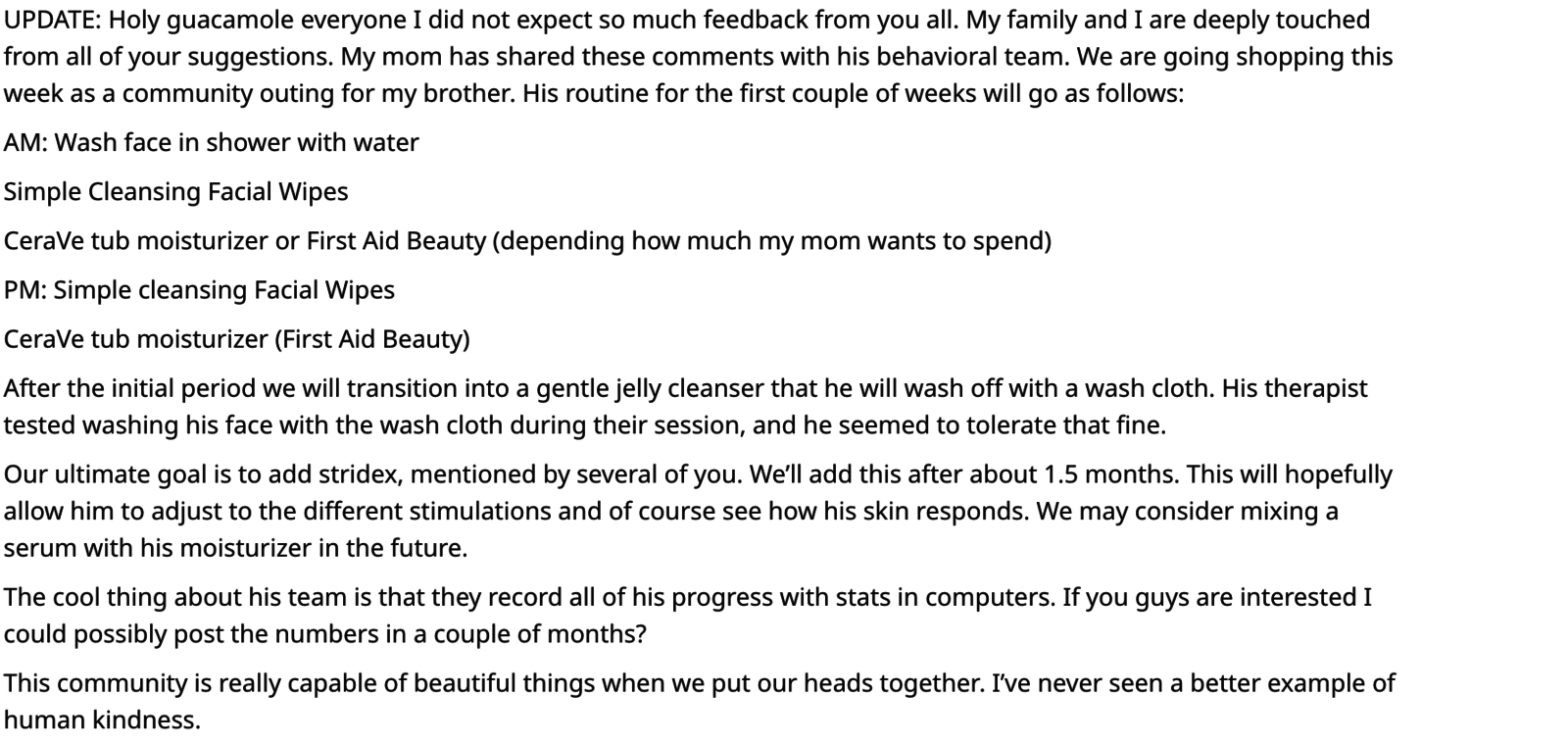 She said she plans to keep the community updated and take progress pictures of his skin.
Callie said her hope is that once Alec's skin clears, it won't be something people automatically judge about him.
"I want to see in the long run if his acne improves, if people see him more," she said.