This is Clinton Brentwood Lee, a photographer from St. Petersburg, Florida. He has traveled the world for more than 15 years shooting weddings and other events for his company Brentwood Photography.
On Friday, like many people on Facebook, Lee changed his profile picture and cover photo for his business page to show support for marriage equality in the wake of the Supreme Court's historic ruling.
"All we see is love," he wrote.
While many people showed support for the photos, one client didn't. The client wrote Lee and told him they would no longer be using him for their upcoming wedding because he supports same-sex marriage.
The client wrote:
Greetings Brentwood. We would just like to inform you we will NOT be using your services for out [sic] wedding. My fiancé and I support traditional marriage between a man and a woman and don't want our money going to places that supports [sic] otherwise. Secondly I would like to inquire about how we can get our retainer back from you. Thanks.
Lee posted his killer response to the couple as well:
Wow, I'm not really sure what to say here. I would say this disappoints me, but I actually find this to be a good thing because our company now would now not like to work with you as well.

It's not that because you have a different view from us, but it's because, since you don't like an support gay marriage, no one else should be able to have it. That's like me not liking broccoli, and demanding that everyone else in the world should not have broccoli either! If you're not in favor of gay marriage that's fine, don't marry a woman.

Personally, I was taught not to judge others and to love everyone else. So I will try not to judge you here and say anything more as to my opinion of you.

At Brentwood Photography we see love in all forms. Now as far as your retainer goes, I hope you'll read the first article in the contract you signed stating that this retainer is nonrefundable.

But don't you worry, I'm not going to keep it!

Because of this conversation, I have decided to donate your $1500 to GLAD [sic] [the Gay & Lesbian Alliance Against Defamation], a group created to help and support gay rights.

So let me be the first to say [redacted], thank you very much for your donation and support for this great cause!

I couldn't have done it without your money.

Sincerely and with Love,

Brentwood Photography
The post has since been liked more than 26,000 times, with some people praising Lee for taking a stand for his beliefs.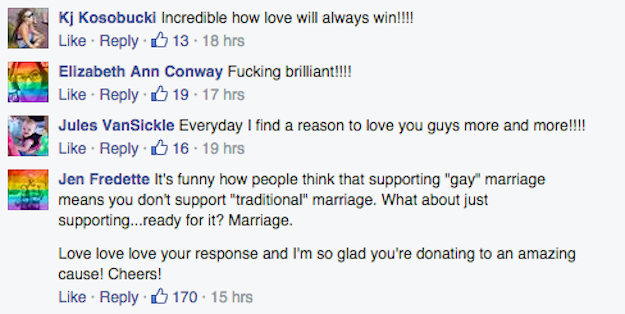 But some people have sent him hate mail. Lee said he is sure he will lose clients for his post, but he doesn't care.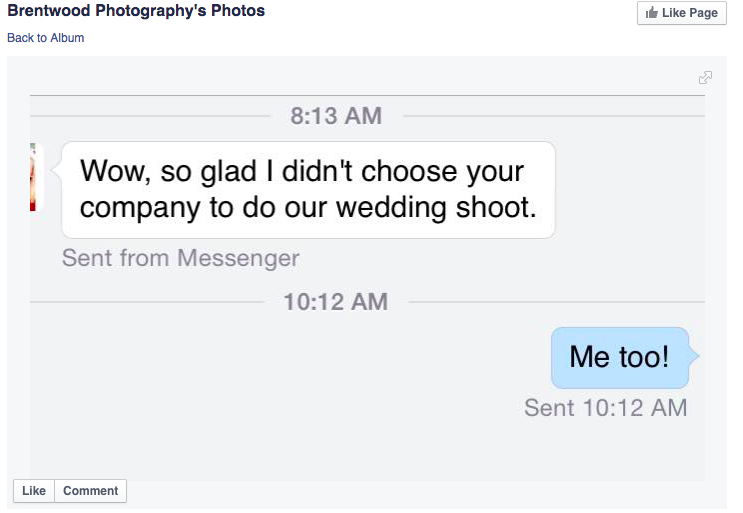 The original client also sent him a message back, saying posting their exchange on Facebook was "annoying and distasteful." Lee wrote he is "Sorry/not sorry."
He also shared with BuzzFeed News the client's original response to his message.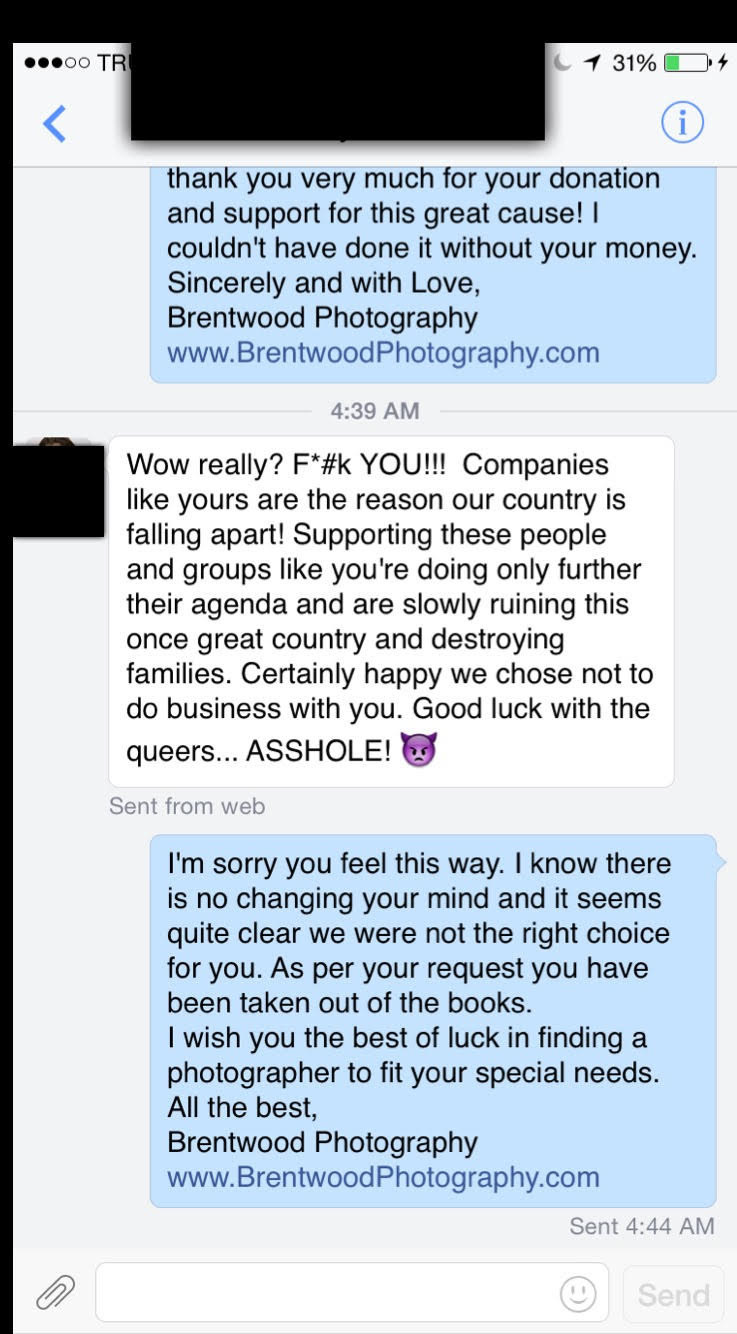 The amount of people the post has reached has been overwhelming, he said.
"I wish I could see my client's face as she reads how her and intolerance has kind of backfired," he said. "I've had several professional photographers write me saying they are now inspired to take a stand as well."