A little girl is warming hearts everywhere after she decided to gift her favorite garbage man with one of her birthday cupcakes because she is his biggest fan.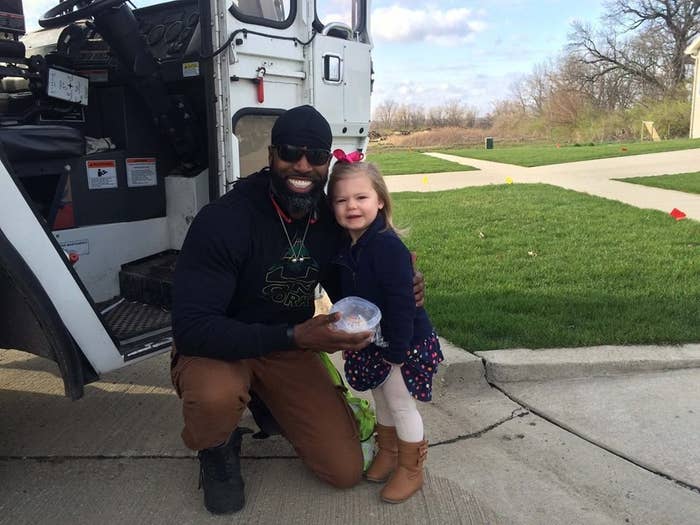 Brooklyn Andracke, 3, has looked forward to seeing her "favorite, awesome, smiley, garbage man" every Thursday for about a year, her mom, Traci, said in a note to the city of Bloomington, Illinois, where the family lives.
Andracke said her daughter gets super excited to see the garbage man, Delvar Dopson, and always wants to make sure she waves to him.
They even drive around the neighborhood looking for Dopson if they miss seeing him at their house.
"Every Thursday, my heart is full when I see the joy that our amazing garbage man brings Brooklyn when he honks and waves at her with a big smile," she wrote.
The story was shared by Bloomington officials on the city's Facebook page after Andracke sent them the note.
A few weeks ago, Brooklyn and her mom decided to give Dopson one of her cupcakes from her birthday. So, they wrapped one up and waited for him to drive by.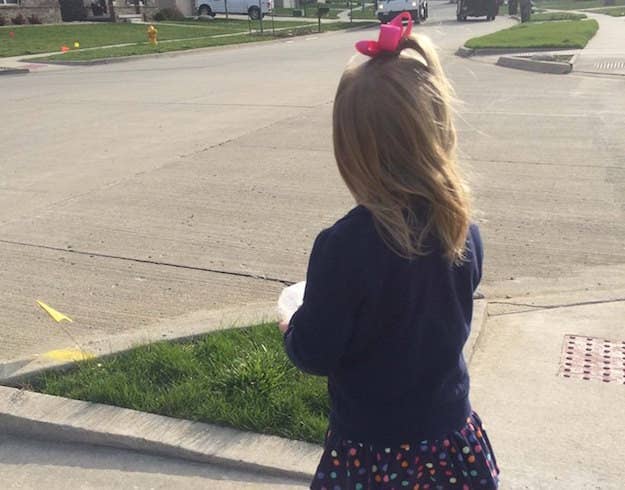 When Dopson drove by, Andracke motioned for him to stop. Then, Brooklyn handed him the gift.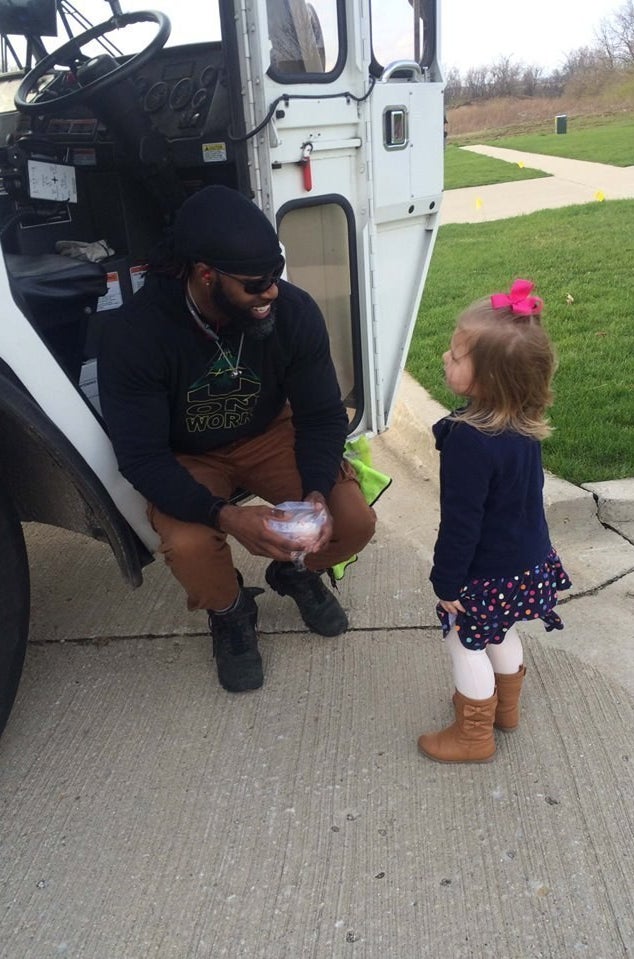 Dopson was "instantly speechless" as accepted the cupcake, Andracke said.
"I explained to him that he makes our day every Thursday, and we really appreciate the honking and waving, and how special of a day it is for us," she said.
Dopson, she added, replied that he always looks out for Brooklyn too, and loves seeing her.
"He said that he has a meeting every Thursday morning and always tries to get out of there in a hurry so that he can make sure to see us every week," Andracke said. "He said he doesn't have any kids of his own, but he mentors several children and just loves them."
Andracke added the moment made Brooklyn's day.
"After he left, we continued onto daycare," she said. "Brooklyn was unusually quiet in the backseat. I asked her if she was OK, and she said, 'Mommy, I'm so happy.'"
The story touched many people, and was shared more than 2,000 times. Many said the story made their day, and praised Dopson for his kindness.

In a follow up post, Andracke said that the next week, Dopson surprised Brooklyn with a belated birthday gift of Frozen toys. In return, Brooklyn made him a thank you sign that he has placed in his truck.
Andracke told local The Pantagraph newspaper that she couldn't believe all of the attention the story was getting.
"My husband and I were just blown away," she said. "I'm glad everyone sees the kindness behind Delvar's heart and that he wanted to make our Thursday mornings special for Brooklyn."
For his part, Dopson told the newspaper that he has been touched by the many sanitation workers who have reached out to him to thank him for being a positive role model for their profession.
"It doesn't matter if I'm a garbage man or if I'm a CFO at State Farm," he said. "We all have to discover our gift and be effective. I mentor children and that is the passion in my heart."
BuzzFeed News has contacted Andracke for comment.