Over the weekend, a mom named Marla tweeted a photo of her son in a Navy uniform. She wrote an interesting caption.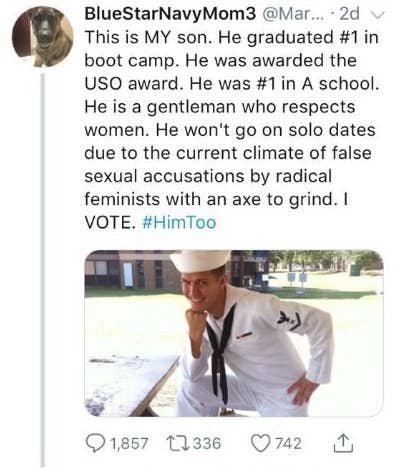 She wrote:
This is MY son. He graduated #1 in boot camp. He was awarded the USO award. He was #1 in A school. He is a gentleman who respects women. He won't go on solo dates due to the current climate of false sexual accusations by radical feminists with an axe to grind. I VOTE. #HimToo
Marla's tweet echoed a talking point on pro-Trump Twitter over the weekend amid the Brett Kavanaugh confirmation. These people were saying they felt their sons were under attack, with some saying they even planned to "arm" their sons against false claims of sexual assault.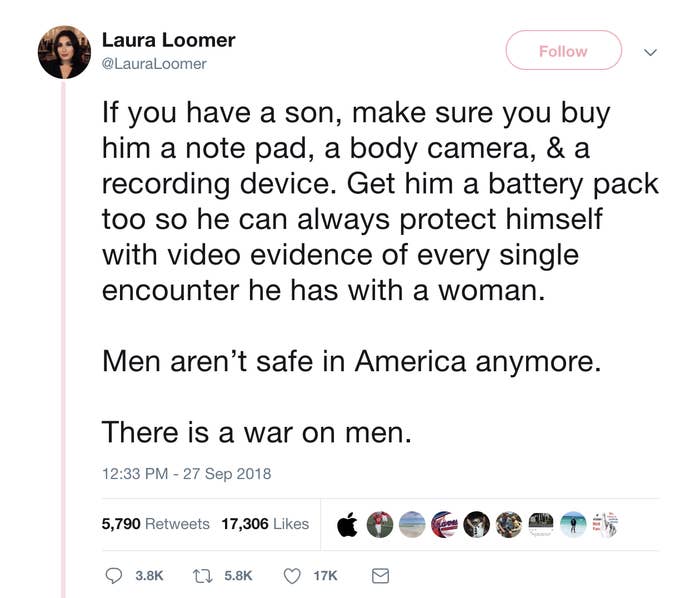 Marla's tweet lingered for a few days, but on Monday night, it exploded. People began to retweet her, respond to her, and then...meme her. The memes, as the kids say, are dank.
From the classic mother's boys...
To way more problematic sons...
To adorable sons!
The memes only got better.
And more insane.
OMG.
All of the classics were brought in.
Pretty soon, a guy named Jon Hanson, who claims he is Marla's son, weighed in. He said his brother is the now-famous "gentleman," and called his mom's tweet "ridiculous."
He took some time to poke fun at his brother.
Then, a guy claiming to be Marla's "gentleman" himself weighed in.
He identified himself as Jon's brother Pieter, and created a Twitter handle just to defend himself, called @ThatWasMyMom.
He wrote:
That was my Mom. Sometimes the people we love do things that hurt us without realizing it. Let's turn this around. I respect and #BelieveWomen . I never have and never will support #HimToo . I'm a proud Navy vet, Cat Dad and Ally. Also, Twitter, your meme game is on point.
In just nine hours, Pieter got more than 10,000 followers on his new account. He celebrated by sharing cat pics, of course.
BuzzFeed News has reached out to the brothers for comment on the whole situation, and for more cat pictures.