This Couple Is Worried They Will Have To Delay Their Wedding Due To Trump's Immigration Ban
"Whatever happens, this is going to make our love stronger."
Roozbeh Aliabadi met his fiancé, Zhinous, while on a work trip in Tehran, Iran. Aliabadi told BuzzFeed News he had never believed in love at first sight, but Zhinous caught his eye immediately.
He said he went up to her and said something that, in hindsight, was pretty forward.
"You're going to be the mother of my kids one day," he said he told her.
Zhinous laughed, but the pair soon fell in love. Aliabadi was born in Iran, but has lived in the US since he was 14. After two and a half years of planning, the couple got engaged and Zhinous began the process of immigrating to the US.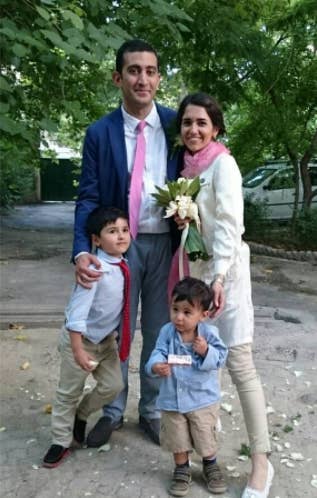 The couple got officially married in Iran for immigration purposes, and Zhinous then applied for a green card.
On Jan. 17, the couple was overjoyed to learn that Zhinous's green card had been approved.
Aliabadi said that even though they are already legally married, the couple have been eagerly waiting to have a wedding and start their life together in the US.
However, they were stunned to learn this week that President Trump is planning an executive order to block visas to people from seven countries, including Iran.
The order as currently written would suspend immigration to the US for visitors from Iran, Iraq, Libya, Somalia, Sudan, Syria, and Yemen for at least 30 days. The order is expected to be signed in the coming days or weeks.
Aliabadi said that people like him and his fiancé, who this policy would directly affect, have been left completely in the dark about what it means for them.
"We don't know what to plan for our life," he said.
He added that his fiancé is upset and in shock at the news, and they are both confused as to why this would happen in America.
"This is not the image I have of the US," he said. "It's a great country."
Aliabadi said he doesn't usually share personal feelings on Twitter, but he felt heartbroken about the situation — so he tweeted a polite but direct note to the president to share his story.
"Thank u @realDonaldTrump 4 banning my wife to enter the #US & delay our wedding. Our love will be stronger than your ban & wall," he wrote.
Many people responded to his tweet, saying they are remaining hopeful that the couple will be reunited.
"So sorry to hear this news! I wish you both love and comfort in the days ahead!" one person tweeted.
Aliabadi said he doesn't understand Trump's policies, and that he thinks America is "already great."
"This is not national security, it is national insecurity," he said. "There are better ways to keep America safe."
However, one thing the couple does know is that nothing, not even a immigration ban, will affect the love they have for each other.
"Whatever happens, this is going to make our love stronger," he said.