A group of teen girls in Arizona have caused mass outrage on social media after they posed for a photo in shirts spelling out a racial slur during a "school picture day."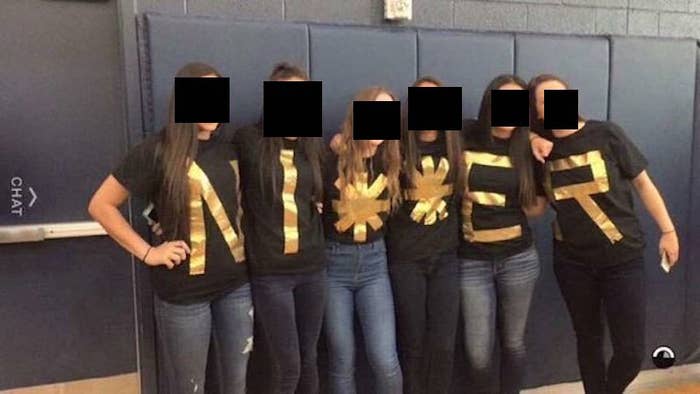 The photo of the senior girls at Desert Vista High School in Phoenix spelling out "NI**ER" began circulating online on Friday, the Arizona Republic reported.
The girls were wearing the shirts as part of a school picture day, where the more than 700-person class came together for a panoramic photo.
The full collection of shirts spelled out "BEST*YOU'VE*EVER*SEEN*CLASS*OF*2016," according to photos on Instagram.
The controversial photo seems to have been originally posted to Snapchat, according to the newspaper.

As the photo began to spread online, many people expressed sadness and outrage over the fact that the girls were laughing and smiling in the picture.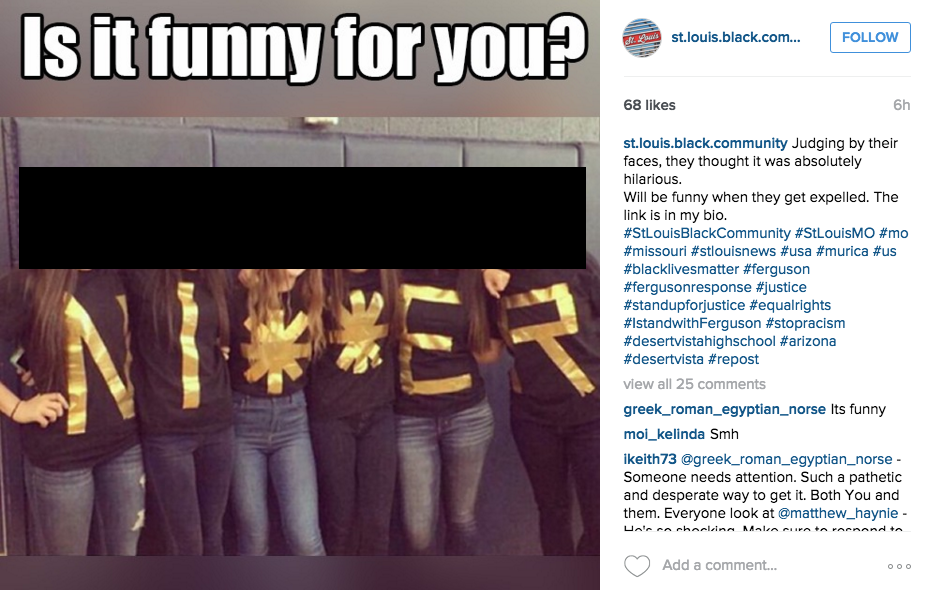 "I just can't get over how happy they look," one person wrote. "I'm not surprised by this but still, it's a lot."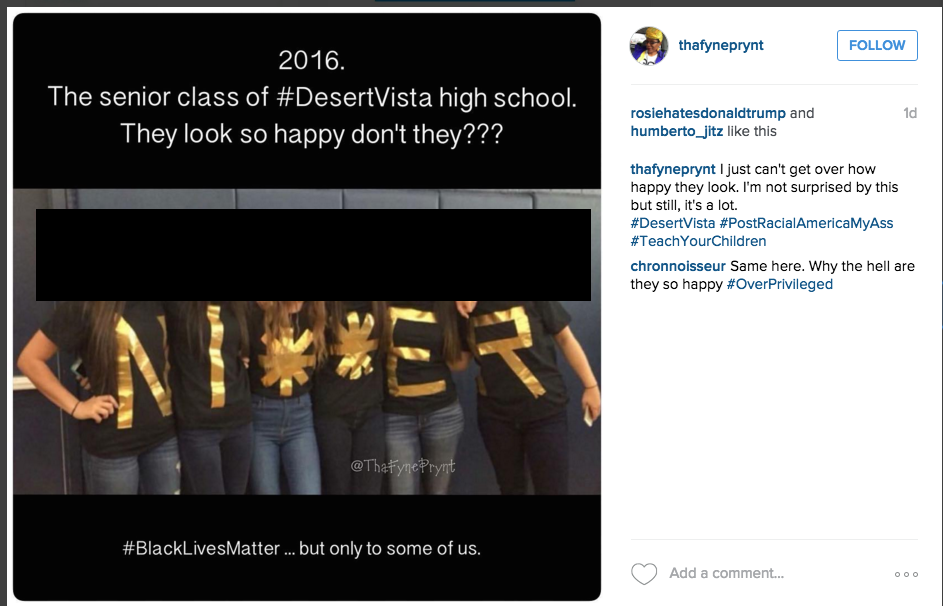 Parents alerted ABC 15 to the photo, and Phoenix police officers were soon reportedly dispatched to the school.
In a letter to parents, principal Dr. Christine Barela said that the girls would be disciplined, though she did not specify what their punishment would be.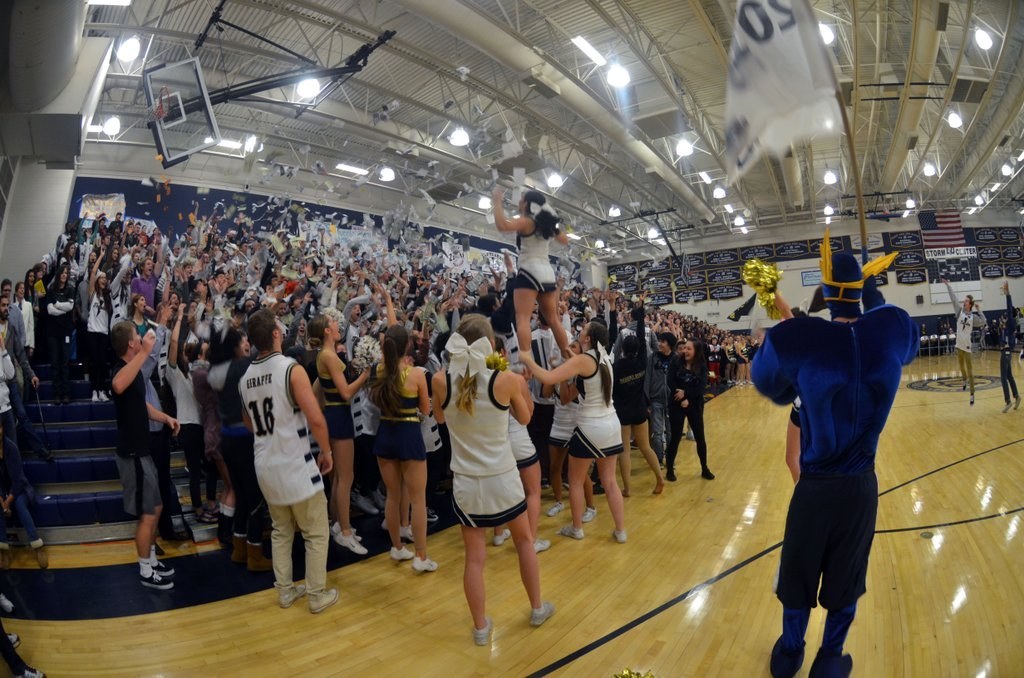 "We want to let you know we share your outrage and disappointment over the actions of a handful of our students today," she said. "We want to make it crystal clear those actions are unacceptable and will not be tolerated at Desert Vista."
Barela added that the school will also address "the obvious need for sensitivity training."
The school's superintendent Dr. Kenneth R. Baca also released a statement, saying the picture "will not be tolerated."
"It is unacceptable for any racial slur to be used regardless of intent," he said. "We need to understand that words matter."
But the actions of the school were not enough for some people, who started a change.org petition calling for the students to be expelled and for Barela to be fired.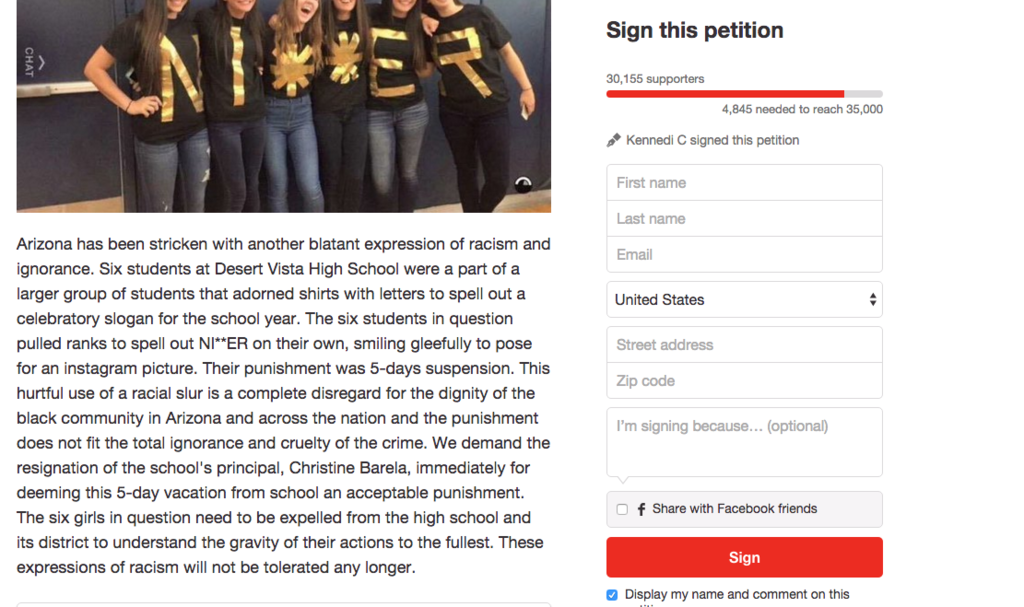 "The six girls in question need to be expelled from the high school and its district to understand the gravity of their actions to the fullest," the petition states. "These expressions of racism will not be tolerated any longer."