A College Has Reportedly Banned One Of Its Workers From Bringing His Therapy Dog To Work After A Newspaper Article
Ivy the husky got special permission to travel to work with her owner at the University of Rhode Island, but it was reportedly revoked.
An employee at the University of Rhode Island was reportedly told he was forbidden from continuing to bring his therapy dog to work after the school newspaper highlighted the pair in a touching article earlier this month.
In an article, the college newspaper The Good 5 Cent Cigar highlighted maintenance worker Mike LaPolice and his therapy dog, a husky named Ivy.
The article, titled "Therapy dog brings residential joy," said that LaPolice began bringing Ivy to his job cleaning one of the university's residence halls when she was a puppy.
LaPolice told the newspaper that he had Ivy registered as a therapy dog when she was five months old in order to be able to bring her to work.
But Ivy began to provide company to more than just LaPolice. Students began to recognize her, and said she always cheered them up after a long day.
Soon, she became known as a "staple" of the residence hall.
"On a particularly tough day, Ivy wandered into my office and just put her head on my leg," Amanda Mercadante, an RA in the building, told the newspaper. "How could I possibly stay focused on such negativity in my life with that beautiful, loving dog looking right up at me?"
Ivy "always kept me company," another student said on Facebook.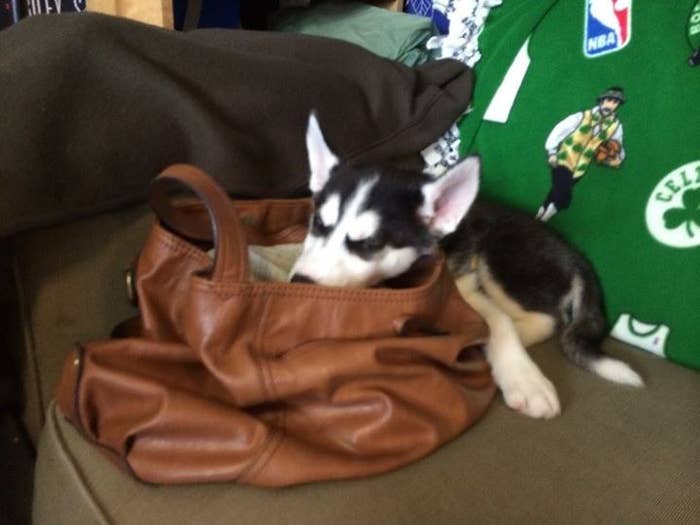 However, soon after the article was released, the newspaper reported that Ivy's school privileges had been revoked.
LaPolice told the paper he was contacted by a school housing official and told he and Ivy must leave the campus and lose a day's pay.
LaPolice said he was told that if he wanted to return to work, he could not bring his dog.
"I was happy about the article because I thought it would open people's eyes to how amazing Ivy is," LaPolice told the newspaper. "I never thought this would happen."
LaPolice said the official gave him vague responses, but he has been told in the past the school felt the dog's presence on campus was "unprofessional."
LaPolice told the newspaper he is going to speak with his doctor to discuss his options for keeping Ivy with him for medical reasons.
The University of Rhode Island did not respond to a request for comment from BuzzFeed News.