The Inventor Of The Keurig Says He Feels Guilty For Creating It
John Sylvan said he doesn't even own one of his very creations because they are "kind of expensive to use."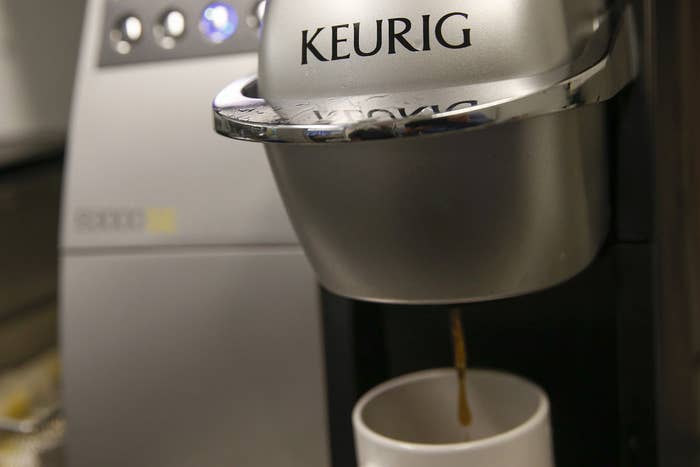 The inventor of the Keurig now says he feels guilty for creating the coffee-making device because it creates a ton of waste.
In an interview with The Atlantic published Monday, John Sylvan said that he feels he created a monster.
"I feel bad sometimes that I ever did it," Sylvan said.
Sylvan created the Keurig in 1992 with his college roommate Peter Dragone. He said he believed they would only be used in offices.
He told The Atlantic he was pretty sure the device, which allows the user to brew a single cup of coffee in seconds by inserting a pod into a machine, would be a hit.
"It's like a cigarette for coffee, a single-serve delivery mechanism for an addictive substance," he said.
Sylvan sold his share of the company in 1997 for $50,000. However, he told The Atlantic he now regrets being a part of it at all, because the pods are bad for the environment.
"No matter what they say about recycling, those things will never be recyclable," he said.
According to The Atlantic, the number of pods that were buried in 2014 could circle the Earth an estimated 12 times.
The company has received backlash online in viral videos and petitions for creating a huge amount of waste.
Keurig says it has committed to making its pods 100% recyclable by 2020. Every year, it plans to transition more and more of its pods to a version that uses recyclable plastic.
In addition, the company has a program that collects its pods from users for recycling and is investing in promoting municipal recycling infrastructure.
"The recyclability of Keurig Green Mountain K-Cup packs is a challenge we take very seriously," Keurig said in a statement to BuzzFeed News.
Keurig said that Sylvan has not been a part of the company since its "infancy," and the company is different today.
However, Sylvan said he had an idea for how to make the pods more environmentally friendly, but it fell on deaf ears.
"I told them how to improve it, but they don't want to listen," he told The Atlantic. "There's a much better way of doing it."
In another show of disapproval, Sylvan said that he doesn't even have one of his own creations.
"They're kind of expensive to use," he told The Atlantic. "Plus it's not like drip coffee is tough to make."