The "Curvy Wife Guy" Is Threatening To Sue Babe For Comparing His Book To The Unabomber Manifesto
This is the legal battle of the century.
Robbie Tripp describes himself as an "author, public speaker, entrepreneur, and influencer." But you probably know him as the "curvy wife guy."
Tripp is also the author of Create Rebellion, a book he describes as a "creative bible for the disruptive soul."
His website bills the book as "an avant-garde stream of consciousness that seeks to inspire creative minds to listen to their inner desires to create, to be disruptive with their creations, and to disregard those who don't see the beauty of their inspired vision."
However, it didn't get a great review from Babe.net, which has been covering Tripp in detail (they also recently revealed some old racist Instagrams he had). Writer Harry Shukman wrote a post about the book saying it "reads like the Unabomber Manifesto."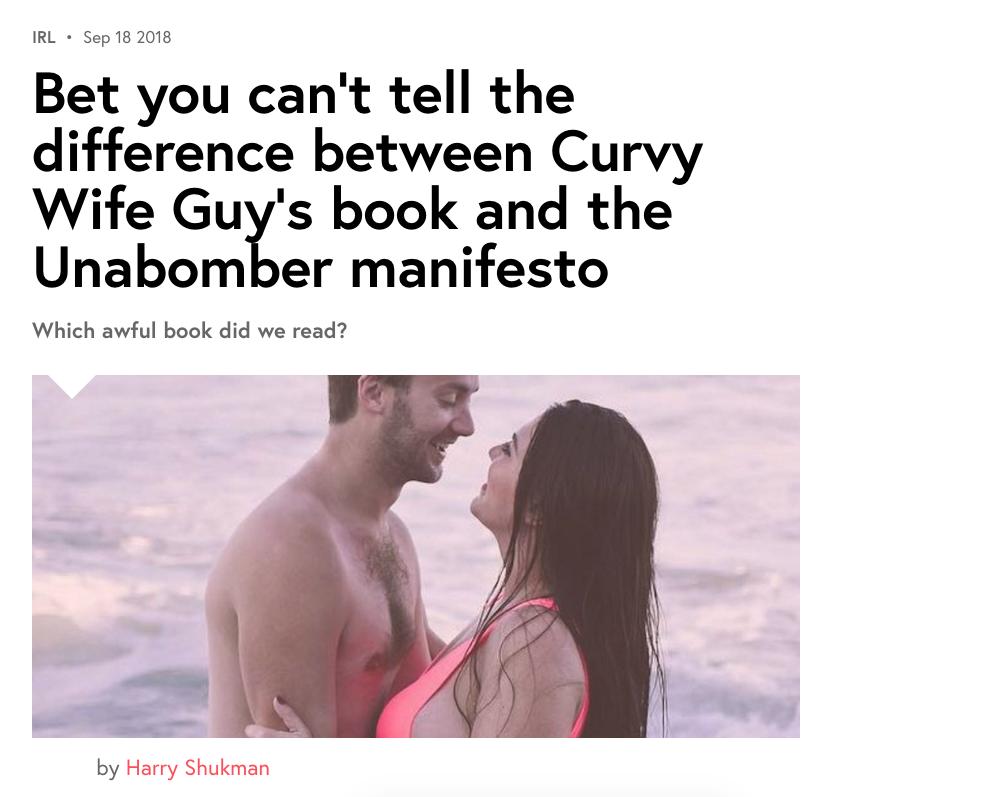 Shukman challenges readers to try to identify if a quote is from Create Rebellion, or from domestic terrorist Ted Kaczynski's deranged ramblings.
"Disturbingly, a lot of Create Rebellion reads like this — an angry, right-click-synonym-heavy screed against Curvy Wife Guy's haters," Shukman writes. "His imagery is pretty clear: he sees himself as a Christ-tier genius whose veins are pumping with pure creativity, everyone else is a disease-ridden leper reeking of 'complacency and whoredom' (sounds pretty metal, tbh)."
This apparently did not sit well with Tripp. According to Babe.net, Tripp's lawyer sent editors a letter threatening legal action over the book review.
According to Shukman, the letter stated that the site's coverage of Tripp amounted to "targeted harassment."
"The overall tone and intent of the aforementioned articles serve no purpose other than to effectively defame me to the public at large," the letter stated.
In his post, Shukman defended his right to free speech, saying "readers of babe dot net deserve to know that in our opinion, the Curvy Wife Guy's book sucks an entire ass."
Babe.net provided a statement on the matter to BuzzFeed News:
"Congress shall make no law preventing the trashing of a dumb book, or prohibiting the free shading thereof; or abridging the freedom of speech, or of the press; or the right of babe dot net to peaceably critique 'abstract manifestos for disruptive creativity' written by an Insta-famous weirdo obsessed with talking about his wife's thiiiiccness."
In an email to BuzzFeed News, Tripp said he felt Babe was infringing on his copyright.
"Sensational and completely uncredible snark blogs like the one in question typically wouldn't warrant a response from me, but when full pages of my book are being photographed and published online without my knowledge or permission it becomes necessary to inquire," he said.
He added that babe's "obsession" with him has become "deplorable."
"My number one goal on social media has always been to spread positivity and encourage others to love themselves and chase their dreams, and I just find it sad that there are people out there who choose to spend their time and energy trying to tear others down and conjure up controversy," he said. "I'll never understand that type of negative energy and I'll continue to stay positive!"