Florida Teen To Be Honored After Helping Save The Life Of The Officer Who Arrested Him
The police officer was in the process of booking 17-year-old Jamal Rutledge when he collapsed on the ground, clutching his chest.
A Florida teenager will be honored alongside three police officers after he helped save the life of an officer who arrested him.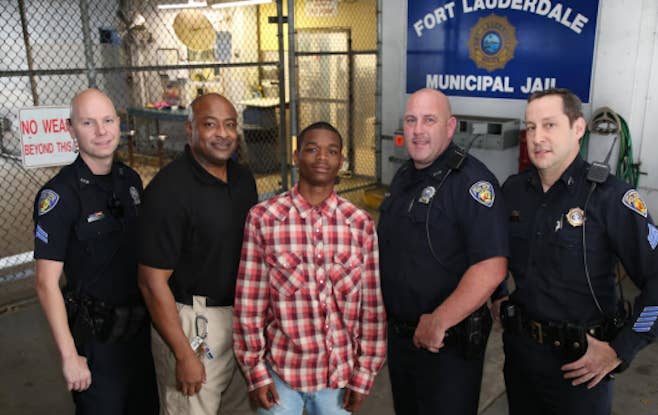 Jamal Rutledge, 17, was arrested by Officer Franklin Foulks on Sept. 10, 2014, Fort Lauderdale Police Department spokeswoman DeAnna Greenlaw told BuzzFeed News.
Rutledge was arrested on charges of violating his probation for burglary/criminal mischief and violation of his juvenile imposed conditions.
Foulks was in the process of booking Rutledge when he collapsed on the ground clutching his chest.
Surveillance footage shows the handcuffed teen calling out and kicking the fence of the booking area in order to draw attention to Foulks.
"Broward Health Medical Staff noted that Rutledge's actions and the quick response of these officers were largely responsible for Officer Foulks surviving this medical episode," the police department said in a statement.
Greenlaw told BuzzFeed News that Rutledge is being recognized at a City of Fort
Lauderdale Commission Meeting on Jan. 21 for "making the right decision when faced with a difficult scenario."
The police officers are also being honored with Lifesaving Awards and Officer of the Month Awards.
As for Foulks, he is now doing well.
"I feel like a million bucks," he said, according to Greenlaw.