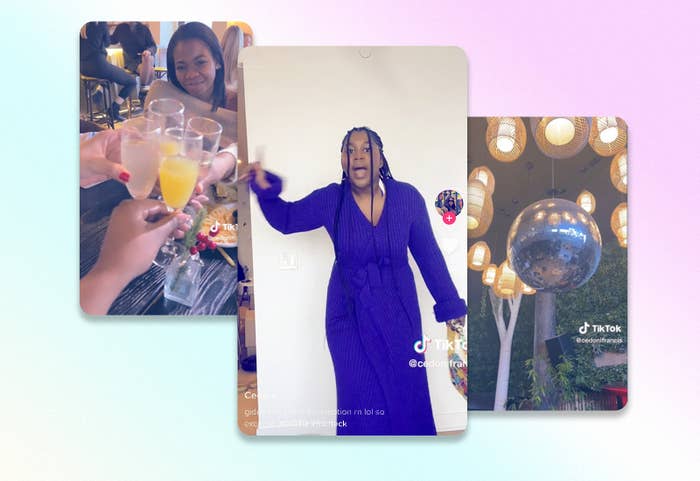 This is an excerpt from BuzzFeed News' culture newsletter, Cleanse the Timeline! You can subscribe here.

Hi, and welcome to Like and Subscribe, Stephanie McNeal's column about the accounts and trends she just can't stop following on social media.
Before mid-January, TikToker Cedoni Francis's followers could expect a specific type of content. A self-described "#corporatebaddie" who used to work for Google, Francis attracted more than 230,000 followers with her videos about her daily life in New York City.
She documented her morning routine before spending a day in her downtown office (subway, breakfast, stop for some people-watching), took viewers along as she hunted for a new apartment, and shared her experiences dating as a 24-year-old in the Big Apple.
But on Jan. 22, just three days after posting her latest "day in my life: office edition" video, Francis announced on her page that she had been laid off.
The layoffs, she said, affected her entire team, and she said had seen "the writing on the wall" for a while. However, she said she wasn't angry or even that upset because she had "the privilege of knowing [she is] perfectly fine."
The reason? Her TikTok account.
"My interests have started to align more with creative entrepreneurship than they did my traditional 9-to-5," she said.
Francis is just one of many young people who have made a name for themselves on TikTok by sharing their lives as #corporatebaddies, #techgirls, or #techtokers, then found themselves impacted by the mass layoffs sweeping the tech industry. But rather than go dark, these entrepreneurial Gen Z'ers are posting through it and getting real.
Under hashtags like #techlayoffs, you can find videos with titles like "A day in my life getting laid off at Google." This video, from creator @nicolesdailyvlog, starts off with a photo of an ominous text message from her boss, which read, "Hey Nicole, feel free to give me a call."
Nicole filmed herself running down the stairs once she learned of the layoffs and realized she couldn't log into her email or calendar. She then filmed herself in tears.
"The Google layoffs were not how I expected to start off 2023, but I know it's only up from here," she wrote in the caption.
For these creators, being candid about their job losses is likely cathartic, but it's also an adept social strategy. Nicole's video has nearly 5 million views, and other TikTokers have found similar success.
One creator, @rawantheplug, built her platform of 183,000 followers with videos like "free interview practice tools for girlies with anxiety" and "employer red flags."
In November, Rawan announced to her followers that she had been one of the thousands of people laid off from Meta. A few weeks later, she had another announcement: She was going to Africa!
"If you got laid off, this is your sign to go on that trip!!!" she wrote. Her comments filled up with other laid-off techies, who said they appreciated the push to take some time for themselves.
In building these platforms while simultaneously working their 9-to-5s, these creators were putting into practice a hard reality: Your employer won't love you back, so have a Plan B.
As for Francis, she seems to be doing just fine. This week, she shared a video from New York Fashion Week and another video titled "what I spend in a day as a laid-off former tech baddie in nyc."
"TW: woman enjoying life," she wrote. ●