This is Kennedy, a 21-year-old college student from Arkansas. She has been working at Walmart for the summer and told BuzzFeed News she has really enjoyed it so far.
This year, Walmart's back-to-school ad campaign is called "Own the School Year Like a Hero."
The retailer says it is designating certain employees as in-store "Back-to-School Helpers" in order to make the store the top, one-stop shop for going back to school.
"It takes a superhero to know a superhero!" a Walmart spokesperson told BuzzFeed News in a statement. "Our associates are helping customers zoom through the check-out line and get any items they forgot in a flash so kids can go back to school feeling like a superhero."
For this ~theme~, Walmart is having some of its employees wear capes as part of their uniform. Kennedy said when she found out, she thought it was a bit embarrassing.
Kennedy said she's a pretty active social media user, so she jokingly tweeted out the photo saying, "I'm quitting." People couldn't handle the amazing new Walmart attire.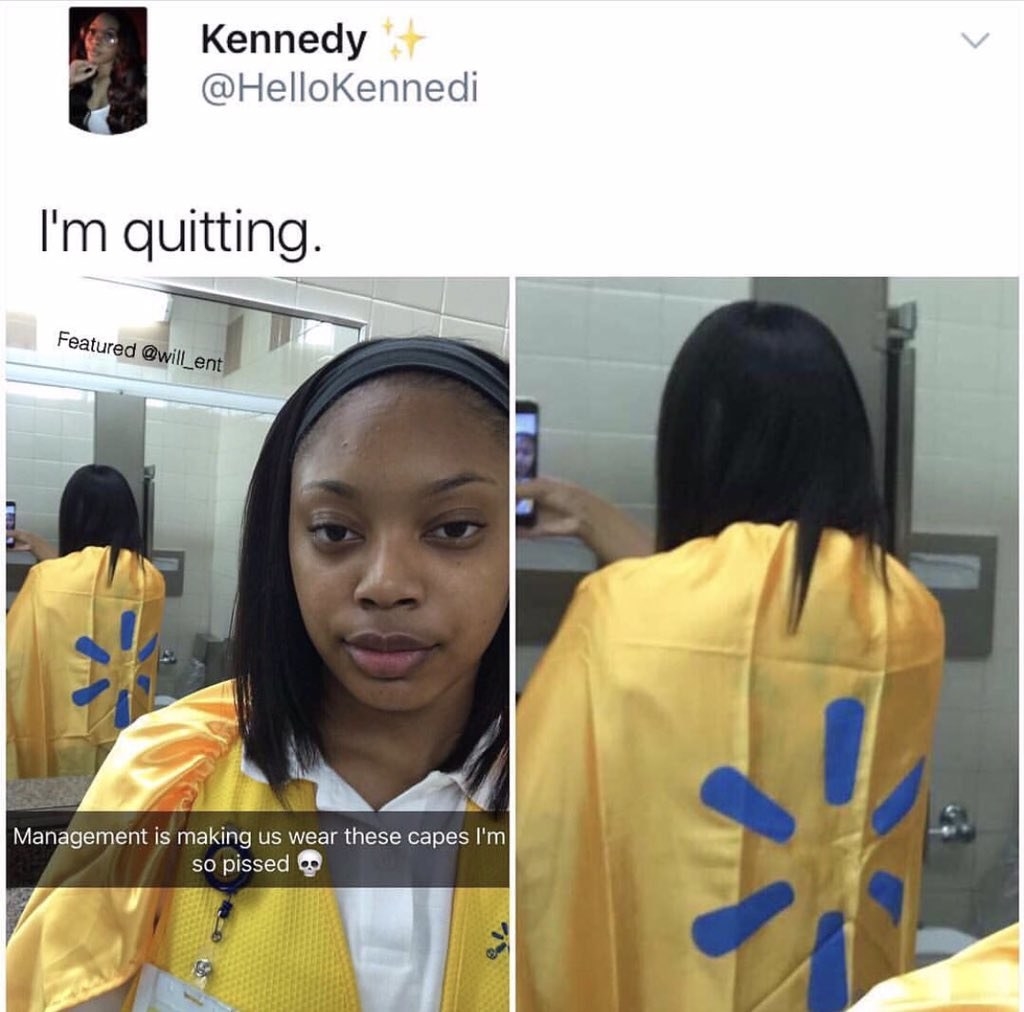 They were ALL for the cape.
Honestly, no one could handle it.
Other Walmart employees also shared their ~cape looks~.
Cape life is the best life.
💀💀💀💀💀💀💀💀💀💀💀💀💀💀💀💀
"I dont know if I've ever been so excited about work in my life," said one person.
Kennedy wasn't the only one tweeting about her summer of #thecape. Tons of other people are sharing pics on Twitter.
Many thought it was totally hilarious.
It's too much.
Lots of people reported live from the field.
They even drew people in.
Can we have one?
Kennedy said all the great responses to her tweet have made her realize she shouldn't be embarrassed, and should instead enjoy her cape experience.
"Surprisingly, everybody is having a lot of fun with them, from the managers on down to the cashiers and the stockers," she said. "We've been running up and down the aisle just to make our capes fly and calling ourselves the 'Super Clerks,' so it's been really fun."