Multiple celebrities and companies have joined with the Anti-Defamation League to launch a campaign calling on Facebook to crack down on hate speech, violence, and misinformation on its platforms.
The group, according to its website, is a "diverse and growing coalition that wants Facebook to take common-sense steps" to clean up its platforms, and many members are promising to "freeze" their accounts on Wednesday. Instead of posting their normal content or ads, the members will "put up one message focusing on the damage Facebook does and refrain from otherwise posting on Instagram for that day."
The "freeze" is part of the coalition's "week of action," which kicked off Monday. Members plan to continue to share information on "how Facebook's failures lead to real-life violence and sow division" and call for change through the end of the week.
A spokesperson for Facebook had no comment on the campaign.
Celebrities like Kim Kardashian West, Katy Perry, and Demi Lovato began to tweet and post on Instagram about their support for the movement on Monday. Jennifer Lawrence wrote on Twitter that she believes Facebook "ignores" hate and disinformation as a "deliberate decision to put profits over people and democracy."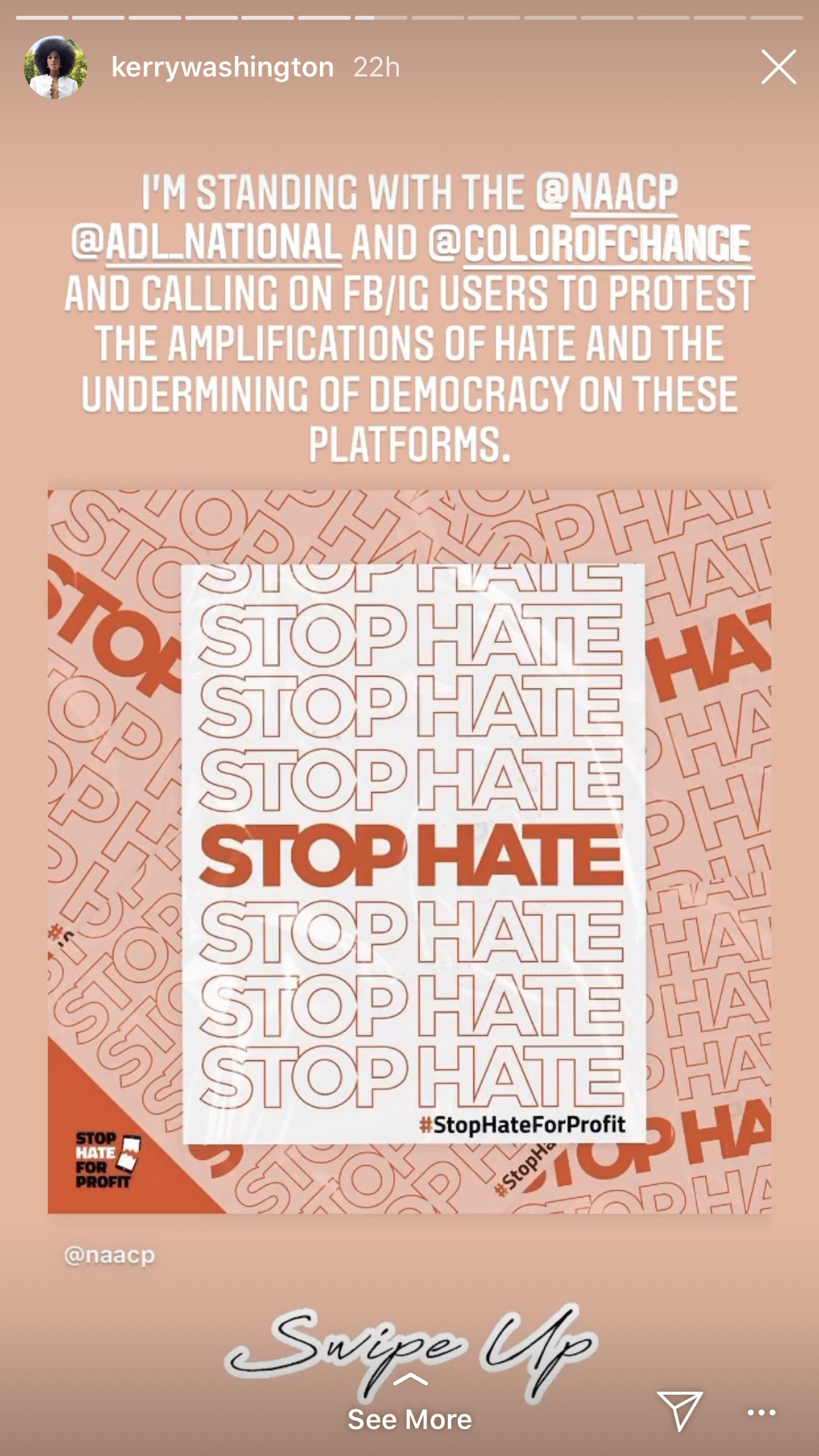 The celebs were joined by the NAACP, as well as businesses like Honda, Verizon, Hershey, and Unilever. The group's first campaign, in July, called on companies to pause ads on Facebook for a month.
The coalition states on its website that while Facebook has been full of hate speech and misinformation for years, the convergence of rampant misinformation about the coronavirus and racism against Black users led it to launch the campaign now.
"In the wake of a global health pandemic, Facebook's failure to update the policies and processes that have allowed for hate, conspiracy theories and racist and antisemitic content to proliferate on its platform continues to be a source of pain for entire communities," its website states.
The coalition has two goals: to "raise awareness of Facebook's harmful impact on our society," and to "demand Facebook enact critical changes" in advance of the election in November.
The coalition says that now is a pivotal point for Facebook to take action.
"The coalition does not expect that Facebook will be perfect in all cases and every time," the group says. "But given where they are today, significant improvement should be easy, and the coalition is asking for common-sense reforms. That is why we are recommending long overdue, reasonable changes to Facebook to make it safer and less hate-filled."