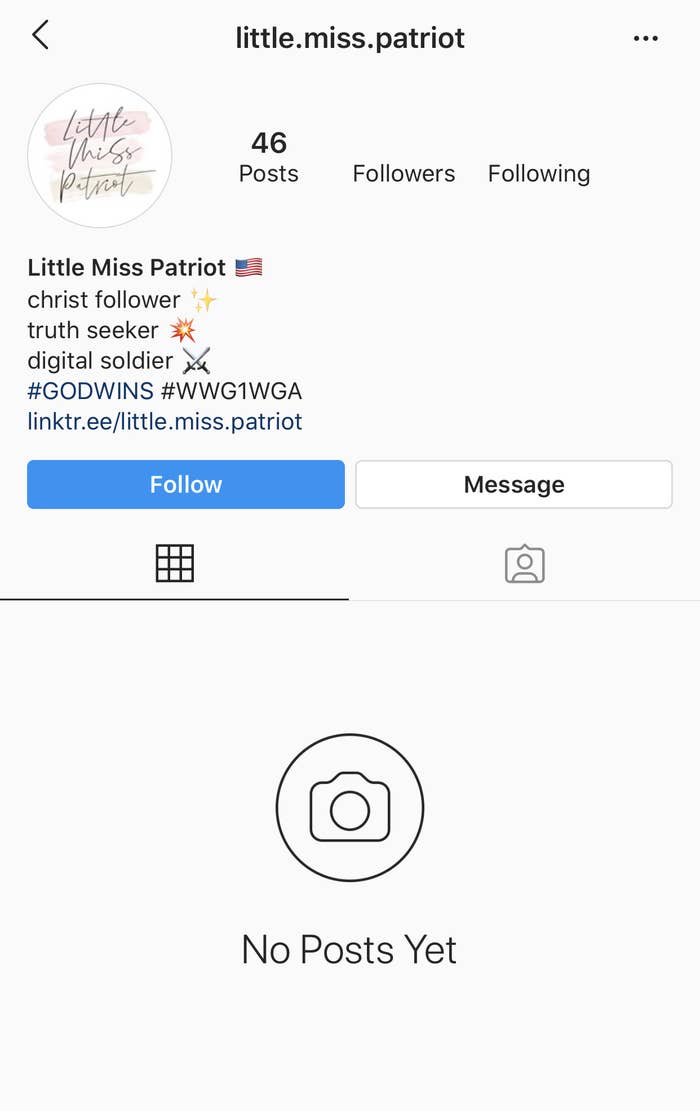 Some of the most popular pro-QAnon accounts on Instagram, which have been spreading right-wing conspiracy theories with increasing frequency over the summer, were suspended Tuesday under Facebook's new policies against groups tied to violence.

The account holder behind @little.miss.patriot, who gained nearly 300,000 followers in just a few months by posting pastel-colored infographics of various debunked claims about President Donald Trump and Democrats, posted on their backup account that their main Instagram handle had been suspended without warning.
"I have no idea how long my page is disabled for, it will not let me log in, I have no information," the anonymous account holder wrote on their backup page, little.miss.patriot.2.
The account holder behind @qthewakeup also announced that they can no longer access their main page, writing on their backup page: "Can't stop, won't stop."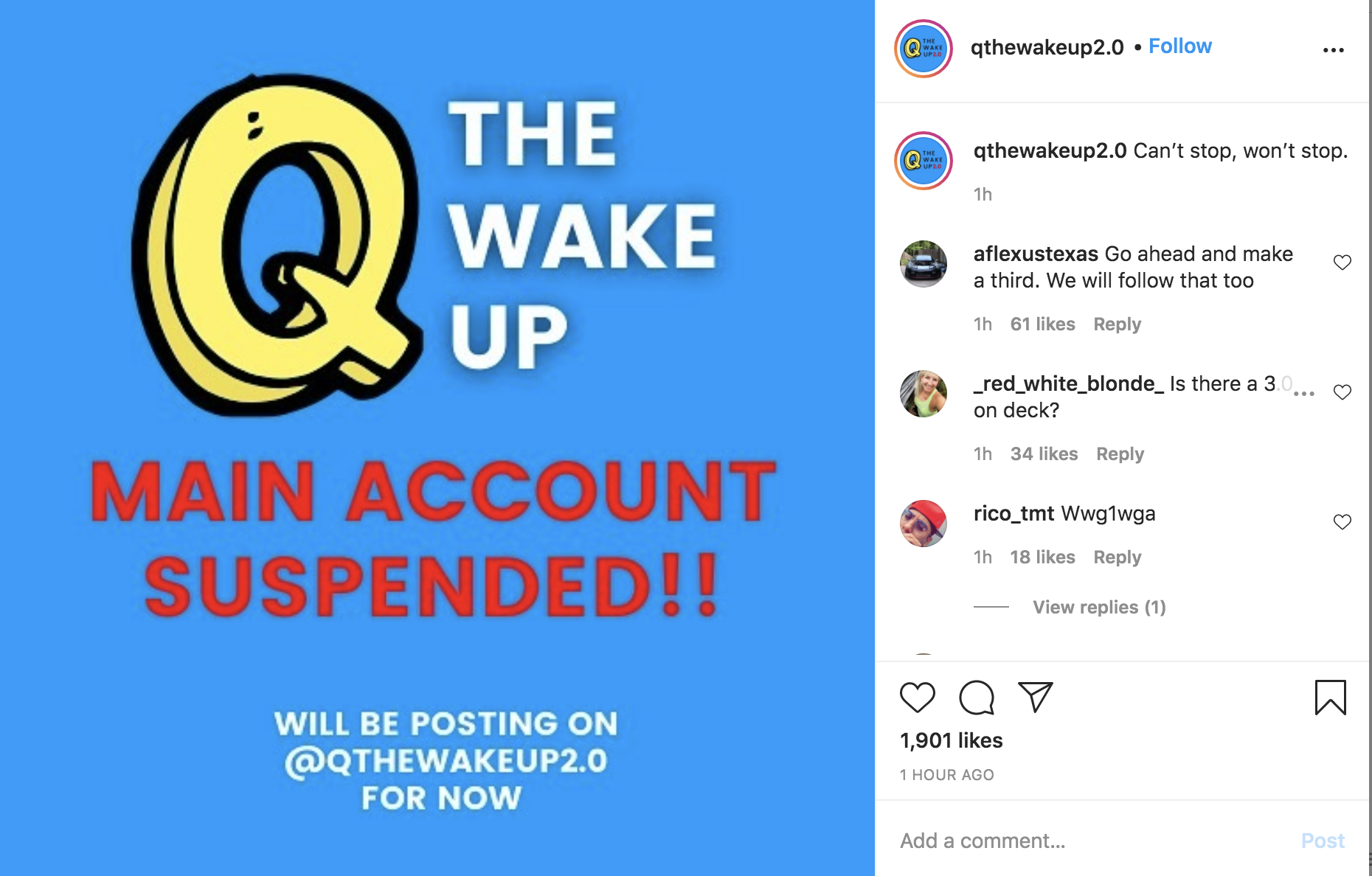 As did the person behind @greatawkening3, who claimed to have 117,000 followers when they were suspended.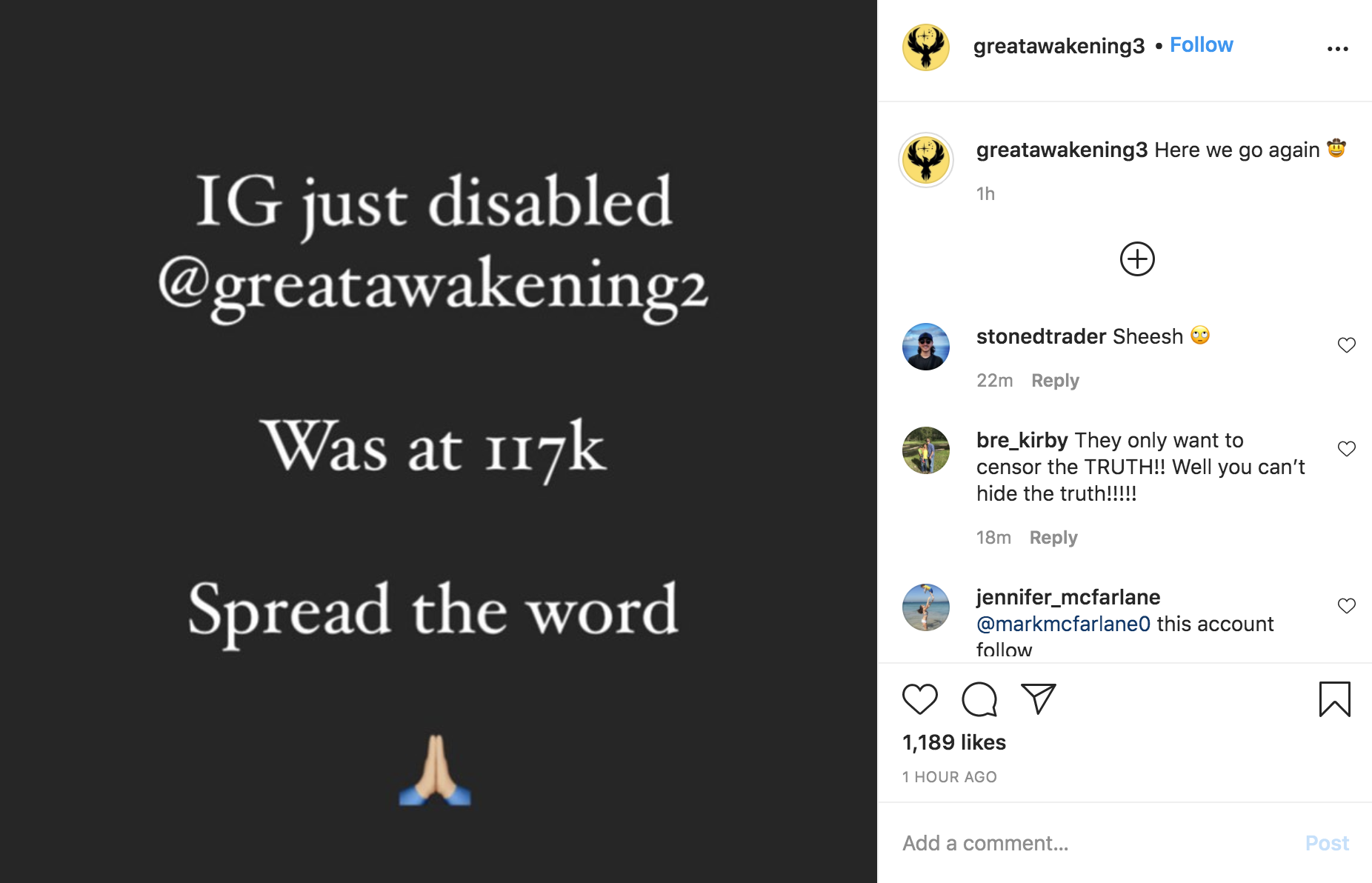 Several smaller conspiracy theory pages, while they remain active, have also had their posts flagged as "false information" by Instagram's fact-checkers.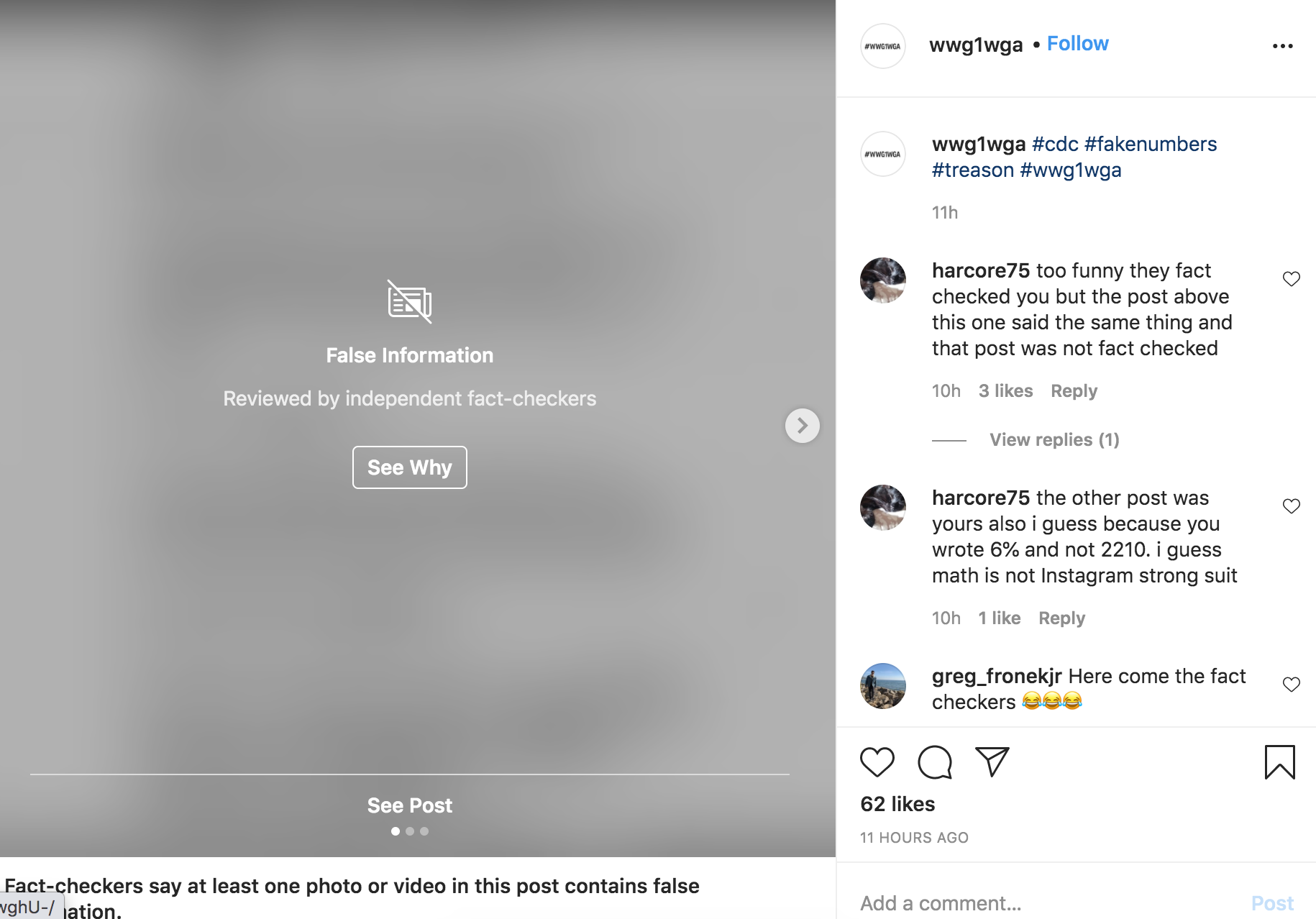 And right-wing journalist Liz Crokin posted that her Instagram was "under attack," though she didn't clarify what she meant.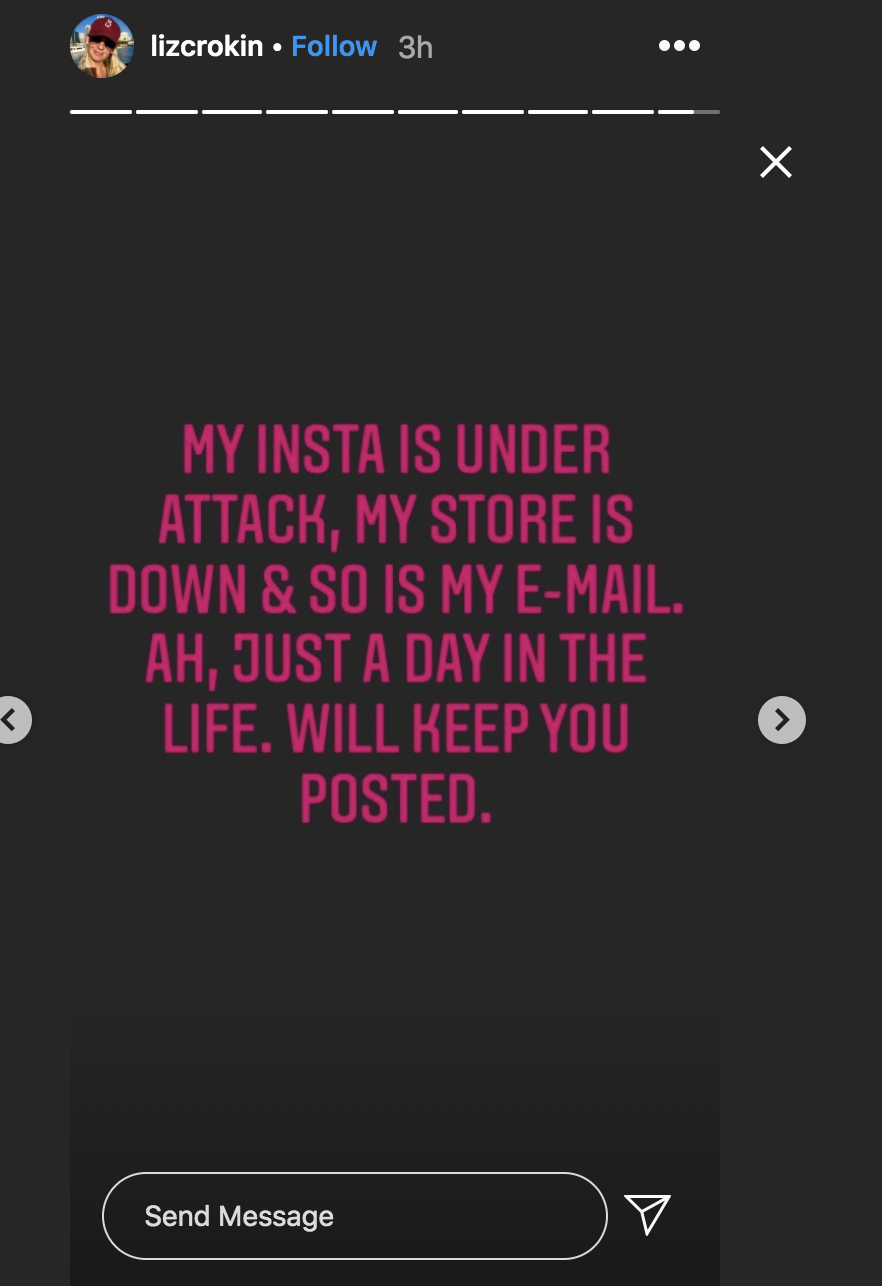 An Instagram spokesperson confirmed to BuzzFeed News on Wednesday that the accounts were taken down under Facebook's new policies against accounts "tied to offline anarchist groups that support violent acts amidst protests, US-based militia organizations and QAnon."
However, several accounts that promote QAnon — the collective delusion about Trump fighting a child sex trafficking ring led by liberal global elites — remain active on the platform, without any apparent censorship of their content. In addition, many lifestyle bloggers who have pivoted to conspiracy theory content, such as @roseuncharted and @luvbec, have thus far faced no apparent consequences for sharing the misinformation.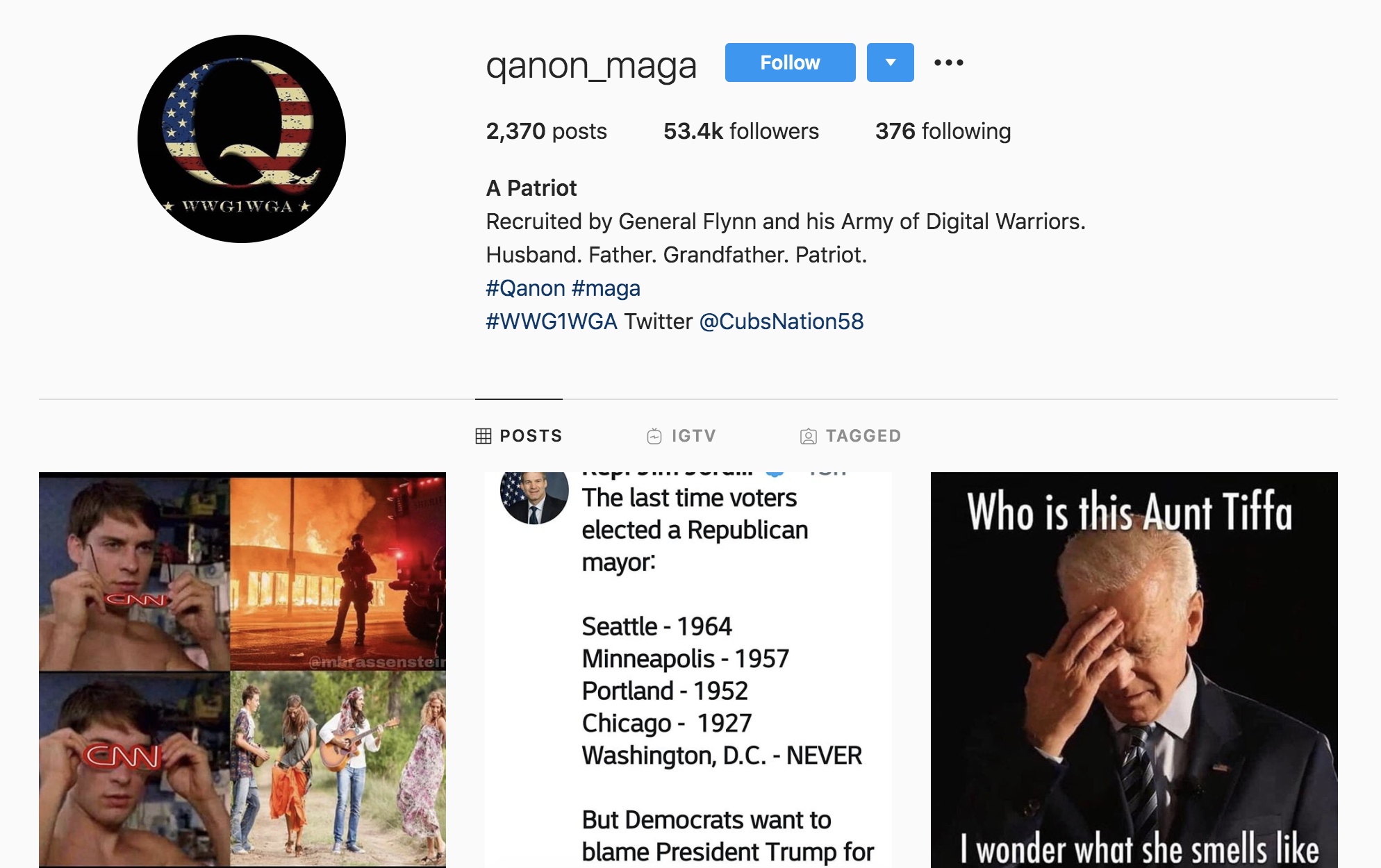 In the announcement of the crackdown, Facebook said it had "removed over 790 groups, 100 Pages and 1,500 ads tied to QAnon from Facebook, blocked over 300 hashtags across Facebook and Instagram, and additionally imposed restrictions on over 1,950 Groups and 440 Pages on Facebook and over 10,000 accounts on Instagram" as of Aug. 19.
The company vowed to continue to monitor extremist groups the crop up on their platforms.
"These movements and groups evolve quickly, and our teams will follow them closely and consult with outside experts so we can continue to enforce our policies against them," the statement read.