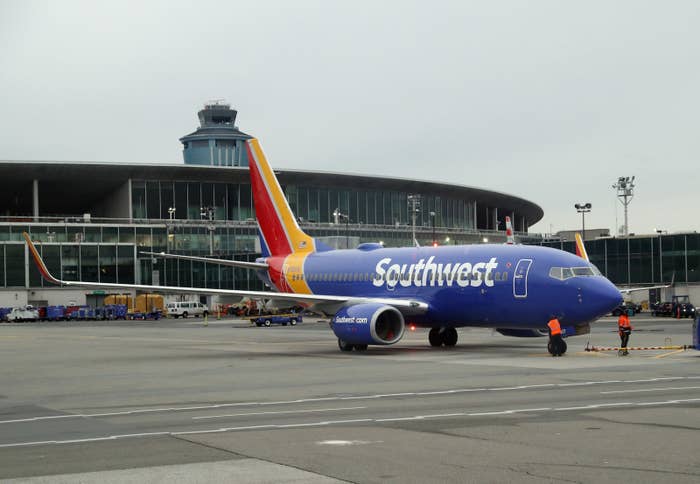 The Federal Aviation Administration temporarily halted all flights from landing at New York City's LaGuardia Airport on Friday morning due to a shortage of air traffic controllers that is likely the result of the ongoing partial government shutdown.
"Due to other/staffing, there is a Traffic Management (ground stop) in effect for traffic arriving [at] LGA," read an alert on the FAA website.
Departure traffic was also delayed at the airport, but the ground halt was later lifted.
There were also delays of roughly an hour for flights leaving from the nearby Newark airport in New Jersey, as well as Philadelphia's airport, due to staffing problems at the Jacksonville and Washington Air Route Traffic Control Centers.
An FAA spokesperson told BuzzFeed News, "We have experienced a slight increase in sick leave at two facilities."
"We've mitigated the impact by augmenting staffing, rerouting traffic, and increasing spacing between aircraft when needed," the spokesperson said. "The results have been minimal impacts to efficiency while maintaining consistent levels of safety in the national airspace system."
Both air traffic controllers and TSA agents have been working without pay, and some have called out sick in order to work second jobs and earn income.
But National Air Traffic Controllers Association (NATCA) President Paul Rinaldi said he suspected controllers were simply too stressed to work.
"Many controllers have reached the breaking point of exhaustion, stress, and worry caused by this shutdown. Each hour that goes by that the shutdown continues makes the situation worse," he said in a statement. "Air traffic controllers are required to report fit for duty every shift. It is a very high threshold of fitness demanded by the seriousness of the job. This shutdown has caused a tremendous amount of added stress for them on top of what is already a difficult and stressful job."
President Trump was briefed on the air travel issue Friday, according to a White House spokesperson, and was said to be monitoring delays.
The association of flight attendants released a statement about the halted flights, saying they had been warning that such a delay would occur.
"Do we have your attention, Congress?" asked Sara Nelson, the group's president.
The shutdown, the longest in US history, marked Day 35 on Friday.
On Thursday, the Senate failed to past two different bills to end the shutdown. One of these bills included a plan supported by President Trump to fund a $5.7 billion wall on the southern border.
A group of 16 senators from both parties is now calling for a short-term deal to reopen the government.
Some 800,000 federal workers across nine departments in the government have now missed two and a half pay periods as of Friday.
UPDATE
This post has been updated with news that the ground stop has been lifted.