Fans Are Angry At Sheryl Sandberg About Her Comments On Paul Ryan
"#BigFailSheryl."
Unless you've been living under a rock, you know that Republicans are currently on the hunt for a new House Speaker. The top choice for many, including current Speaker John Boehner, is Wisconsin Rep. Paul Ryan.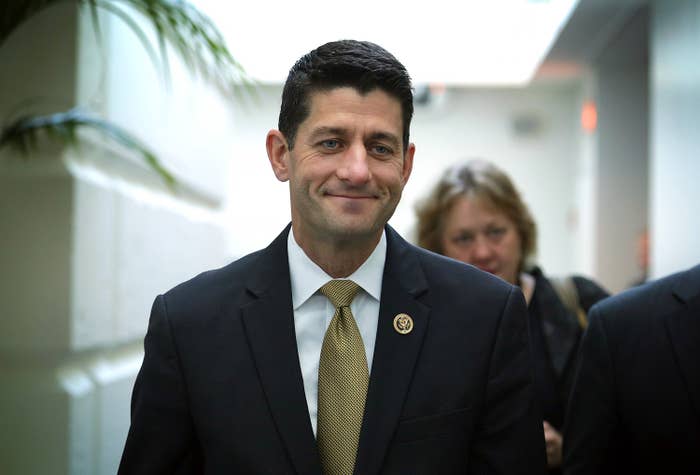 But Ryan has been reluctant to take on the job, primarily because he has three young kids. On Tuesday, Ryan told reporters he had made it clear to his Republican colleagues that he would only vie for the job if he could continue to have his "family time."
The lawmaker has long been known for his commitment to seeing his family, and travels home to Wisconsin every weekend to see them.
His commitment to his family was noticed by many powerful people, including Facebook executive and gender equality champion Sheryl Sandberg. She was so impressed by his comments, she decided to nominate him for her "Lean In" award on Facebook.
Sandberg wrote:
The Lean In Award of the day goes to Paul Ryan, for saying he worries how becoming House Speaker would affect his children, "who are in the formative, foundational years of their lives" – and that he won't do the job unless he can still make them a top priority.

We need work to work for parents – and having leaders who weigh responsibilities as fathers as much as their responsibilities to their jobs shows all of us what is possible. #LeanIn
But not everyone was pleased that Sandberg decided to champion Ryan as a advocate for a healthy work-life balance.
For these reasons, many of Sandberg's fans weren't too pleased by the award. They blasted the executive for championing what they called Ryan's hypocrisy.
And said Ryan was an "opponent," not a champion, of parental rights.
"Sheryl Sandberg didn't even try."
Tons of people also commented angrily on Sandberg's original post. "Really? He is against family leave yet wants special consideration for himself? This award seems extremely misguided," one said.
Ryan, however, did have some supporters.

BuzzFeed News has contacted Lean In for comment.