This is Madie Cardon, a 16-year-old high school sophomore from Mapleton, Utah.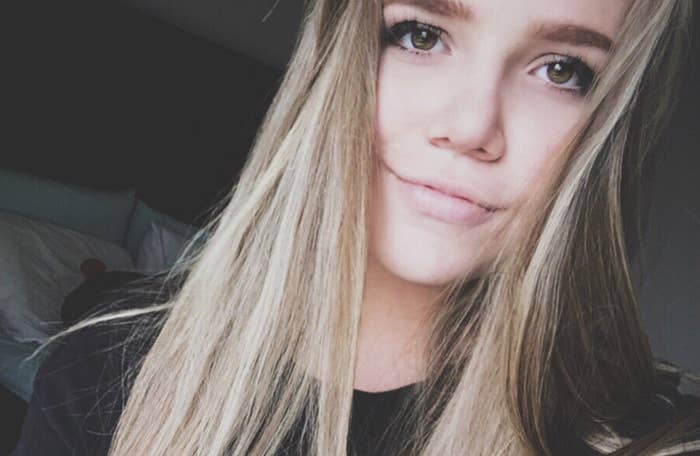 Like many people, Madie kept a diary as a child.
Last week when she was going through some old school stuff, she stumbled upon her diary from when she was 7 years old.
"I don't remember writing about it, but I do remember everything that happened in it," she told BuzzFeed News.
The diary is pure, angsty gold. It starts out with 7-year-old Madie describing her woes and "depression" over her love life.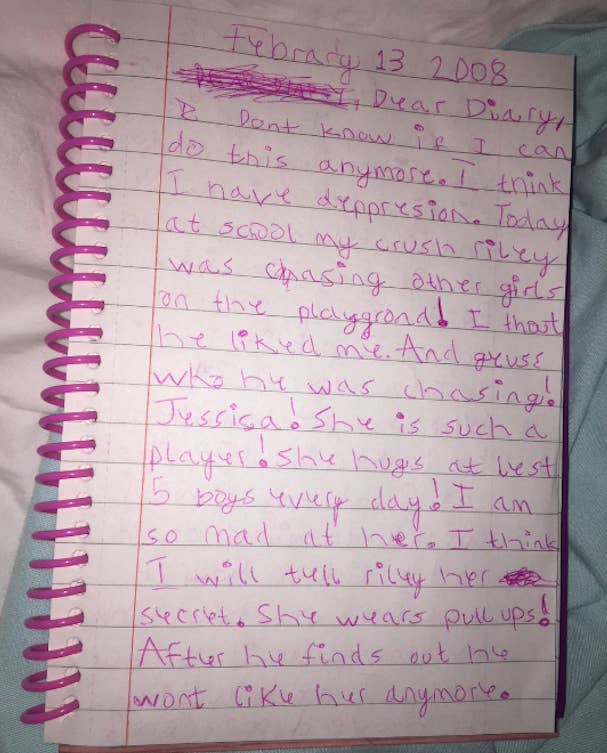 She wrote:
Today at school my crush Riley was chasing other girls on the playground! I thought he liked me. And guess who he was chasing! Jessica! She is such a player! She hugs at least five boys every day! I am so mad at her.
She then unveils a devious plot for revenge:
I think I will tell Riley her secret. She wears pull ups! After he finds out he won't like her anymore.
She wrote her depression was getting "stronger," because her heart had been crushed. She said she and her sister Katelyn stayed up all night making Riley a Valentine, but it didn't go to plan:
Before Riley got to school I put it in his desk. When he got to school he looked in his desk he found my box. I wrote anonymous on it so he wouldn't know it was from me. Right when he looked at it [he threw] it away. I am still crying. I have depression.
The saga concludes with Madie discovering that Riley and Jessica are a couple. She swears off boys forever, along with a rather graphic drawing.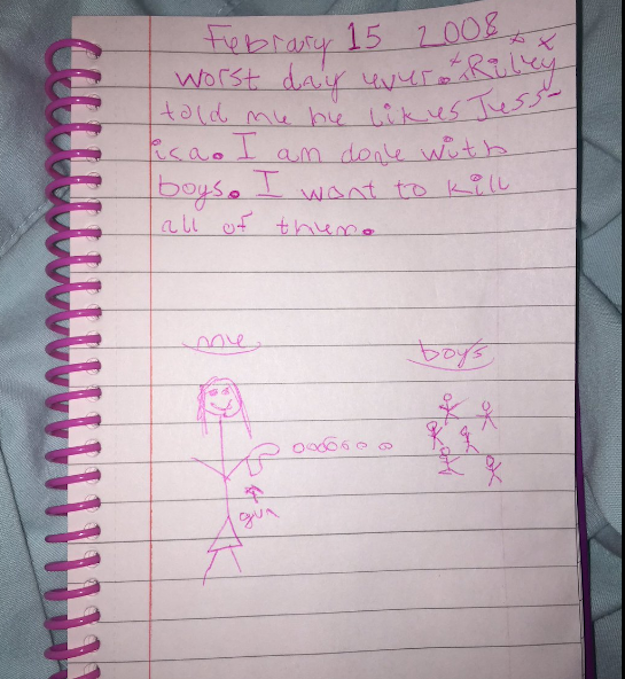 Madie said she remembers the events in her diary pretty well, and so does her sister, Katelyn.
"I just remember having meetings with my friends after school on how to get revenge on Jessica, and on Valentine's Day I remember just going home and bawling," she said.
Madie said she thought the diary was hilarious, and so did her friends. She decided to tweet it, and it since has been retweeted more than 8,000 times.
Everyone thought the diary was pure gold.
And said the situation was super relatable.
Madie moved away from where she went to elementary school, so she said she hasn't talked to either Riley or Jessica in years.
However, their friends have been tagging them in her post. Madie said she has reached out to Jessica in hopes of chatting about their elementary school drama.