The ad shows the two friends meeting for a cup of tea and shows they both have bad knees. The friends then decide to order each other the same gift: knee pads to cushion the floor when kneeling to pray.
The ad features two religious leaders from the UK, the Telegraph reported. Their names are Rev. Gary Bradley, vicar in London, and Zubeir Hassam, an imam.
Hassam told the newspaper he wasn't acting, but "being himself."
"I honestly didn't think about it – I think the message is very good – people from different backgrounds can share gifts and can see each other," he said. ""With all the bad publicity we have got this is a very, very positive ad showing that people of different faiths can get together."
The ad has touched many people, especially considering the rhetoric occurring right now in American politics.
"We need more of that," said one person.
People called it "beautiful."
And said it had them in tears.
"An Amazon prime commercial just made me cry," this person wrote.
Others said they wished Americans could follow the example of the two religious leaders.
"The new Amazon commercial with the priest and the imam made me cry. It is the America I want to live in," one person said.
"Maybe we can all get along," said another.
They said especially around the holidays, love trumps hate.
And some through some shade at Donald Trump.
"In the era of Trump this Amazon commercial about Christians and Muslims getting along is kind of poignant," said one.
The CEO of Amazon Jeff Bezos also tweeted his approval of the ad, saying he was "very proud" of the team.
Although some people weren't too happy about the message.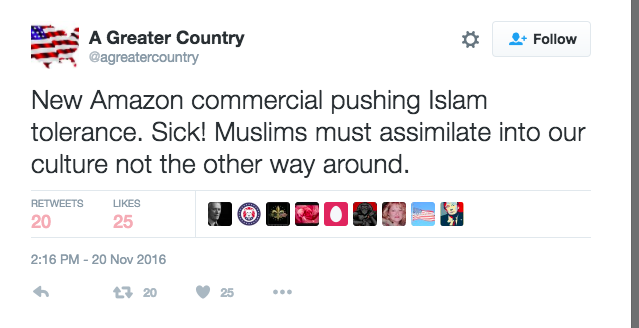 A spokeswoman for Amazon told BuzzFeed News their ads aim to celebrate "every day heroes," and this one is no exception.
"Whether that be the grandad who buys a leaf blower to help push his grandchild on a swing, or the woman whose ingenious use of a cat flap helps the lonely tiny horse enjoy her home," she said. "Our new advertisement follows this theme."
She added that the ad was not a response to the recent election, as it was filmed over the summer.