GOP Lawmakers Were Tricked Into Backing A Plan To Arm Toddlers In Sacha Baron Cohen's New Show
"Our Founding Fathers did not put an age limit on the Second Amendment."
Republican lawmakers filmed TV spots for a fictitious program that calls for arming preschoolers, as part of a new satirical TV series on Showtime starring Sacha Baron Cohen.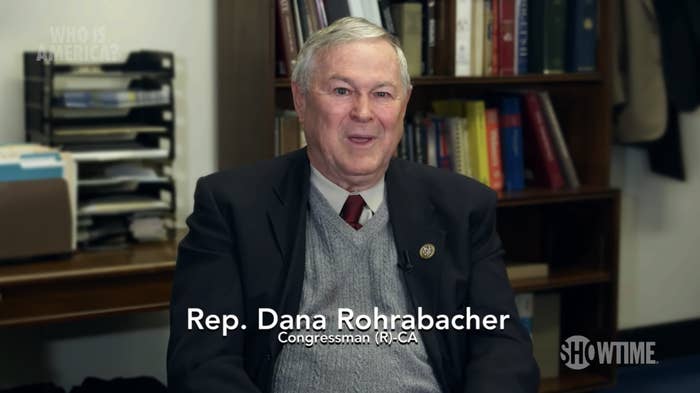 The lawmakers, including California Rep. Dana Rohrabacher, South Carolina Rep. Joe Wilson, and former Senate majority leader Trent Lott, were apparently duped into throwing their support behind a program called "Kinderguardians," which would arm kids aged 3–16.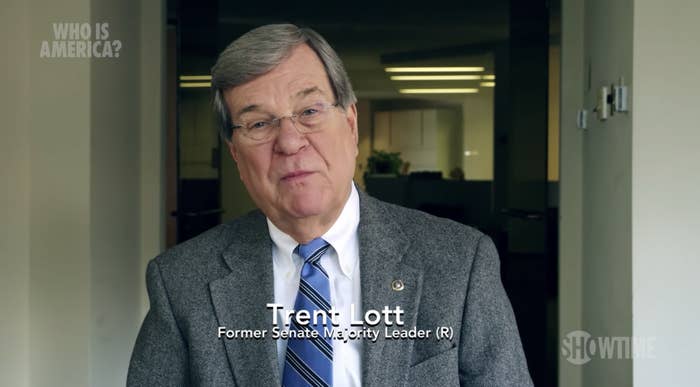 In the show, Baron Cohen poses as an Israeli "anti-terror expert" named Col. Erran Morad and advocates for arming children to combat school shootings.
Baron Cohen also interviews Philip Van Cleave, a gun rights advocate, president of the Virginia Citizens Defense League, and a cable news talking head.
He tells Van Cleave the "Kinderguardians" program was developed in Israel.
"I think it would be a good idea; we've been pushing something along this line for years but really haven't gotten any traction," Van Cleave tells Baron Cohen. "We were thinking seventh or eighth grade; you're talking much younger than that."
Van Cleave also filmed a fake "instructional video," teaching kids how to shoot a gun. The gun is affixed with a stuffed animal named "Puppy Pistol."
There's also a unicorn "for the girls," says Van Cleave.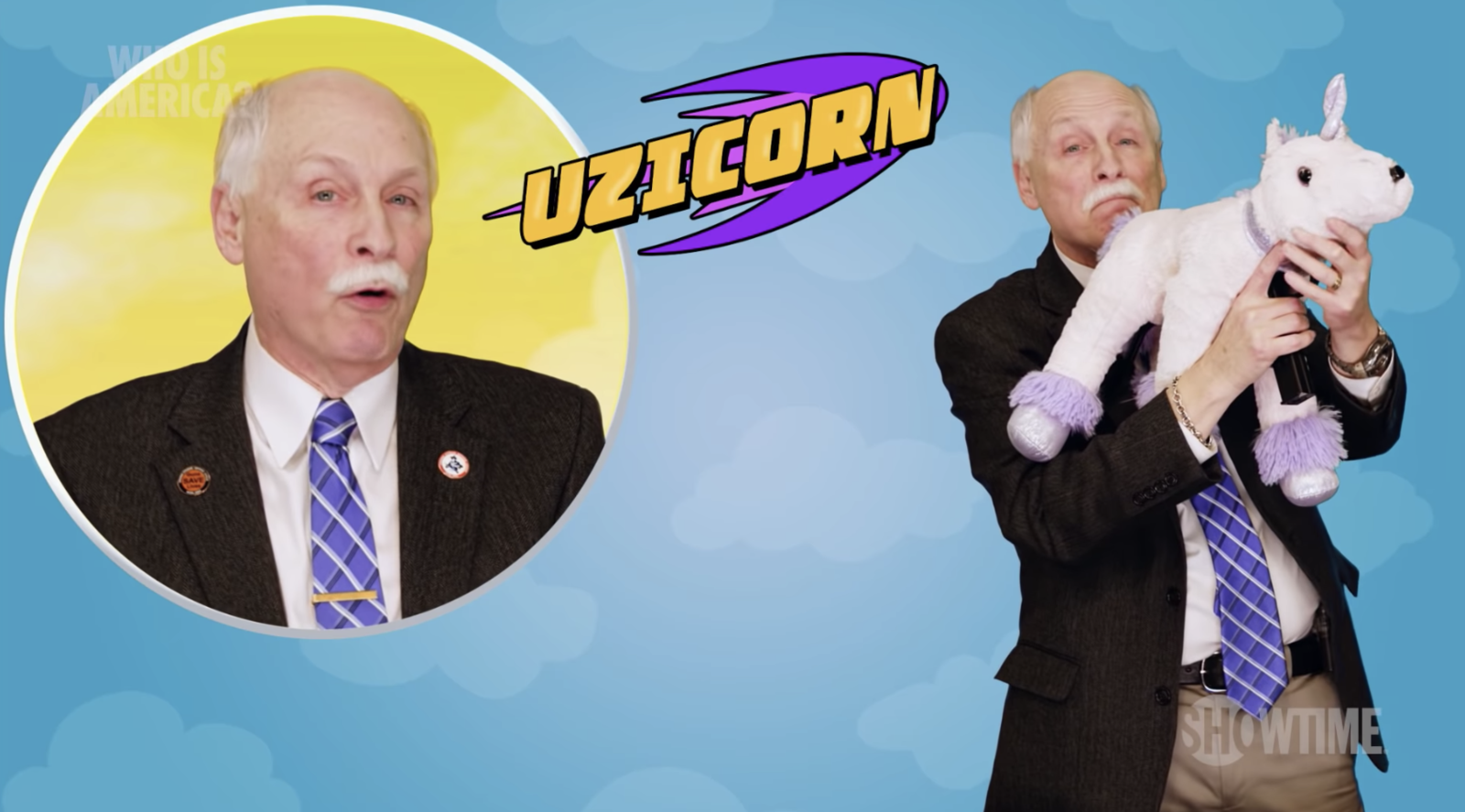 Baron Cohen then went to Capitol Hill to garner support and got a few current and former lawmakers to back it on camera. Lott said the US should think about "putting guns in the hands of law-abiding citizens, good guys, whether they be teachers or whether they actually be talented children or highly trained preschoolers."
Wilson, in his video, says a child cannot defend themselves against a gun by "throwing a Hello Kitty pencil case at it."
"Our Founding Fathers did not put an age limit on the Second Amendment," he says.
Gun rights advocate Larry Pratt was duped into reading that children see in slow motion like "owls" and have elevated levels of a so-called Blink-182 pheromone.
A spokesperson for Wilson told BuzzFeed News he was the target of a "practical joke" and Baron Cohen's request was to thank him for being a "friend of Israel."
"I was targeted due to my strong support of Israel and my open-door office policy — and what I told this group was that I've worked to strengthen our relationship with Israel and that I will continue to work with President Donald Trump to do so," the spokesperson said.
BuzzFeed News contacted representatives for Van Cleave, Pratt, and Rohrabacher for comment about the videos, but did not immediately hear back.
Florida Rep. Matt Gaetz is also interviewed in the program but seemed to be skeptical about filming the message.
A spokesperson for Gaetz didn't immediately respond to a request for comment.
Another person shown backing the program is former congressman Joe Walsh, who now has a syndicated radio show. Walsh said on Twitter that he doesn't support arming kids but admitted "Sacha fooled me good."
"It's on me," Walsh said. "I gotta live with it," adding he read a script off a teleprompter for the interview.
In another segment of the show, Baron Cohen, pretending to be a right-wing conspiracy theorist, was able to snag an interview with Sen. Bernie Sanders.
Sanders gives a lot of side-eye to Baron Cohen's comments.
Before the show aired, both Sarah Palin and former Senate candidate Roy Moore released statements saying they had been duped into being interviewed by Baron Cohen.