When Rebecca Townsend was a sophomore in high school, she wrote a bucket list as part of a class assignment.
The Connecticut teenager had three wishes: to travel to Spain, to kiss in the rain, and to save a life.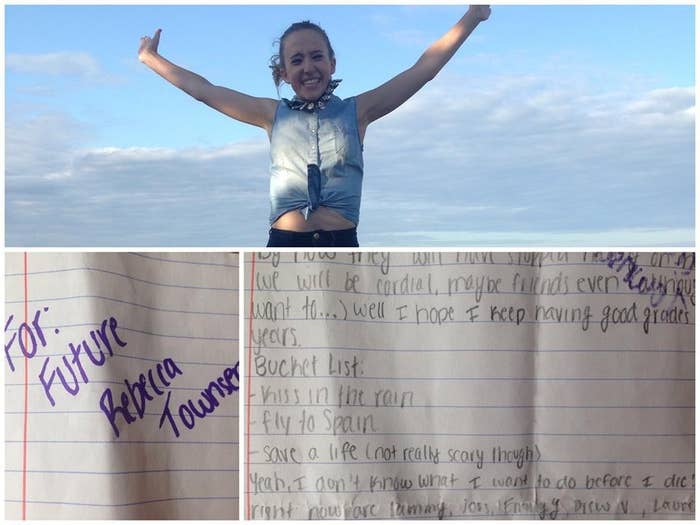 Over the next few years, Rebecca fulfilled the first two items on her bucket list, her sister Victoria Townsend told BuzzFeed News. Rebecca traveled to Spain with her family and kissed her boyfriend in the rain.
Rebecca graduated from high school this spring, and was set to attend Notre Dame in the fall.
On July 2, Rebecca went to watch fireworks with friends. On the way back, she and her friend Ben Arne were struck by a car. Arne survived, but Rebecca died.
After Arne was released from the hospital, he visited the Townsend family and told them Rebecca had saved his life by pushing him away from the car. "He said, 'The last thing I remember is Rebecca pushing me and telling me to hurry up,'" Victoria said.
After Rebecca's death, her sisters and cousins were sitting in her room sharing stories when they discovered her bucket list.
The family realized that Rebecca had fulfilled her wish by saving Arne's life. "It was a little sign that she was OK," Victoria said.
Now the family is hoping people will honor Rebecca's legacy by serving others in her memory. "She was just full of love and full of kindness and compassion and charity," Victoria said.
They have set up a Facebook page called Remembering Rebecca to encourage people to "remember Rebecca by going out and doing something that matters," Rebecca's cousin Rachel Hofstetter told BuzzFeed News.
The response to the Facebook group has been overwhelming. People are embracing Rebecca's memory by doing everything from buying others a yoga class...
Victoria said she has been extremely touched by all of the responses. "It means a lot to me that's she's living on in people's hearts and people's minds," she said.
Hofstetter said the main thing Rebecca's family wants people to take away from her death is to always show your love to others.