A ton of people on Twitter are dying laughing over a 12-year-old girl's extremely serious Snapchat Story about potatoes.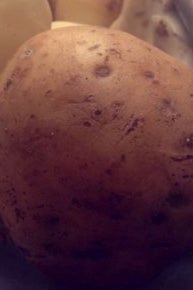 Maria, a 19-year-old from England, shared the Snapchats by her little sister Noor on Twitter and they soon were retweeted more than 24,000 times.
"She's always doing something interesting, so yes she's always doing funny things like this," she said.
The snaps came about after Maria asked Noor to help her peel some potatoes for a shepherd's pie. When she later looked on Snapchat, she saw her sister had turned the chore into a deep AF message.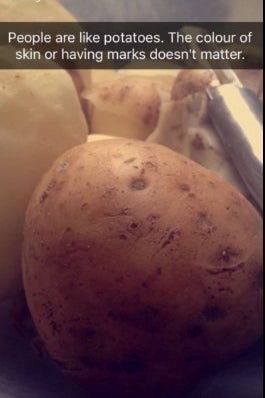 "People are like potatoes," she wrote. "The colour of skin or having marks doesn't matter. Because they are all the same once the skin is removed."
Maria said she was dying over her sister's joke, and decided to tweet it.
"I just found the whole concept so funny — I never thought of potatoes like that until her Snapchats," she said.
Noor's silly message has really resonated with a lot of people.
Everyone was inspired AF.
One guy even printed it out for some inspo.
"Now that's a good working brain & soul," one person tweeted. "Not too many young ones thinking on that level. Let alone any age these days."
Other people just thought it was funny.
Maria said the response to her tweet has been amusing, and her sister is enjoying her newfound fame.
"My family members that live in different countries have even come across the tweet and they've sent it to me," Maria said.