Jeb Bush Asks Audience To "Please Clap" At Town Hall
I can't watch this.
Jeb Bush asked people at a town hall meeting in New Hampshire on Tuesday to "please clap" for him after his words were met with an awkward silence.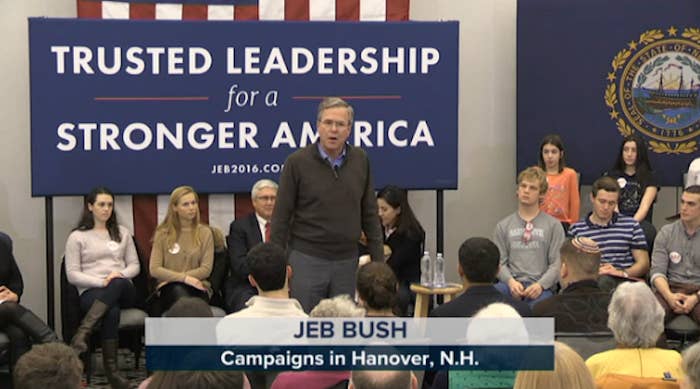 The former Florida governor was expected to be a frontrunner for the Republican presidential nomination, but his campaign has failed to catch on.
He placed 6th out of 12 in the Iowa caucuses on Monday with just 2.4% of the vote.
On Tuesday, Bush hosted an event in Hanover, according to MSNBC.
During his talk, Bush tried to contrast himself against what he described as his more divisive and extreme opponents.
"I will not trash talk. I will not be a divider-in-chief or an agitator-in-chief," he said. "I won't be out there blowharding, talking a big game without backing it up. I think the next president needs to be a lot quieter, but send a signal that we're prepared to act in the national security interests of this country — to get back in the business of creating a more peaceful world."
Then, as most politicians do after delivering a strong line, Bush paused for audience reaction. But he was instead met with silence, prompting him to ask, "Please clap."
Here is the excruciating moment once again.
To add insult to injury, MSNBC reported the lights went off in the room three times while Bush was speaking.
UPDATE
A spokeswoman for Bush told BuzzFeed News that the event has been mischaracterized in the media, describing it as a "charming moment."
"It was clear Governor Bush was cracking a joke with the audience, who laughed and enjoyed the humor," Kristy Campbell said.