Prison Guards Resign After Photo Surfaces Of Georgia Inmate With A Leash Around His Neck
The victim has reportedly been moved to another facility. WARNING: This image contains a graphic photo that may be disturbing to some people.
Two corrections officers resigned after the incident and Cortez is in protective custody at another facility, NBC News reported Tuesday.
A photo taken inside a Georgia prison that depicts a beaten young inmate on a leash is sparking outrage online after it was posted to Facebook.
The photo of 18-year-old Cortez Berry surfaced on Friday.
Berry was sentenced to 8 ½ years in prison for aggravated assault, robbery, and car theft for a crime he committed when he was 14.
In the photo, Berry is seen with a swollen eye and a makeshift leash around his neck. Two shirtless men behind him, one of whom is holding the leash, are making gestures at the camera.
Berry's mother, Demetria Harris, told BuzzFeed News that she received a call from a friend on Friday who told her about the photo. The friend said she had seen it on Facebook.
"I was like oh God, this can't be real," she said.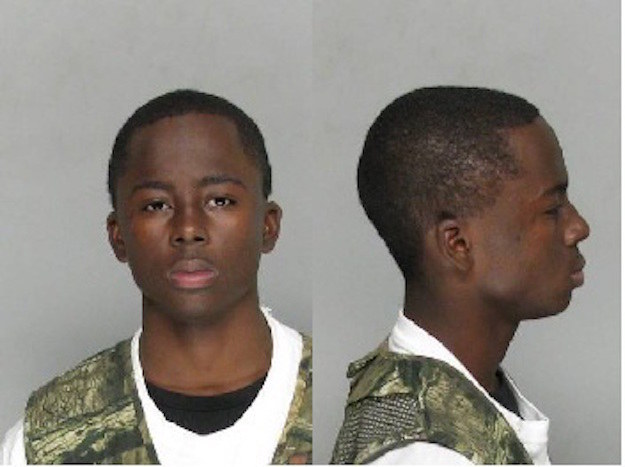 The photo began to go viral on social media after it was posted by a local radio show on its Facebook page.
The Georgia Department of Corrections told BuzzFeed News it is now investigating the incident, which occurred at the Burruss Correctional Training Center in Forsyth.
A spokeswoman confirmed that the injured person in the photo was Berry, but said she could not identify the other two because of the ongoing investigation.
Harris said she has spoken with her son on the phone, but has not been approved yet to visit him. However, she said her sister has been able to frequently visit him, and saw him after the beating.
She said her son told his aunt that he was beaten by a group of ten inmates after refusing to join a gang.
"I'm afraid for his life," she said.
Harris said that she has been unable to sleep or eat since seeing the photo because she keeps having flashbacks to it.
"When I try to lay down to sleep I see it in my sleep," she said.
Harris said she wants to try and get her son transferred to a different facility.
She said she is thankful for the support she has received, and that she knows this happens to many more inmates who don't get press coverage.
Thumbnail photo from GPSTC.