On Tuesday, People for the Ethical Treatment of Animals — better known as PETA — tweeted a missive to its followers. It asked them to stop using "anti-animal language."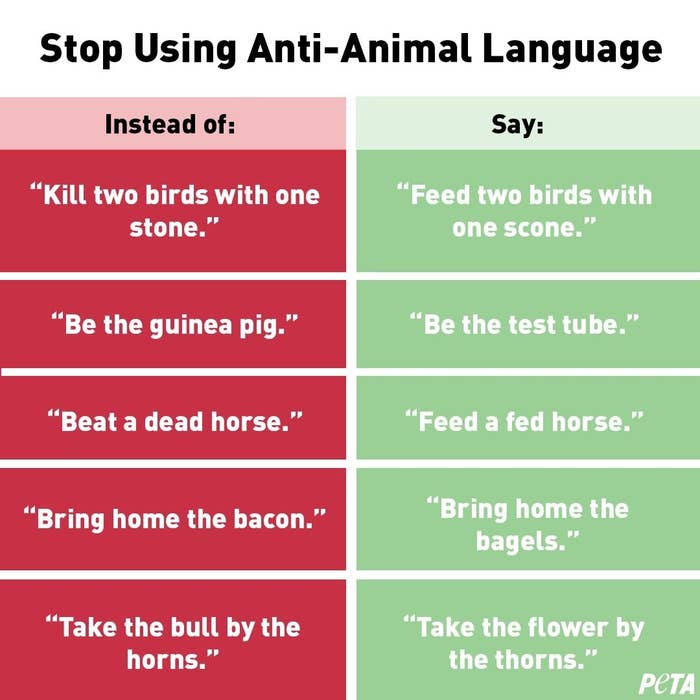 The animal rights group said it hoped the phrases listed would become as unacceptable in society as "racist, homophobic, or ableist language."
The activist group said the dream is that "phrases that trivialize cruelty to animals will vanish as more people begin to appreciate animals for who they are and start 'bringing home the bagels' instead of the bacon."
The tweet backfired, rather spectacularly.
Many pointed out that it is pretty offensive to equate "bringing home the bacon" to anti-gay behavior or racism.
Excuse me what.
"By all means, advocate for animals... but don't co-opt those movements," said one person.
Yo, animals can't understand!
Other people just delighted in trolling.
And some pointed out — well, actually, these phrases are kind of weird.
HmMMmmm.
Even more people said they got the idea, but PETA was taking the whole thing a little far.
But mostly, people just dunked on them.
U tried, guys.
A spokesperson for PETA had this to say in response to the online reaction:
"With so much negativity in the world, why not lighten up, smile a little more, and use language in a way that encourages being kind to animals?"