Personal Trainer Accused Of Stealing Thousands Of Dollars Raised For Newtown Victims
Robbie Bruce is accused of using his connections in the Nashville athletic community to create a foundation to fundraise after the school shooting tragedy. Then, he allegedly spent most of the money to buy stuff for himself.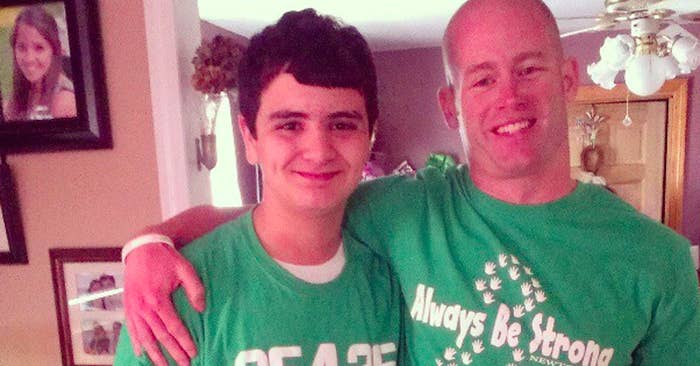 Just a few days after the massacre at Sandy Hook Elementary School in Newtown, Connecticut, a Nashville personal trainer named Robbie Bruce started a movement.
Bruce claimed to be so affected by the tragedy that he felt he had to do something to help.
Using his network as a personal trainer and local athlete, he started a foundation called 26.4.26 and organized running events in several states to help raise funds for "increased school safety, families of victims, memorials to teacher heroes, awareness and prevention in schools across America."
Bruce travelled all across the East Coast to promote his charity. He even met and visited with the family of Victoria Soto, a teacher killed at the school. In less than six months, the foundation claimed to had raised more than $100,000.
Then Bruce pocketed most of the money — about $70,000 — and spent it on himself, federal prosecutors said Tuesday.
More than a year after his charity shuttered its doors, Bruce, 34, was indicted in federal court this month on six counts of wire fraud.
"Rather than using the funds raised to support his purported mission, the indictment alleges that Bruce used most of the funds to enrich himself and to support his personal training business," the U.S. Attorney's Office in Connecticut said in a statement.
A probe into the charity's online presence revealed that Bruce carried out an intricate and detailed con.
His organization claimed to have raised thousands of dollars that directly supported the victims by creating bumper stickers and shirts, and by participating in several athletic events across the country to raise awareness.
Bruce was the charity's star and its face, appearing in nationwide publications like Runner's World.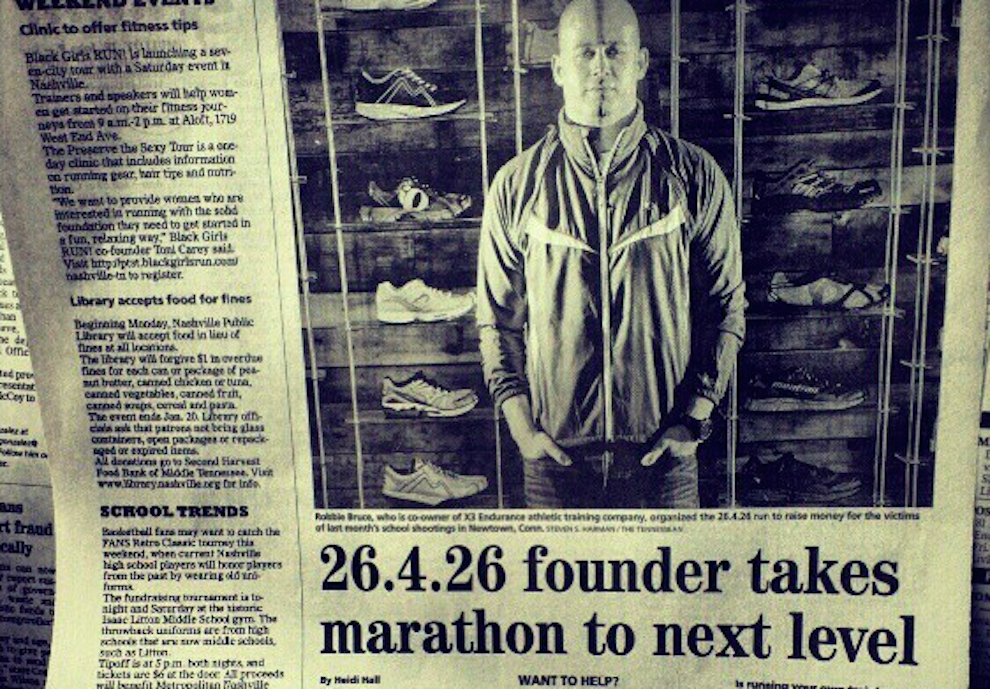 Bruce even visited the family of one of the victims, Victoria Soto, her sister Jillian told WKRN. A post on the foundation's Instagram account shows Bruce pictured with Soto's brother Carlos.
"He came into the home that Victoria lived in with us," she said. "We shared stories and allowed him to go into the memorial room."
In posts on the charity's social media accounts, Bruce detailed the personal revelation that led him to want to raise money for victims of the tragedy.
According to a post on the charity's Facebook page titled "How It All Began," Bruce was completely floored by the massacre and at first, could not even bear to watch the coverage.
However, the day after the tragedy he decided to catch up on the coverage during a two-hour training ride.
"I wasnt but 10mins in to it that the tears just wouldnt stop," he wrote. "It was one of the hardest 2hrs that I can remember. So sad. so Tragic. So senseless. I felt so helpless. I know I couldnt do anything, but doing something is always better than nothing."
Bruce said he decided to text a few of his friends and see if they wanted to run an impromptu marathon with him to commemorate the victims, since there were 26 victims and a marathon is 26 miles.
His friends agreed, and they decided to try and solicit money per mile to donate to the victims. They also decided to open it up to a relay to allow more runners.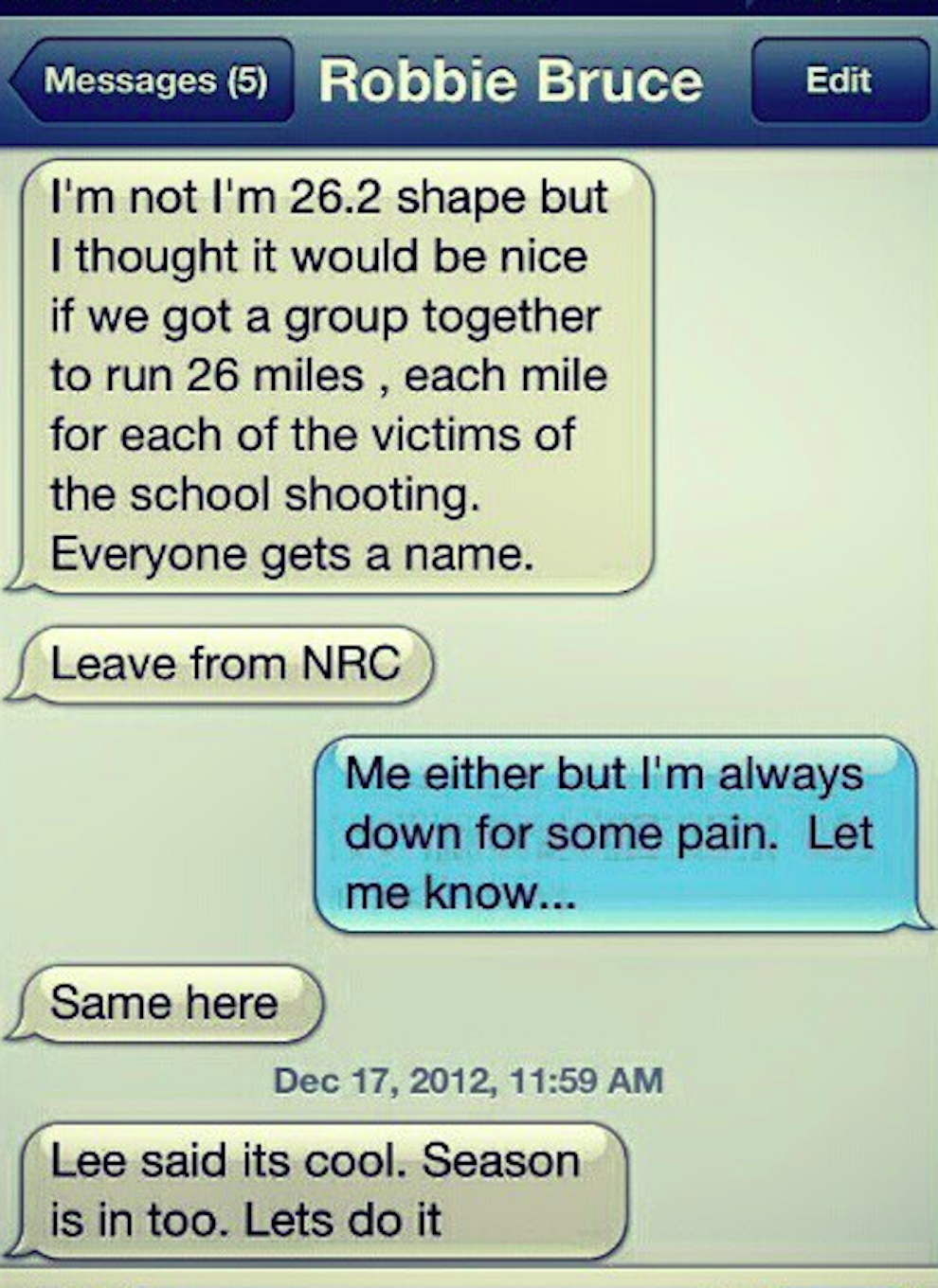 Five days later, on Dec. 22, approximately 1,000 runners in Nashville hit the pavement for the Newtown families. According to Bruce, they raised $30,000.
According to reports at the time, Bruce and other members of the charity hand-delivered a check for the $30,000 to Newtown.
The charity then took off, becoming an official foundation. It sponsored events in Nashville, and partnered with other races, such as the Country Music Marathon.
It also put on another race, this time in New Hampshire.
After the Boston Marathon bombing, the foundation said it would donate part of its proceeds to the victims of that tragedy as well.
In just four months, the foundation claimed to have raised more than $40,00 more.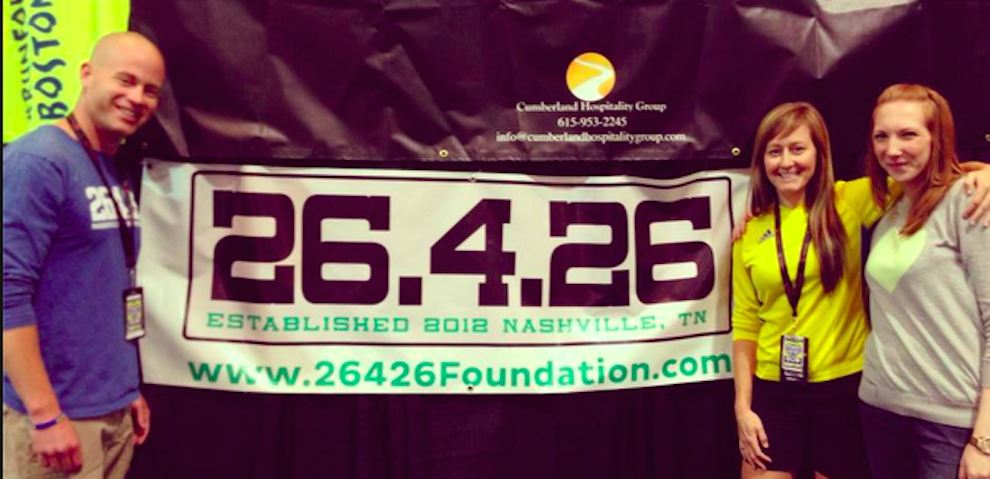 However, Bruce's actions soon came under scrutiny.
In June 2013, the co-founder of the charity, Ryan Graney, filed a complaint with the Tennessee Attorney General's Office, WKRN reported.
Graney, who also works for a foundation honoring Soto, alleged that the foundation had raised $103,000, but had only donated $30,000.
Graney also claimed that Bruce refused to give her access to the account that contained the foundation's money.
She also said she discovered that Bruce had allegedly taken money from the foundation's PayPal account and used it to buy things like a paddle board worth over $1,000.
After Graney filed the complaint, the charity went radio silent for months. In December, it posted a statement to its Facebook page:
Before you do your run this weekend you should know what happened to 264626 and why it is no longer around.

Due to the founders transgressions and misconduct we were forced to end all ability for 26.4.26 to collect money. Especially after it was revealed that foundation money was spent on personal items. In total 26.4.26 raised $103,000, of which only $30,000 was handed out.

The money that was raised for Boston is included in the $103,000 total but we are not aware if that money was delivered or not. When asked about the state of the bank account a straight answer was never given and to this day, we have not seen the bank account.

We are saddened to see this great movement come to such a crumbling and embarrassing end. We fought so hard to do good and in the end 26.4.26 was taken advantage of and for that we are sorry.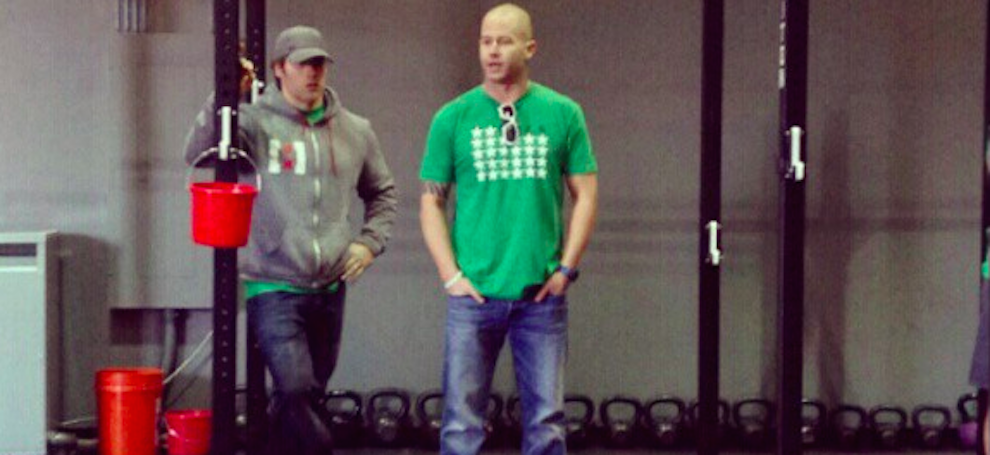 More than a year later, a federal grand jury in Connecticut handed down an indictment against Bruce charging him with six counts of wire fraud.
He faces up to 20 years in prison for each count, a spokesman for the U.S. Attorney's Office told BuzzFeed News.
"This arrest serves as a warning to anyone who attempts to profit from the tragedy at Sandy Hook," U.S. Attorney Deidre M. Daly said in a statement. "With the assistance of the FBI, we will continue to prioritize the investigation of fraudulent schemes that exploit the generosity of donors responding to this tragedy."
Graney told BuzzFeed News that she would not comment on the investigation at this time. However, she told WKRN she was relieved the matter was finally going to trial.
"I felt like I was finally heard and finally there is a conclusion to this nightmare that has been going on," she said.
News of the case drew outrage in Connecticut.
"This kind of fraud is the worst of bottom-feeding charitable scams exploiting the good name and terrible tragedy of the Newtown victims and their families," Connecticut Sen. Richard Blumenthal told BuzzFeed News.
Former Sandy Hook Elementary School parent Monte Frank founded Team 26, a group of cyclists who have completed two bike rides from Newtown to Washington D.C. to support legislation to reduce gun violence.
He told BuzzFeed News that the allegations against Bruce are "reprehensible."
"Shame on them for raising money based on a tragedy for their own personal benefit," he said.
Bruce's attorney, Todd Bussert, told BuzzFeed News it is important to remember that the indictment contains only allegations, not proof of guilt.
"Robbie Bruce was made aware of these allegations early last year and has been working to address authorities' concerns since that time," he said in a statement.
When reached by WKRN last year, Bruce said he was innocent.
"Sir, I haven't done anything wrong and I will talk to you guys at the appropriate time," he said.