Vice President Mike Pence and his wife Karen attended the Indianapolis Colts game on Sunday in his native Indiana. However, the duo quickly left the game after players knelt during the playing of the national anthem.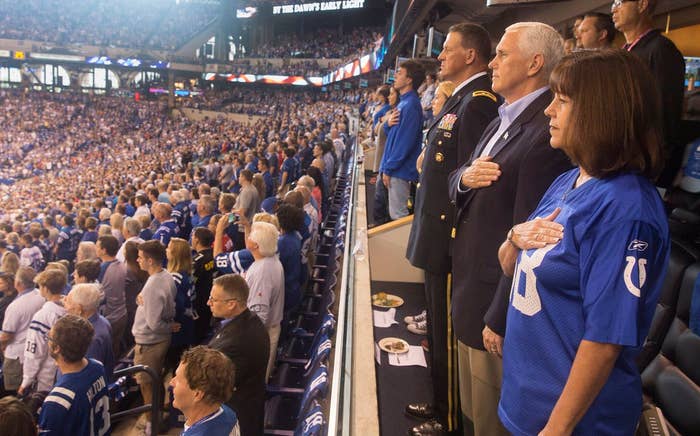 Pence then tweeted that he left the game because he was so offended by the players who knelt.
His action was backed up by his boss, President Trump, who tweeted he had asked the Pences to leave if any player knelt. He later said the trip was "long planned."
Soon after, many people wondered how much it cost for the VP to travel to Indiana, only to leave after a few minutes. CNN calculated it and said it cost taxpayers about $242,500.
In addition, pool reporters traveling with the vice president claimed they were told to stay in the van, because "there may be an early departure from the game."
All of this has led people online to believe the whole thing was a publicity stunt, and they are pissed off.
"Trump White House just cost America nearly a quarter million dollars for a publicity stunt," said one.
They were very angry that Pence spent all those taxpayer funds to attend the game for such a little amount of time.
Many pointed out that the money could have been spent in other ways.
They said there is a lot of other stuff going on!
"Mike Pence stunt at Football game cost us $250,000. That could have helped a lot of Hurricane Harvey, Irma & Maria Victims. Just saying," said one person.
Some people said they wanted their tax dollars back.
Where is the refund?
"Where do I get my taxpayer refund for Mike Pence's political joyride?" said one.
Soon, people took their anger out by trolling.
One person had this point.
Hmm.
👀
People were hitting him pretty hard.
Oh my.
Some people appreciated Pence's move.
"BRAVO VP Pence. You have set an example for what all decent Americans should do, and have been thinking," said one of his supporters.
Pence's office on Monday released a statement claiming that the vice president's trip was just a pit stop back from Las Vegas.