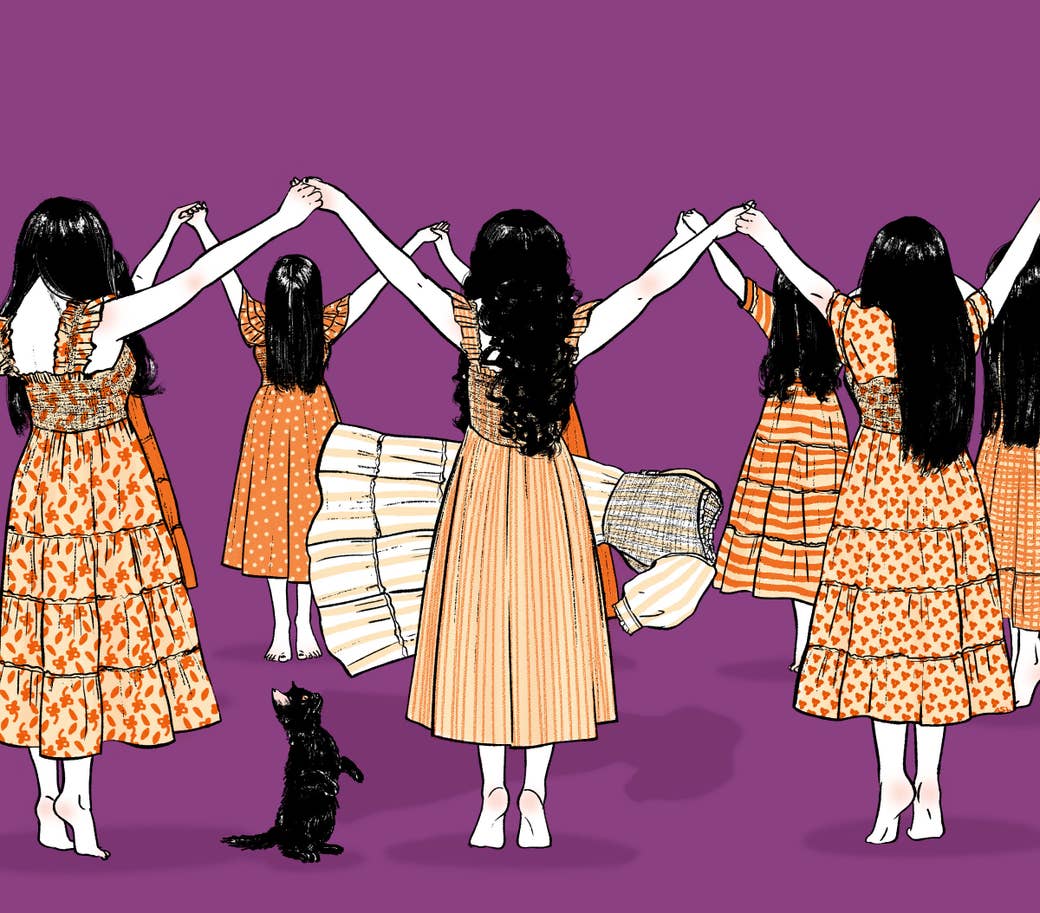 Chrissy Weadick from Indiana owns seven Nap Dresses. Brooke Price from Utah owns 12. Mary from New York only has three, but she has two more coming in the mail.

These ladies are all part of "Nap Dress Nation," an online community dedicated to fans of the Instagram-famous garment. Since its launch in August 2019, the Nap Dress, created by founder and CEO Nell Diamond for her direct-to-consumer brand Hill House, has become one of the biggest word-of-mouth clothing items to ever come out of Instagram.
The company has since created seven styles in a variety of different prints and fabrics, releasing them slowly over the past two years in limited-edition drops. Each Nap Dress drop so far has generated the best sales day and week for the brand at that point in time, according to a spokesperson, and Hill House has had 100% sales growth year over year for the last three years.
To its fans, Nap Dresses are like Pringles: You can't have just one. According to Hill House, its average customer owns three or more. Once customers buy their first dress, they told me, they have gone on to buy more in different colors and for every season.
Diamond told me her vision for the Nap Dress was for it to be conducive to every facet of her life, something that she could wear to business meetings, out with friends, and then while playing around with her kids. She said she is cognizant of how people's bodies change over time and even throughout the day and doesn't feel like typical women's clothing allows for that.
"I wanted that elastic smocking so that no matter what the day kind of throws at you, including like a great desk lunch, you don't have to change what you're wearing," she said. "And you don't have to have that moment where you come home and have to get off the constricting fabric."
These unicorns, like dresses from the brand's collaboration with Netflix's Bridgerton, sell for more than $200 over retail price on places like Poshmark and eBay.
Some people have become obsessed with tracking down rare "unicorn" patterns like they were a Princess Diana Beanie Baby. These unicorns, like dresses from the brand's recent, immediately sold-out collaboration with Phenomenal and Netflix's Bridgerton back in August, sell for up to $350, more than $200 over retail price, on places like Poshmark and eBay.
To keep up with their growing collections, Nap Dress aficionados have begun cultivating online communities where they can buy and trade different patterns and sizes. In these online worlds, like the 1,400-person strong "Nap Dress Nation and Grandmillennial Inspiration" Facebook group, people refer to the dresses by their names: Ellie, Athena, Caroline, Katherine, Nesli, Roxie, Lucy, and Akilah. When a recent poster asked the group how much they would pay for their number one "unicorn," one woman cheekily responded with a GIF of a baby throwing money out the window.
So how did Hill House turn this rather simple dress into a shopping craze? The answer is rather simple as well.
Hill House relied on word of mouth and old-school virality, spreading the dress primarily through the influencer community during the height of quarantine. Thousands of followers bought in, and once customers got hooked on the dress's flattering comfort, they felt they needed to have one for every occasion. Throw in some pandemic boredom and a vibrant buy-and-sell community, and an obsession was born.
But there's something deeper beneath the obsession. People who have embraced the grandmillennial aesthetic that the dress embodies say that by dressing in ruffles, hair bows, and flowy florals, they are reclaiming their femininity and shaking off the male gaze in a way that is incredibly empowering. Participating in online groups of like-minded people, they said, is therefore not just about a hobby of collecting dresses, but about community — something they have sorely needed over the past year and a half.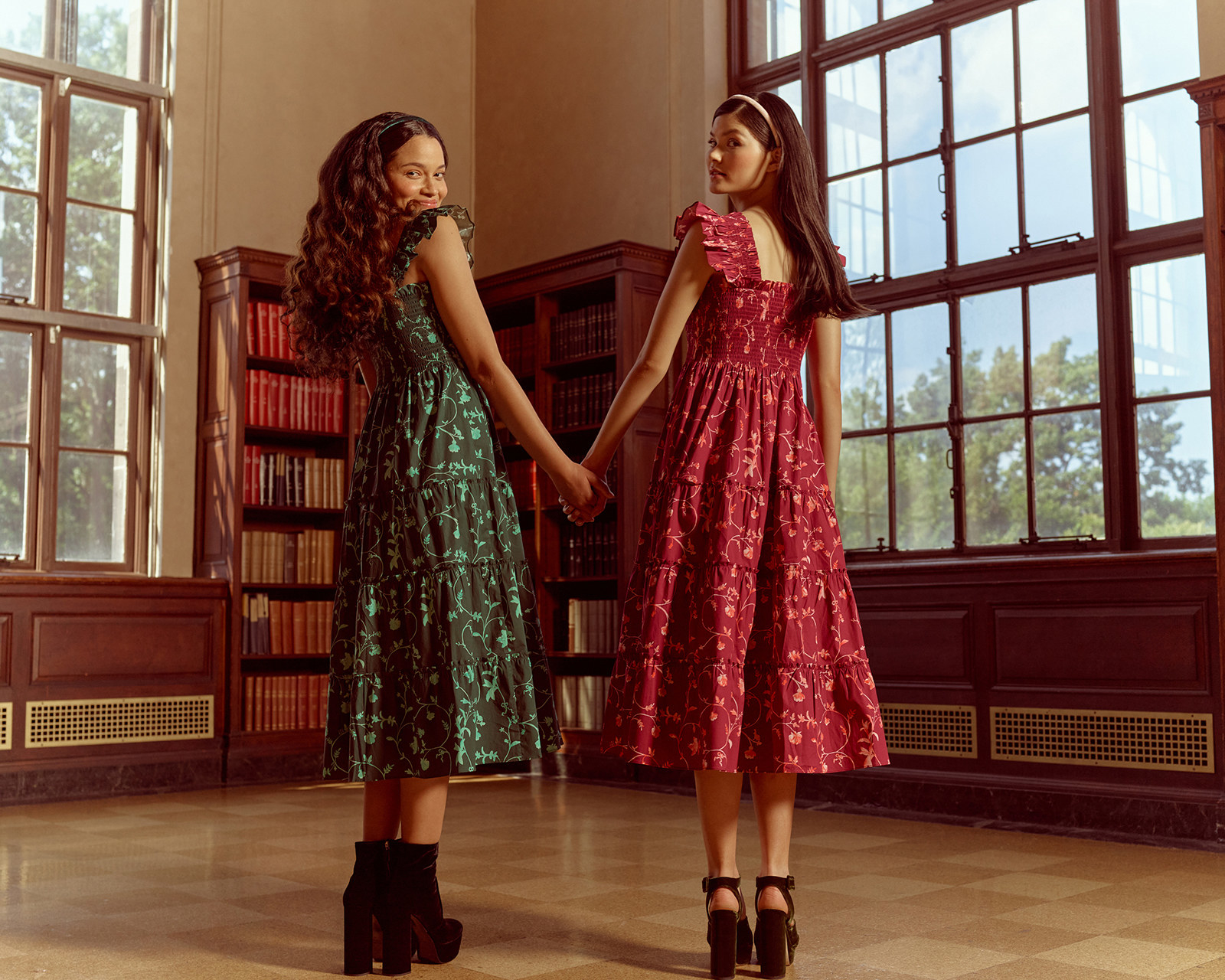 For many Nap Dress Nation devotees, their journey began with a swipe up.
The Nap Dress first became popular with influencers on Instagram in 2019 and 2020. Carly Riordan, a longtime fashion blogger, told me she bought her first Nap Dress in 2019 and soon began singing its praises to her followers. She feels the Nap Dress is "like a sartorial unicorn."
"Somehow this dress works on almost all body types and can be worn for various events and occasions," she said.
Several women told me that it was Riordan's recommendation that led them to initially buy the dress. In fact, nearly all of the people I surveyed told me they first saw the dress on Instagram or another form of social media. Kara Nesvig from Minnesota (10 Nap Dresses) told me she took the plunge on her first after seeing that "all the cool girls [she] followed were wearing them or talking about them." Others said they had been recommended to try the dress in a Facebook mom group, or seen it on Pinterest.
The dress's aesthetic dovetailed perfectly with the early stages of the pandemic when people everywhere were seeking ways to dress comfortably at home during quarantine while wanting to look put together for Zoom calls and online happy hours.
"I do think they really launched at the perfect time with the unexpected work-from-home trend and people looking for beautiful, comfortable things to wear around the house during the pandemic shutdown," LeighAnne Tucci from New York (12 Nap Dresses) said.
Once summer 2021 rolled around, the Nap Dress had officially gone viral. Fans of the item on Twitter declared it "Nap Dress Summer," and if you walked outside last summer, you could likely spot the dress or one of its many copycats.
Of course, there's a difference between buying one dress and hunting for "unicorns" on Poshmark. For many, their journey to full-on cardholders of Nap Dress Nation started slowly and was based on a simple idea: Once you find a dress that makes you feel comfortable and confident, it's easy to just fill your closet with them.
Even Riordan, who said she doesn't consider herself a collector per se, said she soon found herself buying different Nap Dress prints so she could wear the dress for different occasions and seasons. She likes "how different fabrics and prints give it different vibes," she said, and that she could wear one for a chill day at home, and then another for a fancy party the next day.
The limited-edition drops of new prints and fabrics of the Nap Dresses also create an artificial scarcity that makes hunting for and finding new dresses almost like a game. On the day of a drop, customers half-jokingly wish each other on Twitter a "happy Nap Dress day to those who celebrate." Some say they signed up for text notifications from Hill House in advance, while others rely on equally obsessed friends.
"Me with my computer set up for the Hill House drop for my friend who's in clinic seeing patients like I'm some sort of Nap Dress concierge," tweeted one woman back in August alongside a GIF of a furiously typing cat.
Mid-August's Bridgerton drop brought into focus how fervent Nap Dress mania had become. The collection sold out in just a few minutes, leading many sad and frustrated Nap Dress fans to lament on the comment section of Hill House's Instagram page and elsewhere on the internet. The company quickly organized a restock for later that same day, which also sold out in minutes.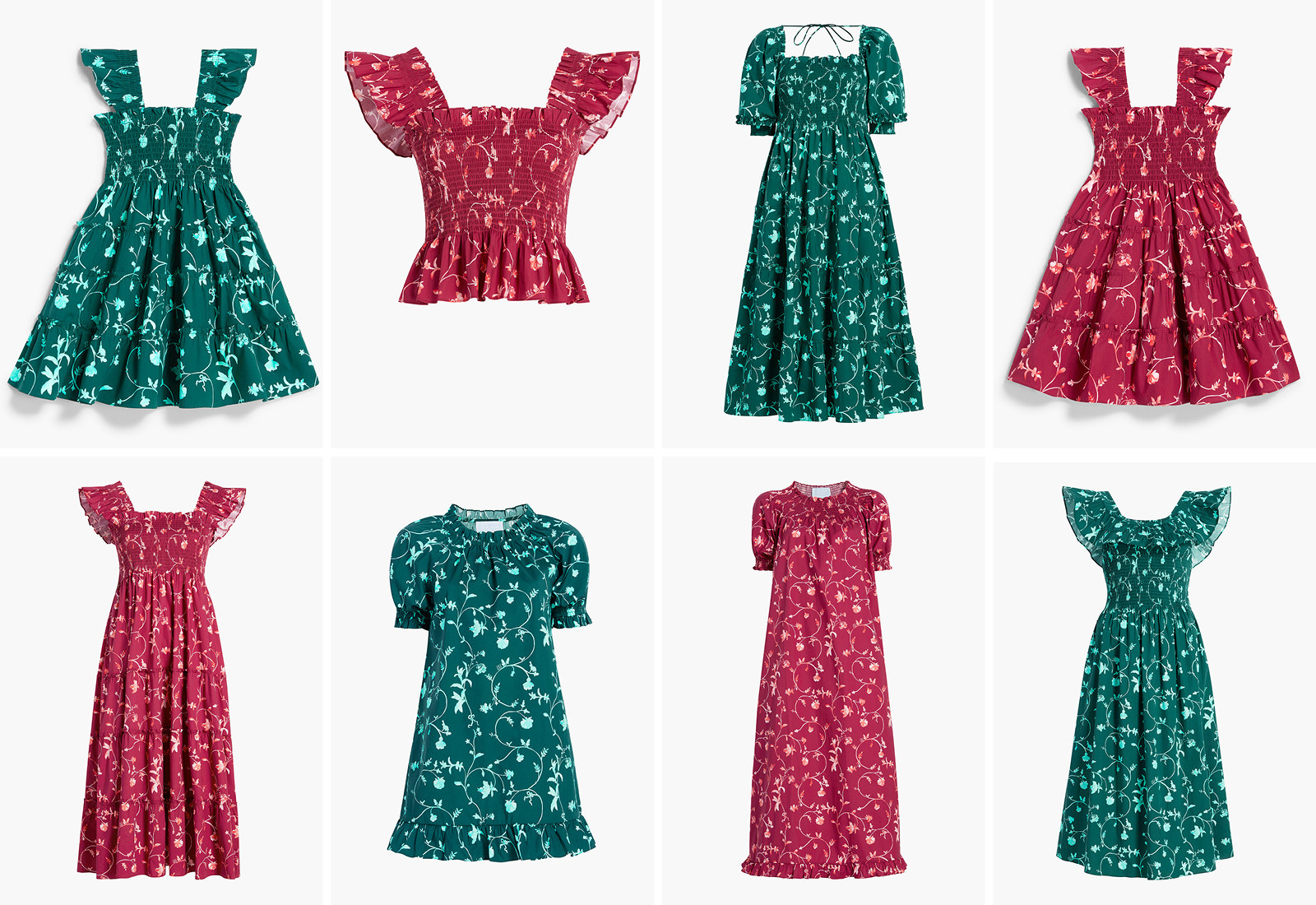 If you miss out on a drop, though, there are always resale sites. The Nap Dress craze has become big business for sellers, who can make large profits by selling "rare" dresses, on Poshmark and eBay. Jen Levie is a full-time seller on Poshmark and has sold more than 4,500 items of clothing in her two and a half years on the platform. When she first saw Nap Dresses pop up on the site, they immediately drew her interest.
"When you look up an item to sell and immediately notice all of the comparable items have sold for $100+ above retail, it piques your attention," she said.
"For a new condition dress, right size, right print? I would feel OK spending the $225."
When Levie started selling Nap Dresses, she said she saw a ton of traffic into her Poshmark closet. Since then, she has sold more than a dozen Nap Dresses for significantly more than retail value, with one dress selling for $350. She added that she knows that some dresses are coveted by unicorn hunters and she is willing to wait for the right buyer who will pay more than a casual fan.
"The thing about a 'unicorn' item is patience is key," she said. "I am not in a hurry to accept a low offer on these when I know they sell above retail often."
For people who don't want to hunt through Poshmark, there's also the barter economy. One buy/sell/trade group for Nap Dresses and other Hill House clothing items has more than 3,400 members who swap dresses or resell them to other fans. Kirby Williams (9 Nap Dresses) described how the group will celebrate when someone finally snags their unicorn, share outfit pictures, and send each other links to rare prints in the wild.
"It's definitely more like a sisterhood than a Facebook shop," she said.
Williams, a mom and business owner, has dealt with hair loss from treatment for a chronic illness and said wearing a matching headband and Nap Dress has become "[her] personal self-confidence look." Her "unicorn" is any of the no-longer-available tartan patterns — with a matching headband, of course — but she would especially like to find a lilac gingham and a Black Watch plaid tartan dress.
Williams doesn't want to pay too much over retail price, even for her dream dress, and for the most part she has gotten lucky on drop days or only paid about $25 or $50 more on resale sites. But, she said, she could be tempted.
"For a new condition dress, right size, right print? I would feel OK spending the $225," she said.
However, collectors said that if you don't want to pay inflated prices, you can still find deals if you're willing to hunt for them. Whitney Gower Smith (more than 15 Nap Dresses) said her unicorn was the lilac gingham Athena, and she was able to find it for $150 online. Now she is searching for the cherry stripe Ellie dress but said she wouldn't pay more than $175 for it.
"There always seem to be ones popping up on resale sites, so most of the Nap Dresses I've gotten secondhand (about a third of my collection) have been at or under retail," she said.
Like Williams, many of the people I spoke to said they were surprised by how fulfilling they found the Nap Dress community online. The "Nap Dress Nation" Facebook group began in May as an offshoot from the buy/sell/trade page and quickly ballooned to over 1,000 members.
In the group, members share photos of themselves in the bathroom at work ("finally got the guts to wear a bow at my new job!") and make pronouncements that no one should assume they aren't serious just because they like to wear frilly dresses ("I like to look like a kindergartener but I'm also a raging feminist").
Paula, one of the moderators of the group, told me it "has been interesting to see how quickly it's grown and how much interest there is." But, she said, it makes sense why the group has taken off.
"I think right now, when a lot of people are feeling really isolated, myself included, it's really nice to find a community space where people will post their outfit photo and everyone will be like, You look great," she said. "It's really uplifting and positive, and it's just a really nice space to check into every once in a while."
For Paula, a research scientist in Boston, embracing "Nap Dress Nation" has been empowering. She said she thinks it is still radical for women to dress in an overtly feminine way, especially in the workplace.
"We've had a lot of conversations in that group about regaining a sense of bodily autonomy and freedom, and wearing something that's modest but still feels beautiful and comfortable, and not having to perform gender as much as people are working from home," Paula said.
It's this community that, for the members of Nap Dress Nation, makes their new hobby about more than just a dress. It's becoming a way of life.
"While there's still a debate and pressure around women doing it all," Riordan, the influencer, said, "at the very least we now have a dress that can." ●