People Are Sharing Photos Of Muslim American Military Members In Response To Donald Trump
On social media, people are uploading photos of Muslims who are fighting for the U.S. in response to the GOP presidential candidate's recent anti-Islam comments.
People are sharing photos of Muslims who have served America in the military after Donald Trump said he wouldn't rule out a special identification card for Muslims in the U.S. due to the need to combat terrorism.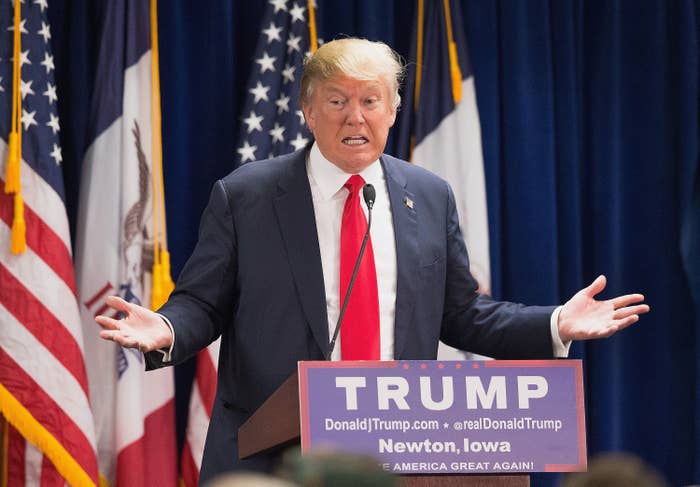 In an interview with Yahoo News on Friday, the GOP presidential candidate said he wouldn't rule out either requiring American Muslims to carry a card denoting their religion or requiring them to be recorded in a government database.
"We're going to have to — we're going to have to look at a lot of things very closely," Trump said, according to Yahoo News. "We're going to have to look at the mosques. We're going to have to look very, very carefully."
He addressed his comments again on Sunday with an interview with ABC News. When asked whether he was backing down from his database comments, Trump said "not at all," but seemed to indicate he would only require a database for Syrian refugees.
"We have no idea who these people are," he said. "When the Syrian refugees are going to start pouring into this country, we don't know if they're ISIS, we don't know if it's a Trojan horse and I definitely want a database and other checks and balances."
After Trump's initial comments, a Muslim Marine named Tayyib M. Rashid went viral after he tweeted that he already carried "a special ID badge."
"Hey @realDonaldTrump, I'm an American Muslim and I already carry a special ID badge. Where's yours? #SemperFi #USMC," he wrote, along with a photo of his military identification.
Rashid's comments sparked a movement, with people on Twitter sharing stories of Muslim service members — including some who made the ultimate sacrifice.
The soldier featured in this photo, James Ahearn, served three tours in Iraq before he was killed in 2007 in a roadside bombing, according to a website that provides information on those buried at Arlington Cemetery in Virginia.
He converted to Islam after marrying an Iraqi woman, Lena, whom he met during his second tour.
One user even invited Trump to visit the graves of some of the Muslim soldiers buried at Arlington, like 27-year-old Humayun Saqib Muazzam Khan.
Khan was a Pakistani-American soldier who died in 2004 while serving in Iraq. He was originally from Maryland.
"This Muslim died protecting Donald Trump, Ted Cruz, Mike Huckabee, and all of us," Street columnist Adam Feuerstein wrote of Kareem Rashad Sultan Khan.
Khan was only 20 years old when he was killed in a bombing in Iraq.
According to a news report at the time, Khan joined the Army to show that "not all Muslims were fanatics and that many, like him, were willing to lay their lives down for their country, America."
Twitter users are also sharing photos of those currently serving, including this photo from Fort Jackson in 2014.
The photo is from a Ramadan event at the Army base, in which Muslim soldiers invited their friends to "learn about Islam and to partake in the fast breaking."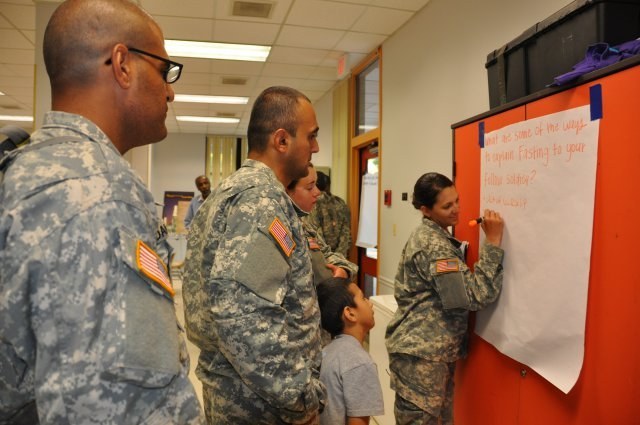 And other Muslim service members are tweeting out proof of their "IDs."
Other Muslim Americans are sharing ways that they too serve their communities. Mariam Nawas, a medical resident, wrote that she often cares for U.S. veterans when they return home from war.
"Hey @realDonaldTrump I take care of our vets, the underinsured, the indigent — proud to carry my #MuslimID," she wrote.
And one Muslim man wrote that he is also serving his country by working as a sheriff's deputy.
As the movement went viral, Rashid tweeted that he couldn't believe all the support.
"This is insane," he wrote on Twitter. "Thanks for your support America."