Paige Ward is a 29-year-old proud mom of four kids, including 2-year-old Emma, her youngest, in Oklahoma.
Ward told BuzzFeed News that Emma has been a shining light for the family since she was born, and that she has a hilarious personality. So when Ward's friend made her daughter a funny T-shirt that read "sasshole" in honor of Emma's sassy disposition, she said she thought it was funny, although her daughter only wore it a few times.
Like many of us, Ward has been working hard to make ends meet during the pandemic. Recently, she had worked a 60-hour week at her job at an urgent care clinic when she woke up to take Emma to school.
"I woke up that morning exhausted and grabbed the first thing out of her closet I could see, which happened to be the famous 'sasshole' shirt," she said.

When they arrived, Ward said, her fiancé noticed some camera equipment outside the school and thought it might be picture day. Ward said she told him she didn't think so, because she hadn't been notified.
However, two days later, Emma's dad dropped her off at home along with the photo proofs. Ward saw them and freaked out, saying she was "hysterical."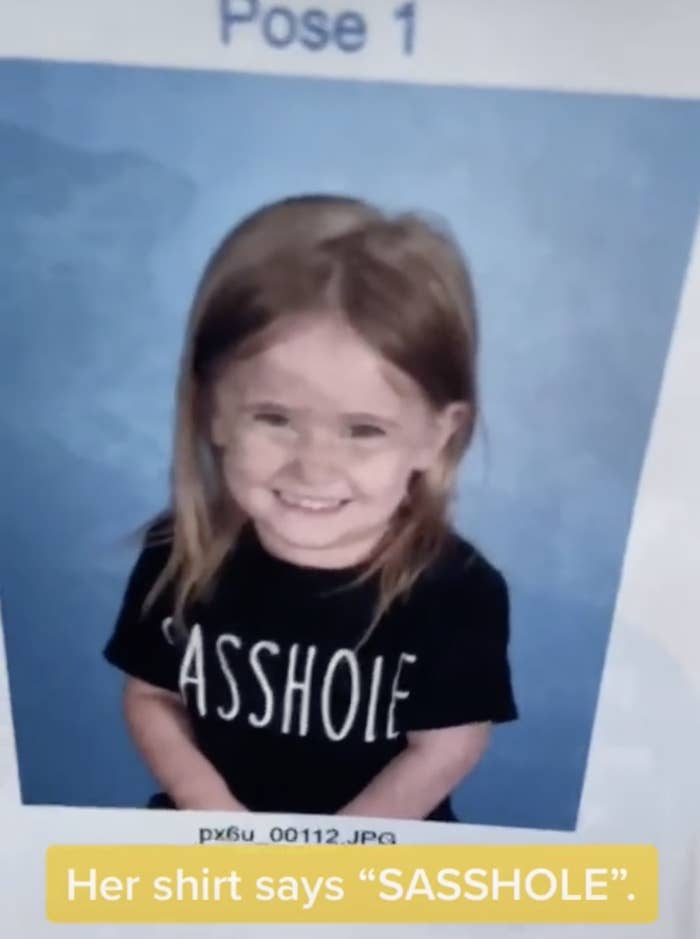 She said she thought, Oh my god. Everyone is going to think I'm a horrible mother. How could I do this?
Ward added, "But the entire time I was dying laughing because it just fits Emma's personality and 2020 so well."

After she got over her shock, Ward decided to have some fun with the proofs. She had recently been playing around with TikTok and decided to post about the mishap to her page.
The TikTok went super viral, and people were dying over the mix-up. Many other moms also posted that they thought it was hilarious.
Some people responded saying the T-shirt was inappropriate for Emma to even own, but Ward responded to the "Karens" with a new video. She added that Emma's teachers also thought it was pretty funny.
Ward said she never expected to go viral but has been excited and happy to share Emma with the world. She added that her family has had a rough couple of years, and Emma has always made the family laugh and stay positive.
"Through the pandemic, we have been struggling to make ends meet, and this was just the comedic relief we have been needing," she said. "Since Emma has been born, she has been the light through all the darkness."