Sophie the Giraffe is a popular baby teether that has exploded in popularity over the past few years. In fact, its use by celebrities like Kim Kardashian West led the Los Angeles Times to label it a "status teether."
However, a lot of horrified parents are saying that they've cut open the beloved giraffe and found it full of black mold.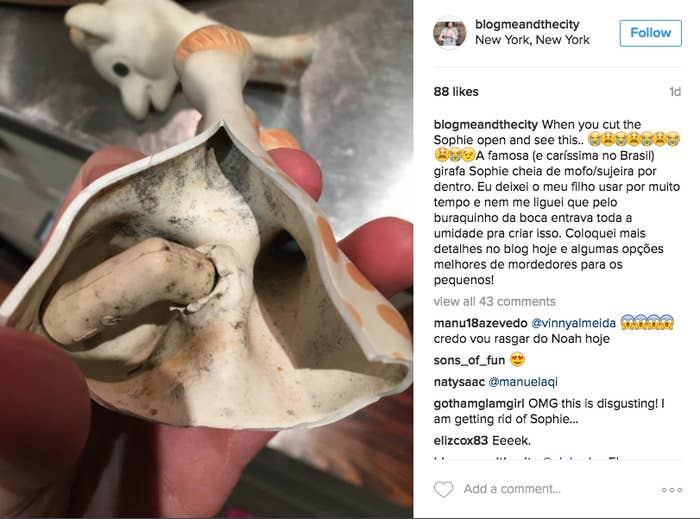 The story gained national attention after mom and dentist Dana Chianese shared photos of her Sophie, below, with Good Housekeeping.
Chianese told the magazine she was cleaning her Sophie toy when she noticed it smelled weird.
"I decided to cut into Sophie out of curiosity and discovered a science experiment living inside," she said. "Smelly, ugly mold living in my infant's favorite chew toy!"
The mom said she will no longer use the product, which she added she always cleaned according to the instructions.
"It still hurts my heart to know that for months I allowed my babies to chew on moldy toys," she said.
After Chianese's story went viral, several other parents cut into their toys to see for themselves. Many were horrified to find their giraffes full of black gunk.
Some of the photos were seriously disgusting.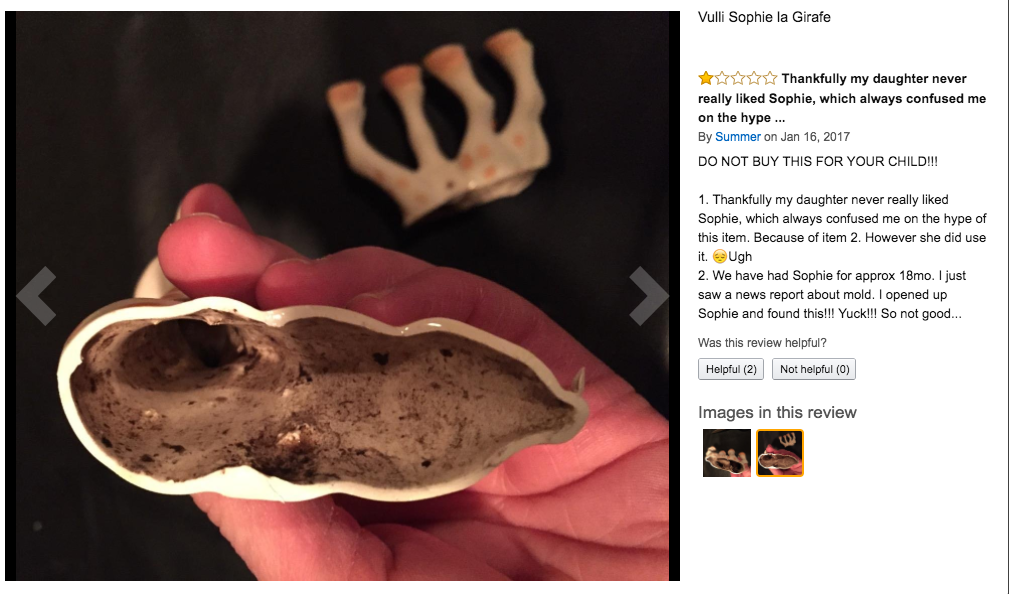 Many parents said they had cleaned their toys often but still found mold inside.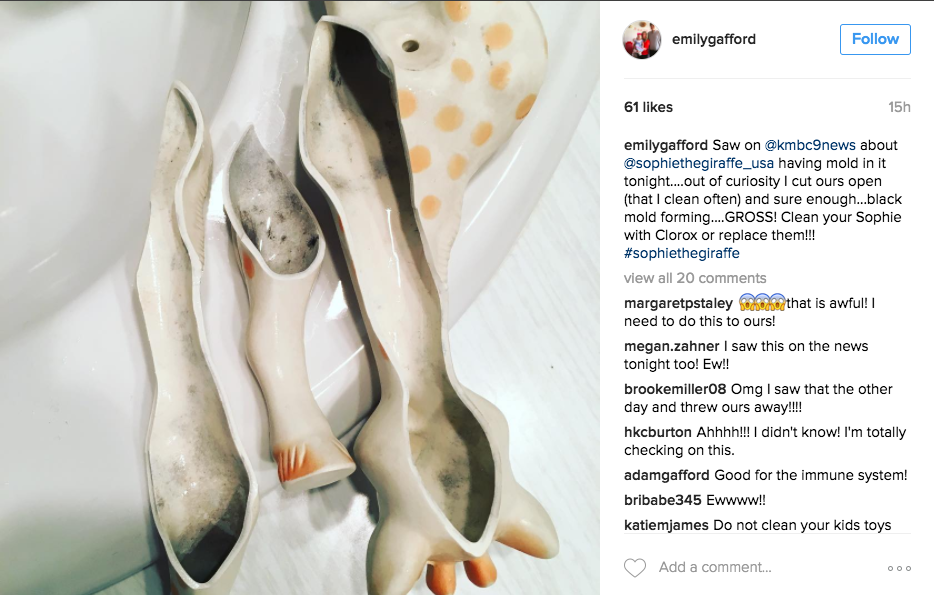 "There you go, $30 for a mold infested toy, YUCK," one Amazon reviewer wrote.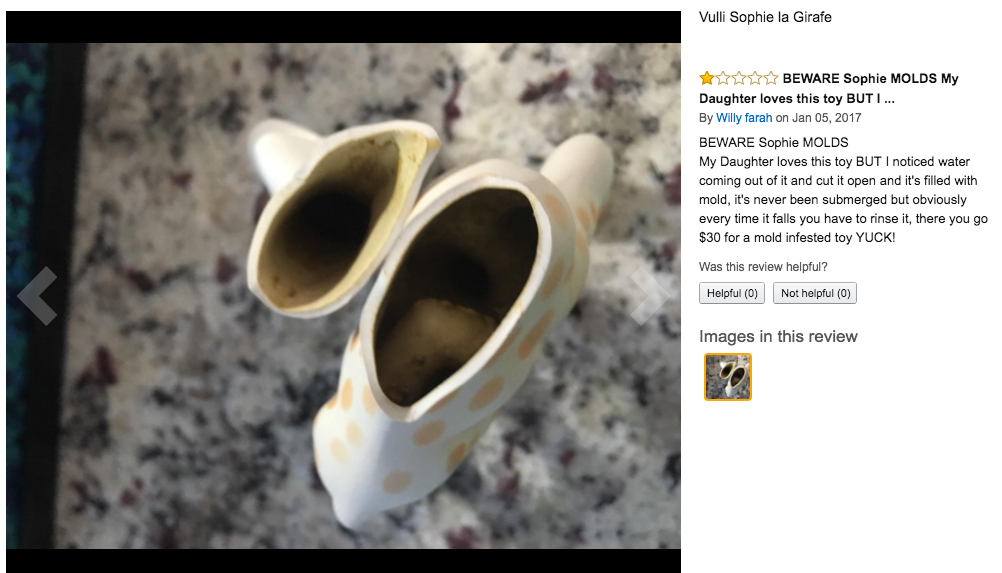 "When you cut the Sophie open and see this," wrote another.
"Important to note we've had ours for 4 months and have followed the care instructions point by point and this has still happened," one dad wrote on Instagram.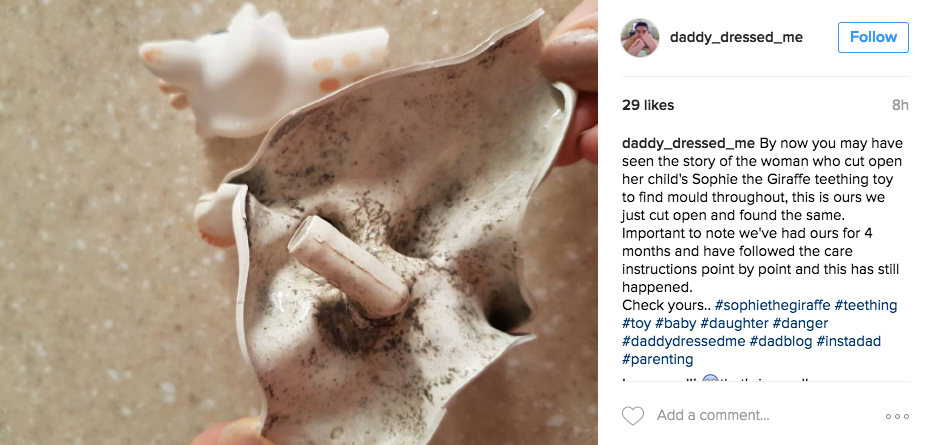 The care instructions included with Sophie say to wipe the toy "with soapy water and a damp cloth" to clean it. A spokesperson for the toy told Good Housekeeping that it's important parents don't submerge the toy or put it under running water:
First of all, it's important to know that Sophie la Girafe [Sophie the Giraffe] is composed of 100% natural rubber, so the cleaning instructions have to be carefully respected. As indicated on the packaging and in an explanatory leaflet inside the packaging, we recommend to clean the surface of Sophie la Girafe with a damp cloth. It should not be immersed in the water nor rinsed off, to prevent water from getting inside, as she may become damaged. We thus would like to emphasize on the fact that is it important, while cleaning the product, that no water gets inside the whole. As of now, we have not been contacted by Mrs. Chianese nor Mrs. Opera and were not aware of the situation before reading your article. It is thus difficult for us to comment on the current situation, as we haven't had the chance to examine the products. Please know that each complaint received is taken very seriously and that the return of the product is always asked for further examination. Furthermore, please know that the safety of children and satisfaction of their parents is our main priority. For the past 55 years, we have always strived to exceed security standards and all of our products comply with the most stringent global standards.
In addition, some parents said online they have always followed the care instructions, and their toys are clean.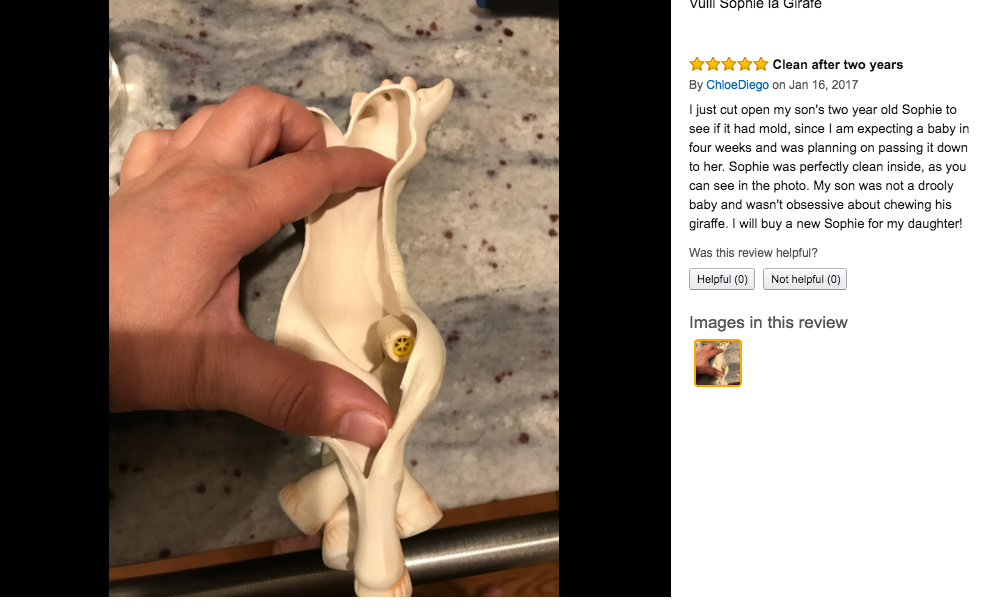 BuzzFeed News has contacted the company for comment on this story.