University of Missouri Chancellor R. Bowen Loftin announced Monday he would be leaving his position by the end of the year. The announcement came just hours after University of Missouri System President Tim Wolfe resigned.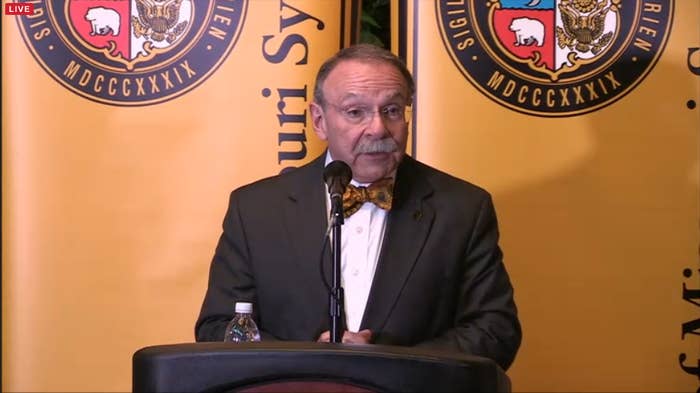 Wolfe, who made the announcement at a Board of Curators meeting, appeared emotional as he read the statement and quoted scriptures.
At an earlier news conference, University of Missouri Athletics Director Mack Rhoades and Pinkel distanced themselves from Wolfe's resignation. Both said they supported their players, but forcing Wolfe to resign was never part of the conversation.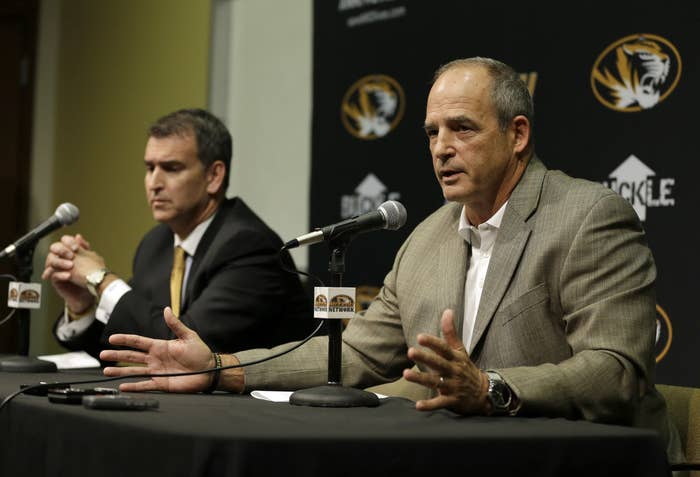 "It's important to note that during those discussions there was never talk about anybody losing their job," Rhoades said.
However, the men struggled to reconcile that with a tweet members of the football team posted vowing not to participate in any football activities until Wolfe resigned or was removed.
Rhoades said the team's decision not to participate in Saturday's game was unprecedented and there was "no playbook, no script for what all of us have been dealing with."
Pinkel said he was moved by players who were concerned about Butler's health.
"I got involved because I support my players and a young man's life was on the line," Pinkel said. "I did the right thing and I would do it again."
Rhoades said moving forward they don't believe student athletes refusing to play is the ideal way to solve even "extraordinary issues."
"By no means do we believe this is an ideal way to evoke change or answer all of our problems," Rhoades said.
The university system said in statement that it was going to appoint its first ever chief diversity, inclusion, and equity officer.
University officials also said they would conduct a full review of University of Missouri System policies as it relates to student conduct and provide additional support for students, faculty, and staff who experience discrimination. They also promised to provide additional support for the hiring of diverse faculty and staff.
The new initiatives will be implemented over the next 90 days on all of the system's campuses.
The tipping point seemed to come last weekend, when the head football coach said his team refused to return to practice or play in this Saturday's game against BYU unless Wolfe resigned. The players said Monday the game is now on.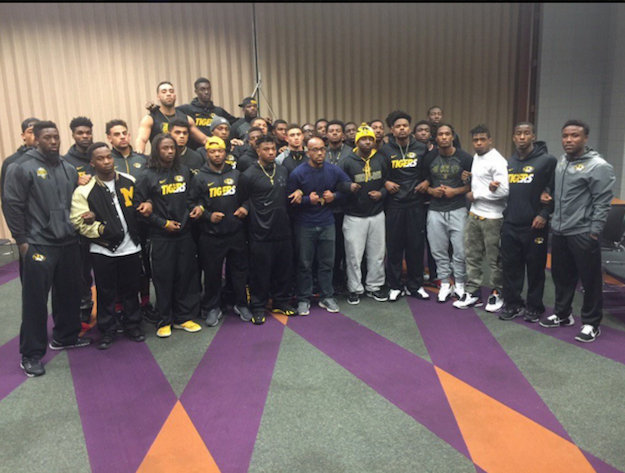 The announcement by coach Gary Pinkel came after roughly 30 Mizzou players posed for a photo with Butler, vowing not to return to practice until the protests were successful.
"The athletes of color on the University of Missouri football team truly believe 'Injustice Anywhere is a threat to Justice Everywhere,'" read a message tweeted with the photo.
"We will no longer participate in any football related activities until President Tim Wolfe resigns or is removed due to his negligence toward marginalized students' experiences. WE ARE UNITED!!!!!"
The message was shared online by a school group called the Legion of Black Collegians (LBC).
The players included Kentrell Brothers, the leading tackler in college football, according to the Columbia Tribune. Other notable players included defensive end Charles Harris, running backs Russell Hansbrough and Ish Witter, and several other starters, the newspaper reported.
The LBC said that they didn't coerce the players to take a stand.
"While we strive to be the leading voice for all black students, the players did not make their decision on behalf of anyone but themselves," the group said.
Shortly after the players' announcement, Pinkel said on Twitter that his team was united behind the cause.
The school's athletic department responded to the players' decision on Twitter, saying the department supports its players.
Following Monday's resignation, the athletic department announced football activities will resume on Tuesday.
The Missouri Student Association also released a statement calling Wolfe's resignation "the first of many actions that need to take place."
The university saw students protesting in recent weeks against what they called the systematic failure of the administration to combat racism on campus.
The protesters united under a group named "Concerned Students 1950," which the Columbia Tribune reports is a reference to the first year black students were admitted to campus.
The group sought Wolfe's ouster due to his failing to address numerous accusations of racism on campus.
These incidents, according to the protesters, included the school's black student body president, Payton Head, being called a racial slur on campus, as well as a swastika being drawn with feces in a residence hall.
The protesters said there had been incidents of protesters being threatened with pepper spray, and students being denied health insurance.
The tensions boiled over during the school's homecoming demonstration, when Wolfe was accused of laughing and ignoring a group of protesters who blocked his vehicle.
"He laughed. In our faces," Butler wrote on Facebook.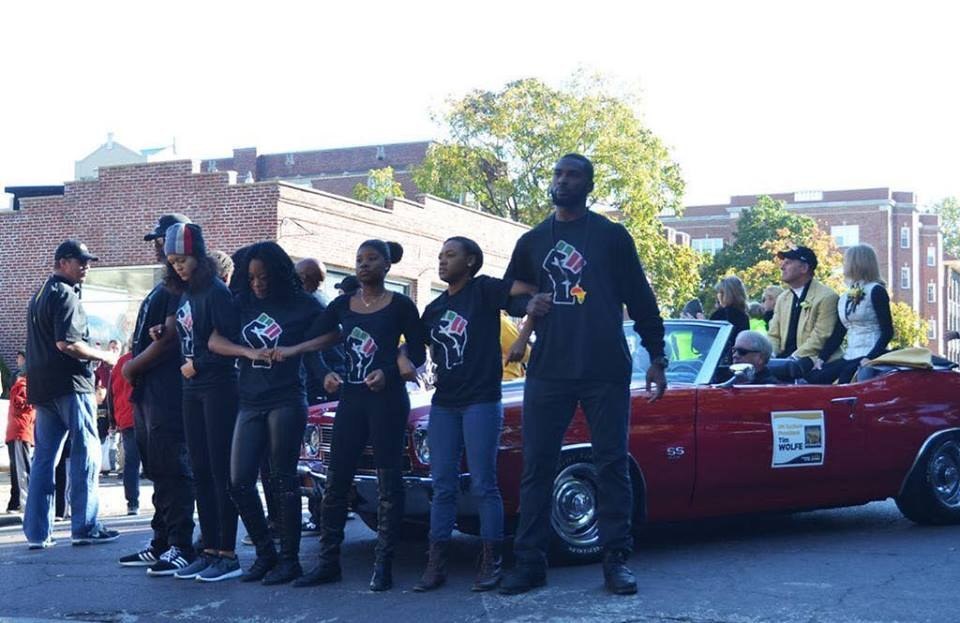 Butler vowed last Monday he would go on a hunger strike until Wolfe was ousted. He didn't break the promise until Wolfe resigned.
Butler wrote on Saturday that after 121 hours without food he was feeling weak but standing tall.
"My body feels about the same as yesterday, but more importantly my heart and mind are strong," he said.
After the players announced their decision, Wolfe said in a statement that it is "clear to all of us that change is needed." However, he didn't address the calls for him to resign.
"My administration has been meeting around the clock and has been doing a tremendous amount of reflection on how to address these complex matters," he said.
In addition, Wolfe said Friday that he is sorry about how he reacted at the homecoming parade. In a statement, he said he was caught off guard and regretted not handling the situation better, adding that he thinks if he had done so he could have helped the situation.
"Racism does exist at our university and it is unacceptable," Wolfe said. "It is a long-standing, systemic problem which daily affects our family of students, faculty, and staff. I am sorry this is the case."
Wolfe added that he has met with Butler, and is worried about his health.
"His voice for social justice is important and powerful," Wolfe said, speaking about Butler. "He is being heard and I am listening. I am thankful for the leadership provided by him and the other student leaders in raising awareness of racism, injustice, and intolerance."
As the news of the players' protest spread, the state's governor, Jay Nixon, said that the school needed to address the concerns of the protesters.
"Racism and intolerance have no place at the University of Missouri or anywhere in our state," he said in a statement. "Our colleges and universities must be havens of trust and understanding. These concerns must be addressed to ensure the University of Missouri is a place where all students can pursue their dreams in an environment of respect, tolerance and inclusion."
The state's lieutenant governor, Peter Kinder, said that while racism clearly needs to be addressed on campus, "extreme measures" are not the answer.
"While I respect the right to peaceful protest and sincerely pray for the health and safety of all involved, I cannot ignore the necessity of law and order at our universities," he said in a statement.
After the players' announcement, Butler wrote on social media that other students need to decide "what side of history you are going to be on."
"So either engage fully in this pursuit towards justice at Mizzou or don't comment," he wrote.
Other lawmakers, including Rep. Steve Cookson and Rep. Caleb Jones, called for Wofle's resignation.
"He should show leadership in his final official act and step aside, failing that the University of Missouri system Board of Curators should remove him," Cookson, who is the chairman of the Missouri House Committee on Higher Education, said in an email statement to The Missourian.
Jones added that the lack of leadership the University of Missouri has been dealing with is "a national embarrassment."
"It's time for a change in leadership and to start the healing process," he said.
On Monday, the Missouri Student Association issued a letter to the Missouri System Board of Curators calling for the immediate removal of Wolfe, stating how the "physical safety of our black students has been compromised time and time again."
"In August 2014, the University of Missouri met the shooting of Mike Brown with silence," the letter reads. "In the following months, our students were left stranded, forced to face an increase in tension and inequality with no systemic support. Over the last sixteen months, the quality of life for our students has only worsened."
The letter, signed by the executive cabinet of the undergraduate student government, states that the academic careers as well as mental health of students are suffering.
"Every student's ability to learn is now affected and threatened by the campus climate," the letter reads.
The students called for Wolfe to be removed, saying he failed the students he represents.
"He has not only enabled a culture of racism since the start of his tenure in 2012, but blatantly ignored and disrespected the concerns of students," they wrote.