In fact, people are so crazed for the teen star's signature lip kits, that the products usually sell out quickly. Thursday's latest restock sold out in a little over an hour, the company wrote on Facebook.
Fans desperate to get their hands on the kits have been forced to turn to eBay, where they sell at a markup.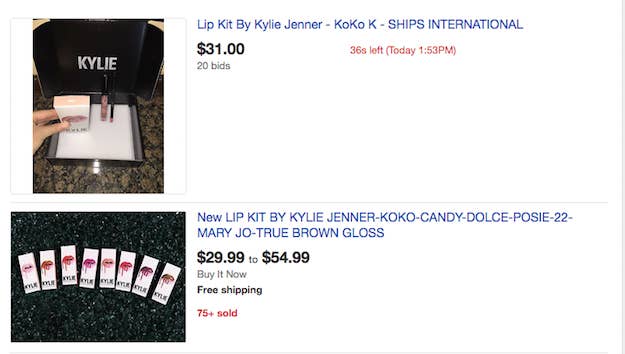 For example, Jenner's "Dolce K" lip kit sells for $29 retail, but is being sold for $54 on eBay.
But devious people have apparently been turning to another way to get their hands on the kits. The Better Business Bureau has issued an alert on the company, stating customers are receiving empty boxes in the mail.
The BBB said it has received "multiple complaints" about the Oxnard, California-based Kylie Cosmetics alleging "some or all of [its] products are not being shipped as expected."
Indeed, multiple people on social media have complained that when their long-awaited order arrived, all they got was an empty box.
Customers complained that they felt totally ripped off by the company.
Some sad fans said it appeared their product was stolen.
One fashion blogger, Amy of Salt and Chic, wrote on her website she was extremely frustrated by her experience with the company.
"Quite frankly, I am appalled at Kylie Cosmetics," she wrote. "I've paid £30+ for an empty cardboard box and I know hundreds of others have been ripped off too."
She added she finally got her lip kit after haggling with customer service, but said the product was not worth the stress the experience caused her.
In response to the BBB complaint, the company said it thinks its products are being stolen from the mail because its packaging is so recognizable.
The current box is black and white, with a drip motif on the sides.
"The company has informed the BBB that they confirm the weight of items shipped prior to shipping but they allege that because of highly recognizable labeled packaging, containers are being opened and products removed," the BBB stated.
The company said it is now working on changing the packaging of its products to make them less tempting to thieves.
It didn't say what the redesign would include. The company said it will replace any products that have vanished, according to the BBB.
BuzzFeed News has contacted the company for comment.
CORRECTION
The BBB is not a government agency. A previous version of this story misstated that fact.