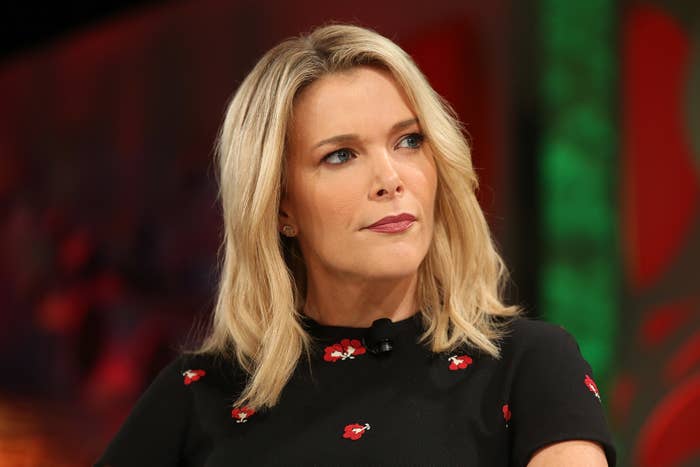 Megyn Kelly will not be live on her NBC show for the rest of the week, after she defended blackface on air on Tuesday and amid reported fighting at NBC News over her future.
A spokesperson for NBC News told BuzzFeed News that "given the circumstances" the 9:00 a.m. show will air reruns Thursday and Friday. And an NBC News source said that at a staff meeting for Megyn Kelly Today on Thursday, the news division president, Noah Oppenheim, said that the host for Monday show is "TBD."
Kelly ignited a wave of controversy after she said on her show she didn't see what was wrong with dressing up in blackface for Halloween.
She asked her all-white panel "what was racist" about doing so.
"Because you do get in trouble if you are a white person who puts on blackface on Halloween, or a black person who puts on whiteface for Halloween," she said. "Back when I was a kid that was OK, as long as you were dressing up as, like, a character."
Kelly later defended Real Housewives of New York star Luann de Lesseps for dressing up as Diana Ross, a costume the reality star has since apologized for.
"I don't know how that got racist on Halloween," Kelly said.
Kelly later apologized for the segment in an email to her "friends and collegues" at NBC News.
The comments drew immediate backlash on social media, and even from her own network.
On Wednesday, the hosts of Today, Craig Melvin, Al Roker, Hoda Kotb, and Savannah Guthrie, blasted Kelly for the remarks, while acknowledging the awkwardness of the situation.
"Look, the fact is, while she apologized to the staff, she owes a bigger apology to folks of color around the country," Roker said. "Because this is a history going back to the 1830s minstrel shows to demean and denigrate a race — it wasn't right."
The fate of her show is unclear.
CNN reported Wednesday night that it is a matter of "when, not if" Kelly is taken off her show.
The report cited a source that said the network is in negotiations with Kelly over the show's end date and her reported $23 million contract.
The Hollywood Reporter also revealed Wednesday that Kelly has cut ties with her agency, CAA.
The Hollywood Reporter said Kelly made the call to do so because the agency also reps the president of NBC News.
Kate Aurthur contributed reporting.