A 70-year-old marathon runner and doctor killed himself on the Fourth of July after his performance in the LA Marathon came under scrutiny by a vigilante running investigation blog.

Dr. Frank Meza of South Pasadena was disqualified from the 2019 LA Marathon three months after he finished the race in an official time of 2:53:10. That time would have meant he ran the race, which was held on March 24, at a pace of 6:36 per mile.

Meza's time would have been a world record for his age group, according to Runners World. But his time came under question after a user on the forums of running website LetsRun.com congratulated him on his time shortly after the race.
The congrats soon turned into questions, as other forum users began to claim Meza had a history of suspected cheating. In 2014, Meza was banned from the California International Marathon after missing several timing mats along the course, according to Runner's World. His 2017 LA Marathon time was also scrutinized by officials.
One user on LetsRun said Meza's marathon times, which showed him improving by over 10 minutes over the past decade, provided a "cause for suspicion." Runners typically get slower, not faster, after they hit middle age, and 10 minutes is a huge time improvement at that level.
The controversy was soon picked up by Derek Murphy, a blogger who has made a name for himself over the past few years by calling out runners he suspects of cheating in marathons and other races.
His blog, Marathon Investigation, has led to several runners being disqualified from races after cutting the course to fudge their times, or having another, faster runner race under their name to get faster race times.
Murphy wrote nine blog posts about Meza's alleged cheating from May 28 to July 4. Among many other accusations, Murphy accused Meza of riding a bike during the race to speed through the course. Murphy didn't return a request for comment from BuzzFeed News.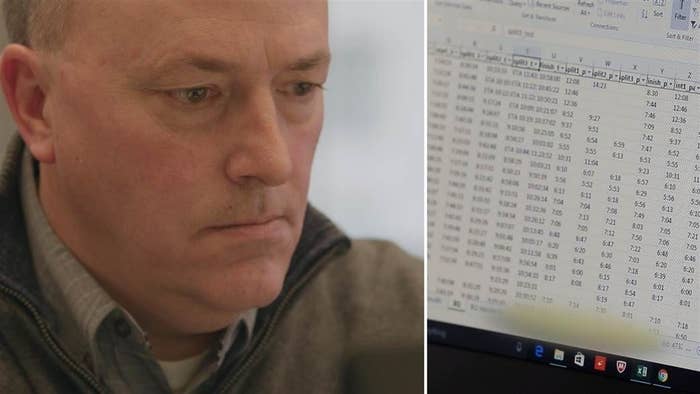 Murphy also published a guest blog post by former Boston Marathon champ and running journalist Amby Burfoot, who interviewed Meza about the claims. Meza told Burfoot he couldn't explain his improvements, but denied cheating.
"I don't get it either. I don't know what to do. I've been running since I was 14. I've been coaching for 35 to 40 years," he said.

Meza also denied cheating to the Los Angeles Times, saying he was willing to run another marathon to try and clear his name.
His protests didn't convince the organizers of the LA Marathon. On June 28, the organizers of the race, Conqur Endurance Group, announced Meza had been disqualified.
The organizers said an investigation found Meza had "violated a number of race rules" during the marathon, "including re-entering the course from a position other than where he left it."
"The video evidence is confirmed by a credible eyewitness report and our calculation that Dr. Meza's actual running time for at least one 5K course segment would have had to have been faster than the current 70-74 age group 5K world-record [an impossible feat during a marathon]," they said in a press release.
On July 4, Meza was found dead shortly after 10 a.m. in the bed of the Los Angeles River. He had sustained multiple blunt force traumatic injuries, a spokesperson for the LA Coroner's Office told BuzzFeed News.
His cause of death was ruled a suicide, the spokesperson said.
Meza's widow, Dr. Faustina Nevarez, told CNN her husband was devastated by the online scrutiny and media reports accusing him of cheating. She said the last time she saw her husband, he said he was headed out for a run.
Meza's daughter Lorena told CNN, "He was targeted, bullied and we tried to defend him the best we could. He was so devastated that people could actually believe this."
In response to Meza's death, a moderator of Marathon Investigation's Facebook page announced the page would be shuttered temporarily. In a statement, Murphy said he was "deeply saddened" by Meza's death.
"There will be a time for comment and a broader discussion. But, at this point, I feel that we should all allow those close to Frank the space to grieve," he said.
The National Suicide Prevention Lifeline is 1-800-273-8255. Other international suicide helplines can be found at befrienders.org.