A former warehouse employee of the multilevel marketing company LuLaRoe has sued the firm, saying he was repeatedly called a "n*gger" and was taunted with slave songs while he worked there. After he complained to LuLaRoe multiple times, the ex-employee alleges he was fired.
Brandon Stubblefield filed the lawsuit on Jan. 18 in California Superior Court in Riverside. It names LuLaRoe, Stubblefield's former supervisor, Hector Casas, and 20 other unnamed defendants.
Stubblefield, according to the complaint, worked as a forklift operator at LuLaRoe's warehouse in Corona, California, from November 2016 until his employment was terminated in July 2017.
Casas became his direct supervisor "shortly after the holidays at the end of 2016," according to the lawsuit.
"We do not comment on open litigation related to an employee matter," LuLaRoe said in a statement to BuzzFeed News. "LuLaRoe is strongly committed to maintaining a fair, inclusive and safe workplace environment where all of our employees work hard and treat one another with dignity and respect."
BuzzFeed News called a number connected to Casas, which rang unanswered and didn't have a functioning voice mailbox.
The second number was answered by a man who identified himself as Hector's son, Carlos. When told BuzzFeed News was calling about a lawsuit, Carlos said he would not provide his father's number and that he had no comment.
Stubblefield's lawyer didn't immediately return a request for comment.
Stubblefield said in the complaint that his employment was met with "hostility from Casas," who he said created a work environment that "normalized racist or insensitive jokes." He said he believes he was a targeted for these attacks because of his race, and claimed other black workers were also abused.
"Although almost all employees took part in this behavior which was aimed squarely at [Stubblefield], it was frequently Casas who led the joke-making, setting the tone for everyone else," the lawsuit read.
Stubblefield alleges that he was "an excellent employee," saying four months into the job he was given a pay raise. He started the job making $12.50 an hour, but by the time he was fired he was making $14.50.
Stubblefield said in the suit some of the "jokes" included calling his hair "black people hair," asking him if "black people like Corn Nuts," mocking him for drinking Kool-Aid, and telling him cashews he was eating looked like "n*gger toes."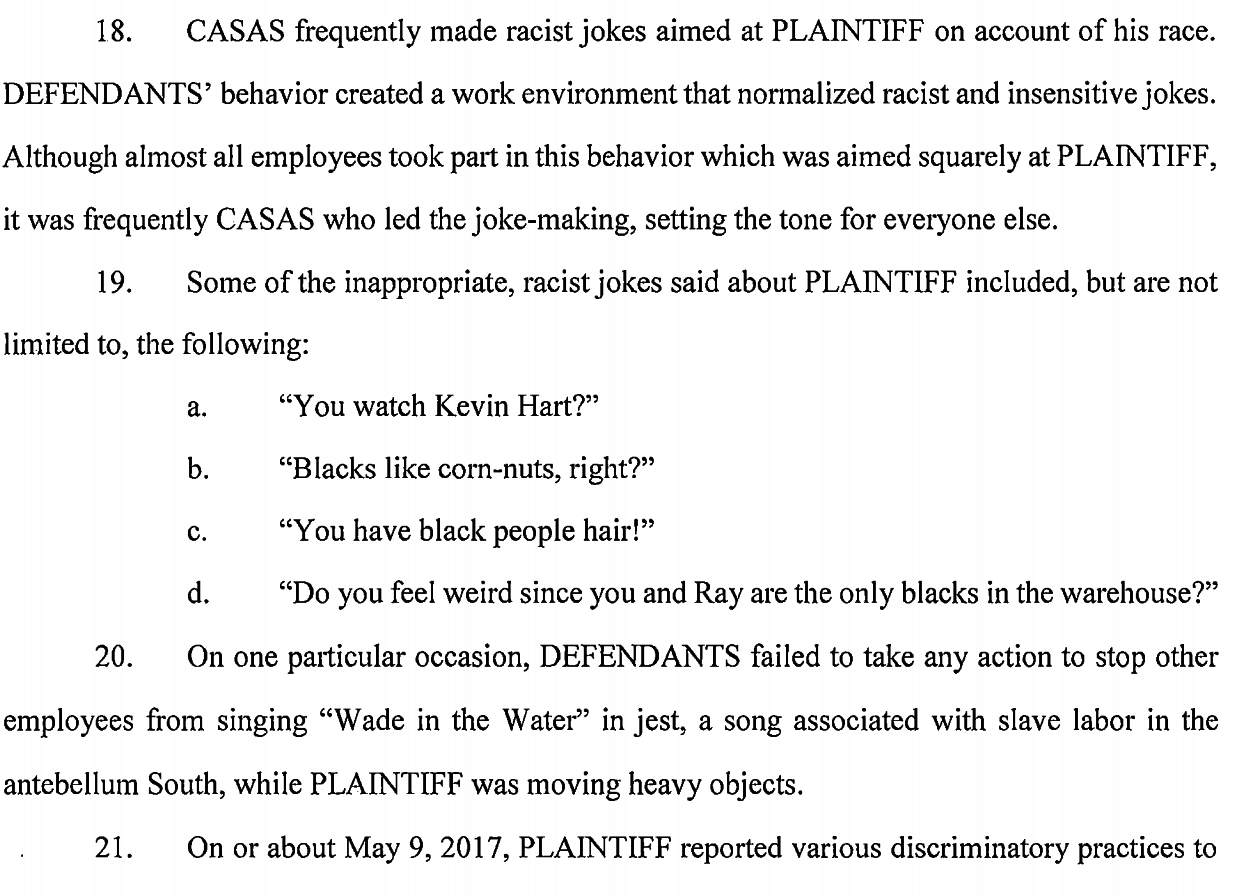 Once, Stubblefield claims, he was moving heavy objects when a group of employees began to sing "Wade in the Water" to him — a song associated with slaves escaping captivity via the Underground Railroad.
In May, Stubblefield alleges he complained to LuLaRoe's human resource department.
Casas then suspended Stubblefield, in what the lawsuit claims was "direct retaliation." Stubblefield said he never faced any discipline at work before his first complaint to HR.
Stubblefield also said in the lawsuit he was called a "n*gger in the workplace on "numerous occasions." He said many of his coworkers heard him being called the slur, and his mother heard it as well. He says he complained at least four different times to HR, but Casas was never punished.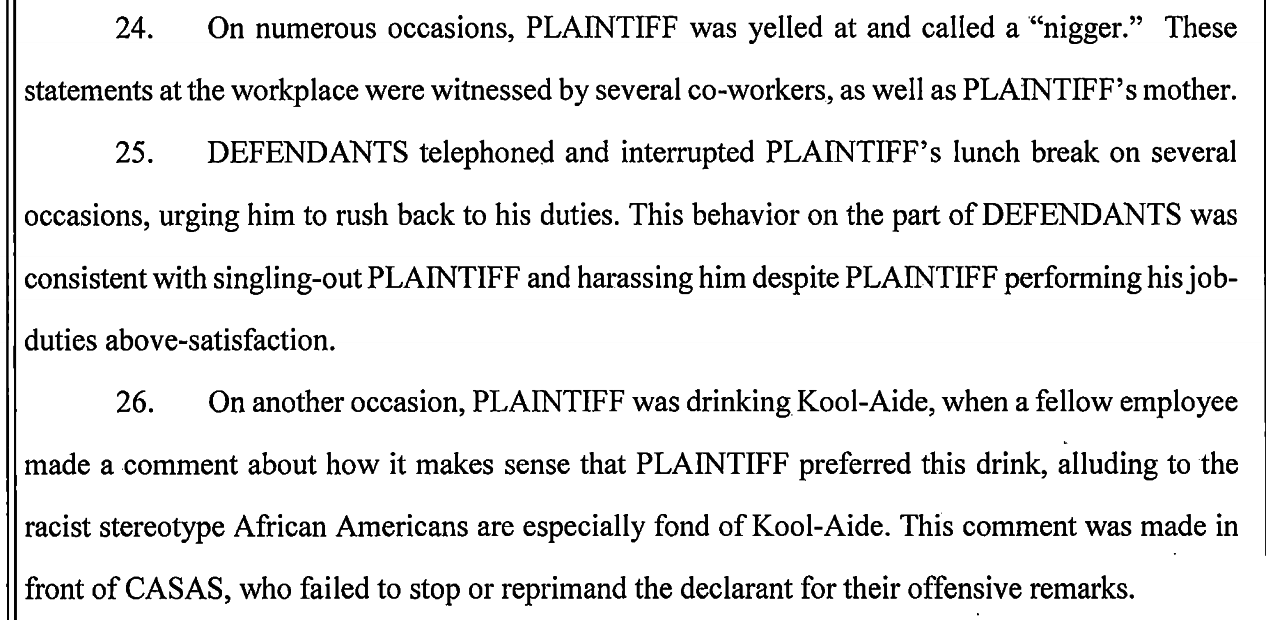 In one of his meetings with the HR manager, Stubblefield said he asked the manager why they were not taking notes. He claims the manager "shrugged [him] off."
Stubblefield said he then heard through the grapevine that HR had held another meeting, which he was not invited to, where employees were told there should be "no more n*gger jokes" in the workplace.
"[Stubblefield] was not told about this meeting, demonstrating that [the] Human Resource office was well aware of the hostile and racist work environment [he] was subjected to."
On July 13, Stubblefield said he complained again to HR. According to the lawsuit, he was terminated a few days later. He is seeking damages and a jury trial.