Amariyanna "Mari" Copeny is a 9-year-old girl from Flint, Michigan, who is currently serving as "Little Miss Flint." Earlier this year, she made headlines for her visit with President Obama.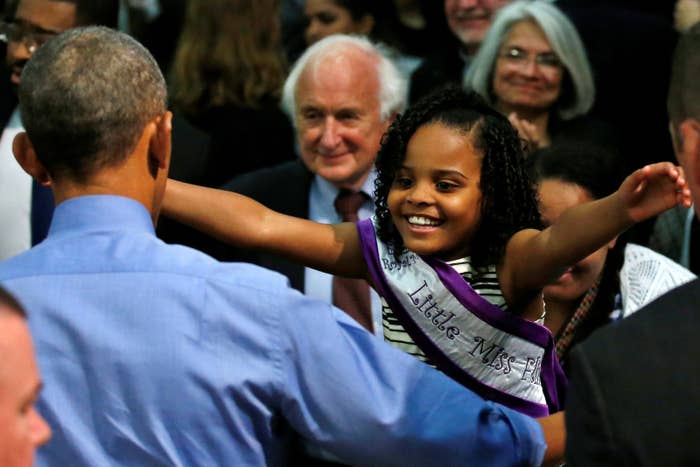 In March, Mari wrote a letter to the president telling him about what she is doing to stand up for those drinking bad water in her community.
The city of Flint has been in the throes of a public health crisis after its water became contaminated with lead in 2014.
"I am one of the children that is affected by this water, and I've been doing my best to march in protest and to speak out for all the kids that live here in Flint," Mari wrote.
She asked the president to meet with her and other members of her community in D.C.
Obama did her one better, and came to meet her and her community in person in April. She was really, really excited to meet him.
On Wednesday, Donald Trump also paid a visit to Flint to meet with residents. Mari was there too and had quite a different reaction to meeting the GOP nominee.
People online thought the photo said it all.
They couldn't help comparing Mari's two reactions to meeting two different politicians.
"Little Miss Flint truly IS America," one person wrote.
Others said her face perfectly summed up their feelings toward Trump.
"I've seen kidnapping photo's - where the victim is holding up 'today's newspaper' - that were less alarming," one person tweeted.
Mari looked a little more at ease in an interview with MLive.com about meeting Trump. Her mother, LuLu Brezzell, said they came to Trump's speech to hear what he had to say about the problems in their community.
"I don't expect him to come in here and say, 'I'm going to wave a magic wand and fix it,'" Brezzel told MLive.com, adding she considers herself an independent voter. "It doesn't work like that, but I do want to hear what he can offer the city if he becomes elected."