Lena Dunham issued an apology to Odell Beckham Jr. on Saturday for projecting her insecurities onto him when she claimed in an interview that the football player ignored her at the Met Gala, a comment that pissed a lot of people off.
Dunham claimed in a Q&A with comedian Amy Schumer, published Friday in her newsletter Lenny Letter, that Beckham Jr. ignored her because she wasn't hot enough in her tuxedo:
I was sitting next to Odell Beckham Jr., and it was so amazing because it was like he looked at me and he determined I was not the shape of a woman by his standards. He was like, "That's a marshmallow. That's a child. That's a dog." It wasn't mean — he just seemed confused.

The vibe was very much like, "Do I want to fuck it? Is it wearing a … yep, it's wearing a tuxedo. I'm going to go back to my cell phone." It was like we were forced to be together, and he literally was scrolling Instagram rather than have to look at a woman in a bow tie. I was like, "This should be called the Metropolitan Museum of Getting Rejected by Athletes."
Schumer then responded that Dunham was "dressed like a boy, and you looked sexy."
It was unclear whether Dunham gave Beckham a chance to respond to her comments before publishing the piece.
In her Instagram post, Dunham said that she struggles with industry beauty standards, "and so when I show up to the Met Ball surrounded by models and swan-like actresses it's hard not to feel like a sack of flaming garbage."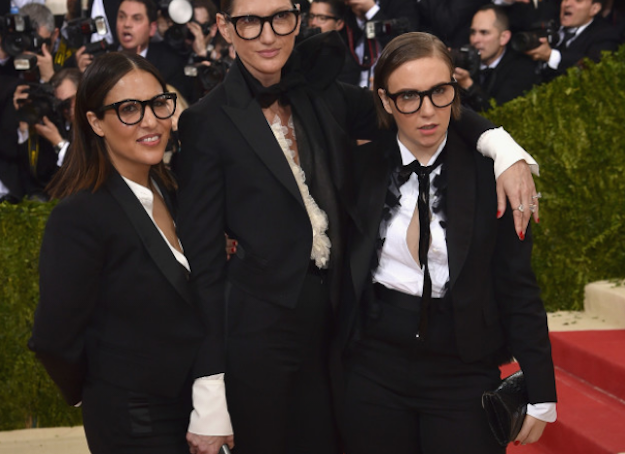 She went on to say that those feelings intensified "with a handsome athlete as my dinner companion and a bunch of women I was sure he'd rather be seated with."
"But I went ahead and projected these insecurities and made totally narcissistic assumptions about what he was thinking, then presented those assumptions as facts," Dunham added.
She said she felt terrible for it, and acknowledged the way that race played a significant role in her assertions.
"But most importantly, I would never intentionally contribute to a long and often violent history of the over-sexualization of black male bodies — as well as false accusations by white women towards black men," she wrote.
After the Lenny Letter interview was published Friday, a lot of people online jumped to Beckham's defense.
They were pissed off at Dunham for accusing Beckham of ignoring her.
And said it was hypocritical for Dunham to put Beckham on blast without knowing what he was actually thinking.
They accused her of being self-centered...
And arrogant.
"Lena Dunham assumed OBJ was being sexist because he didn't say hi. Maybe he just thinks 'Girls' sucks?" one person said.
Some people accused Dunham of racism by projecting thoughts onto Beckham.
"So wait...what, if anything, did O'dell Beckham Jr ACTUALLY say to Lena Dunham? Seems like a lot of racist assumptions..." one person said.
Other asked some pretty good questions.
And some said it's possible Beckham just didn't know who she was.
In response to the criticism, Dunham said that she wasn't dragging Beckham, but poking fun at her own insecurities.
"My story about him was clearly (to me) about my own insecurities as an average-bodied woman at a table of supermodels & athletes," she wrote in a series of tweets. "It's not an assumption about who he is or an expectation of sexual attention. It's my sense of humor, which has kept me alive for 30 years."
She added: "Glad the outrage machine roars on though, right @amyschumer?"
Dunham also apparently took out a part of the interview where both her and Schumer said they left the Met Gala as soon as they could.
BuzzFeed News has contacted Dunham and Beckham for comment.