On Monday, as the US grappled with the aftermath of the worst shooting in recent American memory, NPR posted an extremely adorable update on its Facebook page: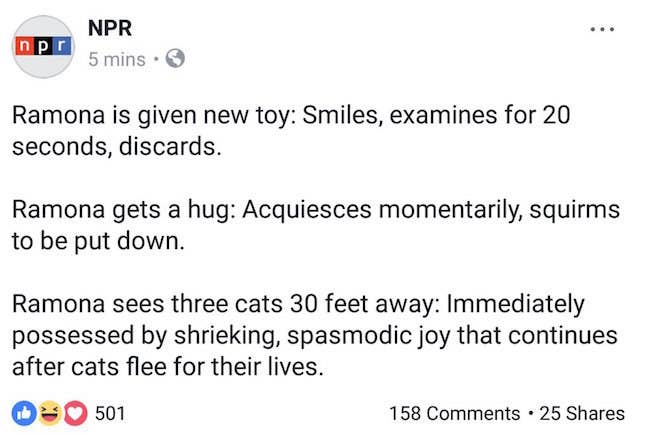 The post read:
Ramona is given a new toy: Smiles, examines for 20 seconds, discards.

Ramona gets a hug: Acquiesces momentarily, squirms to be put down.

Ramona sees three cats 30 feet away: Immediately possessed by shrieking, spasmodic joy that continues after cats flee for their lives.
The post soon went super viral because, let's be honest, how could it NOT?
People were totally smitten with Ramona, and said the story was the best part of their day.
They couldn't handle the cuteness!
They also were like, "Same," in regards to the cats. "I identify so strongly with Ramona," said one person.
"Tag urself I'm Ramona when she sees three cats 30 feet away."
People were clamoring for Ramona updates! Especially on the biggest debate: is Ramona a human child, or another cat?
Very scientific polls were conducted.
But no matter what, they were still Ramona stans. "Please, @NPR, please let #Ramona be named after Ramona Quimby. Girl, cat, whatever - strong, independent, just a little mischievous," wrote one woman.
Unfortunately, our Ramona joy was short-lived. NPR soon deleted the post, and with it, our hearts.
People were so sad. "Justice for Ramona!"
"Sad @NPR took down this post. It was literally the only news that made me smile rather than cry today. I request a new Ramona blog!" said one fan.
They were begging NPR to bring back Ramona.
The world needs answers!
Ramona! Ramona! Ramona!
People even vowed to donate more to NPR if they would just give them an update.
"I'd donate for more Ramona posts!"
Come on, NPR!
They even demanded merch, obviously.
And it got them new followers.
"@NPR first thing I did this morning was check for Ramona updates. You've disappointed me! Did Ramona sleep good last night? I need 2 know!"
Finally, on Tuesday, NPR revealed that Ramona is a...baby! But she does HAVE a cat, according to a blog post.
It turns out, the Ramona post was the work of NPR editor Christopher Dean Hopkins, who posted it accidentally.
"We don't generally delete posts, so I tried to do it in a way that would be transparent," Hopkins said. "My job is to promote our good work, and I catastrophically failed in that last night."
Hopkins said it is possible there will continue to be Ramona updates, as her fans have asked for.
"I suppose if people keep promising to pledge to NPR and it doesn't distract from the very good work our NPR journalists do, we'll see," he said.
Basically, this person summed it up. "Maybe Ramona is what everyone needed today."